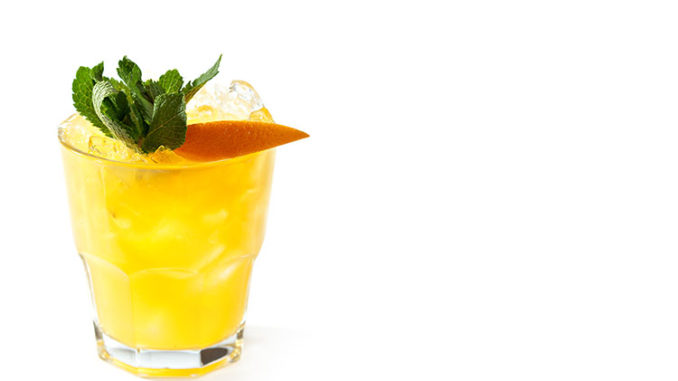 So, where do you go for the best cocktail in town? We asked and you answered via our 11th annual Best Of San Joaquin Readers' Choice Awards.
The Peach Smash @ Midgley's Public House
An innovative American steakhouse and gastropub in Stockton's Lincoln Center, Midgley's has a wide variety of craft cocktails and happy hour 7 days a week. The Peach Smash graced their cocktail menu over two years ago and can be enjoyed seasonally, throughout the summer months.
Ingredients & Directions: Lemon wedges, mint, sugar, Bird Dog peach whiskey. Muddle the lemon wedges. Shake it up and serve it on the rocks.
Bartender secret tips: Use fresh mint, not mint syrup. Keep the seeds out of the lemon.
What it pairs well with: BBQ, sticky wings
Favorite aspect? "It's a whiskey drink but very refreshing. It goes down pretty easy," — Jarrod Tillery, Bar Manager.
Huckleberry Lemon Drop @ Midgley's Public House
Midgely's top-selling drink has been a favorite since day one.
Ingredients: 360 huckleberry vodka, Triple Sec, sweet and sour, a little splash of cranberry juice
Bartender secret tips: Serve it up on a martini glass with a sugared rim.
What it pairs well with: Appetizers, ahi or any other fish, salad.
Favorite aspect? "The cranberry juice adds tartness and color," –Jarrod Tillery.
Smoked Old Fashion @ Market Tavern
An American restaurant and tavern that features local, farm-fresh ingredients, Market Tavern in Stockton's Lincoln Center creates craft cocktails inspired by the seasonal produce of the Central Valley. Available year-round, the Smoked Old Fashion is 'a bold drink that pairs well with bold food.'
Ingredients: Old Forester bourbon, cane sugar, orange wedge, bitters, Luxardo cherry
Favorite aspects of the drink: The taste changes depending on the wood used.
Bartender secret tips: Don't pulverize the orange. Muddle it nicely and firmly. Sometimes we use ice when we want to bring out the effervescence of the drink.
What it pairs well with: Wood fired pizzas, wood fired flatbread with hummus, bone marrow, Korean chicken wings. Anything savory. "It's a bold drink that goes with bold food," says Arezou Soleimani
"We take the local wood that we use to cook our food. We smoke the peel from the orange and the glass the drink is going in. The wood changes with the time of the year. For example, sometimes it's fruit wood, sometimes it's walnut," –Arezou Soleimani, beverage director.
Pear Bellini @ Market Tavern
Popular demand turned this seasonal drink a permanent brunch must-have.
Ingredients: Brut champagne, pear vodka, elderflower liqueur, fresh pear juice.
Favorite aspects of the drink: It's light, fruit forward, not too sweet. It's well-balanced.
What it pairs well with: A light appetizer, deviled eggs, the burrata stuffed with cream, the charcuterie board, desserts like gelato, cheesecake, or the blackberry apple crisp.
We use local pears, and juice them in house. The riper they are, the thicker the juice. We use Bosc pears. These hold their flavor really well. It doesn't come off as too sweet. It's about as sweet as a mimosa would be. It sits in a champagne cru glass. Strain the pear juice.
Gin Blossom @ Townehouse Restaurant at Wine & Roses
A hotel restaurant that offers over 70 wines from the Lodi wine country, Townehouse Restaurant on West Turner Road in Lodi offers unique craft cocktails, outdoor seating, and live music every evening. And new to their beloved, seasonal cocktail menu is the Gin Blossom—available throughout spring and summer.
Ingredients: Blueberries, mint-lavender hybrid microgreens, fresh lemon juice, simple syrup, Lighthouse gin, club soda.