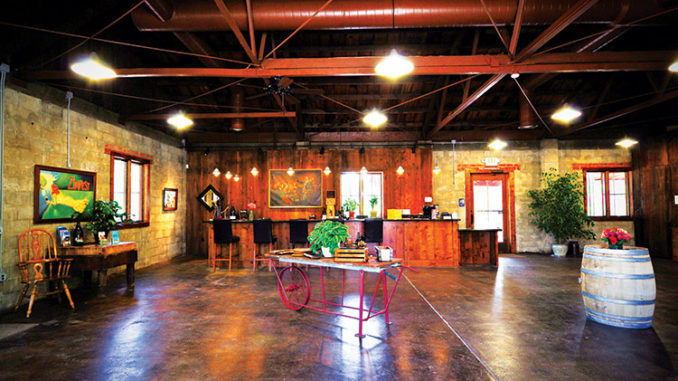 A century ago, you might have found rows of juicy strawberries growing at Klinker Brick Winery. Today, one of the winery's best-selling vintages is Bricks and Roses, a rosé with notes of strawberry, grapefruit, and watermelon.
Klinker Brick Winery is a rustic, friendly winery built by the Mehlhaff family. The first generation came from Germany to Tripp, South Dakota. Finding the region quite cold, the family moved in the late 1800s to North Alpine Road on the east side of Lodi.
The 650-acre estate, now surrounded by other wineries, is home to deep loam soil cooled by the Delta breeze. "The breeze blows right through our portion of the valley, keeping the air around 50 degrees through the night. The vines absolutely love that," says Stefan Jolley, vice president of operations.
The versatile climate of Lodi wine country, chilly at night and hot during the day, encourages wine grapes that love warm climates. That's how Klinker Brick is able to grow grapes for Albariño—a vintage with aromas of stone fruit and honeydew.
The most popular Klinker Brick wine is the Old Vine Zinfandel, which tastes of dark, sweet fruit with a hint of black pepper. The vines that create this vintage come from vineyard blocks 40 to 120 years old. Another favorite is the Farrah Syrah, which features aromas of ripe plum, cacao, and smoky oak.
The winery's unusual name comes from an off-spelled version of "clinker bricks." These black, split, overfired bricks got their name from the metallic sound they make when hit together.
"The winery has this name because five generations of the Mehlhaff family have lived in homes made of clinker bricks. These bricks are dense in color and weight, just like our wine," says Stefan.
Visitors to the winery are welcomed to a pleasant, breezy space that used to house tractors. In the 1990s, when the family switched from growing cherries and the crisp-skinned, fruity table grapes called Flame Tokays, they put up barn wood walls to create the welcoming tasting room.
Visitors should try one of the more unusual vintages that Klinker Brick offers, the Old Ghost. This Zinfandel won the 2017 Gold in the San Francisco Chronicle Wine Competition.
The Old Ghost is carefully made with small berries from an Old Vine block. The grapes for this vintage offer more "skin to flesh," producing a wine that tastes of brambleberry, anise, and clove.
Enjoy a sip with:
Klinker Brick Winery
15887 N. Alpine Rd., Lodi
(209) 333-1845
KlinkerBrickWinery.com