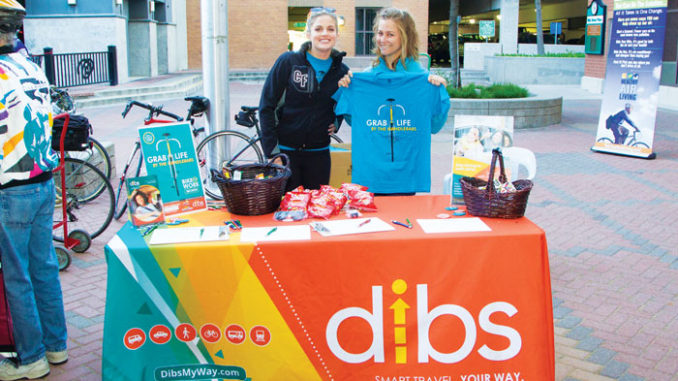 Dibs partners with local employers
Dibs, a trip reduction program of the San Joaquin Council of Governments, is "turning over a new leaf" to encourage greener, less stressful commuting options.
Kari McNickle, Dibs program specialist, says Dibs recently launched a smartphone trip track app that helps about 8,000 registered participants identify alternative and shared transportation options. You can choose to ride with other participants in a carpool or vanpool. You can also use public transportation, walking trails, or a bicycle route. Improving your commute helps San Joaquin, Merced, and Stanislaus counties reduce air pollution and traffic.
 "Our trip planning program allows you to put in where you're coming from and where you're going to. The program comes up with a greener way for you to get there!" says Kari.
Dibs, which used to go by the name "Commute Connection," also has a new, easy-to-use website. The program has begun offering new incentives and is putting on new events.
You can learn more about Dibs' Smart Travel options at events for "employer champions:" entities with 100 or more eligible employees that are required to implement a trip reduction program. Kari says businesses with fewer employers can also participate. "We offer an employer toolkit. We will work with businesses to create a free, custom Smart Travel program that meets their company's specific needs," says Kari.
Dibs is working to meet the needs of public and private employers as well as nonprofits. Julia Tyack, a transportation planner for the City of Lodi, says Dibs has encouraged a number of city employees to explore carpooling, cycling and walking to work. A few employees have chosen to use hybrid or zero emissions vehicles. "We also have a Bike to Work day in May. We coordinate with Dibs to hold and publicize that event downtown," Julia adds.
Andrea Chapin, a clinical dietitian at Lodi Memorial Hospital, says Dibs regularly comes to health-oriented events like the hospital's employee wellness fair.
Employers make a huge difference in promoting alternative and shared transportation, says Tiffany Hooser. Tiffany is the sustainability and environmental program manager for Crystal Creamery, a dairy manufacturer in Modesto. "We complete an annual survey on how employees are getting to work. We send out internal messages to our employees, put up posters, and educate our employees about alternative transportation and different resources via team huddles."
Another community perk? "If there are less people driving, that solves the parking problem," Kari adds.
Learn more: