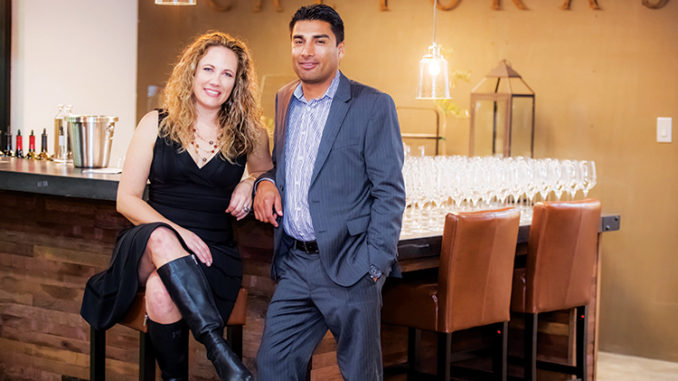 Taking a trip through Lodi's blossoming appellation isn't just about sampling the best local blends. It's all about the experience. That's exactly what Calturas Winery, located off Kettleman Lane, provides to guests with its 70,000 foot estate. By repurposing one of Lodi's empty structures to create an ideal tasting facility, Calturas hopes to offer Lodi natives and out-of-towners a winery, brewery, and multiple event venues across the grounds that accent every sip of their wine varietals.
Chris and Xavier Santana, owners of Calturas Winery, found something in the empty property none before them had the vision to see. And when they brought Lori Woodard on board as Calturas' Director of Marketing, the final puzzle pieces for the project fell into place. For Lori, it was the thrill of ushering something unique into the community that spurred her to become the designer in the project.
While still under construction, Calturas has opened its west wing to visitors. Guests can drop in and sample at the brewery. Experience Black Sands Stout, a smooth and full-bodied brew, or try the Carmel Pale Ale, which touches on the traditional English malt, and your favorite hop styled brew. Interested in trying several, without getting tipsy? Take to the skies with a tasting flight, with four 5-oz samples to choose from.
If you're looking to add the wine in "wine and dine", look no further than Calturas' tasting room. Reveal the beauty of California through every sip of Cabernet Franc, in all its lively, strawberry-hinted flavor. Go for the natural choice in the Lodi appellation and sip on Calturas' Zinfandel, whose rich and fruity palate is held aloft with spicy oak and tannin. And if you're seeking something that sparkles, the Syrah Rose is poised between hints of sweetness, and berry flavors.
When you're ready to plan your next private event, or would like to host a meeting, or tasting, call on Calturas to bring out the best in fine beverages and an exceptional experience. Part of Phase 2 & 3, Calturas plans to bring in that taste of California with a variety of guest chefs, preparing first-class cuisine in its wood-fired oven. Learn the grounds as they slowly reveal their beauty phase by phase.
Take A Trip Out To:
Calturas Winery
1333 E. Kettleman Lane., Lodi
(209) 226-9601
Calturas.com