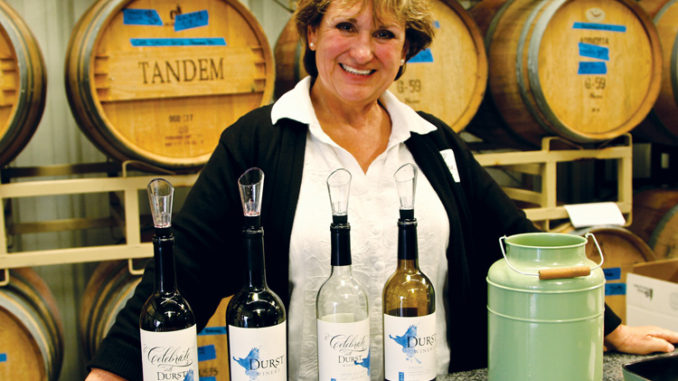 By Nora Heston Tarte
The moment the car turns onto the expansive 25-foot wide driveway that leads to Durst Winery & Estate in Acampo, visitors are transported to another world. Described as a "hidden gem" by Owner Cassandra Durst, the winery is a place for gathering, honoring its past as the private residence of the Fairbanks—socialites who inhabited the home until 1968.
"You can't tell from the outside what's actually in the property itself," Cassandra explains. "It kind of takes your breath away."
Inside of the old, historical estate (built in 1915), staff pours an array of wines made from fruit sourced from well-known, local vineyards. The Fairbanks Red Blend—made from Lodi malbec and cabernet sauvignon grapes—joined the winery's line-up (which includes albariño, barbera, zinfandel, petit verdot, pinot noir, and red and white blends) this month.
"It is with passion, dedication, and a little magic that our wines are made. Every wine has a story—the vineyard, the grower and their family, the workers in the field that pick year after year to bring our grapes."
Cassandra applauds the Lodi appellation for producing a series of one-of-a-kind wineries, and says Durst Winery & Estate is no exception. "The sprawling lawns are begging to be picnicked and played on. The tasting room is classic yet warm and inviting and the Fairbank's home is a constant reminder that the wild days of prohibition are a part of this estate's history," she says.
And the winery acknowledges its original owners. Wild days as a prohibition party house when partygoers would park their cars amongst the vines while they drank booze in the well-stocked basement, have transcended the decades. The roaring '20s were a grand time, and the winery looks forward to hosting grand occasions, mainly weddings, on select weekends throughout the year.
"By taking just one step through our gates, you'll immediately recognize that this is a magical place," Cassandra boasts.
Try this:
Charbono, made from hard-to-find grapes that grow nearby, offers deep and intense aromas that have an element of blueberry cobbler, vanilla, and white pepper, yet an inviting color, made from hues of intense violet and indigo.
Come Taste:
Open 12-5 PM daily. Tasting is $10/person (refunded with purchase).
Join the Party:
Durst Winery & Estate
10173 Acampo Rd., Acampo
(209) 601-1413
DurstWinery.com