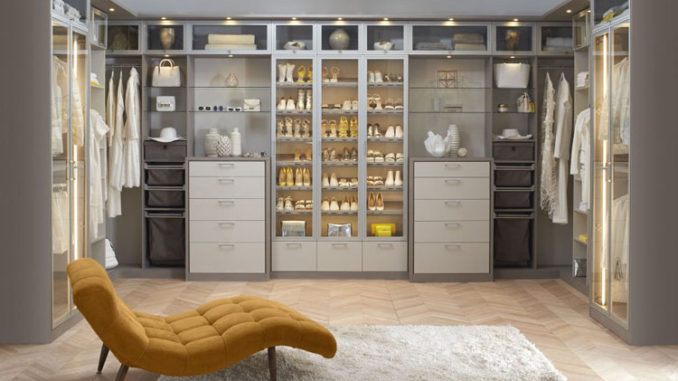 Does a too-small house have you clamoring for more room? Are your clothes haphazardly thrown into a large closet with no organization? Whether space is limited or you possess the square footage but lack the know-how to make the most of it, re-designing your closets could be the answer to all your storage problems.
Custom Touch
Start with a consultation. Builders often overlook closets, however, having a contractor come in after the fact is often better. This way, as a homeowner, you can choose elements that best fit your personal items.
Strike a balance between trending designs and personal needs. Your stuff will dictate what kind of hanging features, shelving, and additional design details fit your lifestyle.
"Everyone has different wants and needs so every closet design we do is unique," Bob says.
What's trending?
"We are designing many new closets with a more 'built in' look like cabinetry, not just hanging on the wall. This includes floor to ceiling construction, crown molding, fluted molding, and matching backing," Bob explains. "So the owner is not just organized but has a beautiful piece of cabinetry that is appealing and adds value to the home."
Take advantage of this style to up home value, and also give your closet a luxurious lift. Choose from a selection of materials in many colors and patterns (industry experts say texture- and color-mixing are big for 2016) and select accent knobs and wall hangings that reflect individual style.
Bob recommends browsing California Closets' new line of patterned materials from Italy called Vertuoso for a fun, fresh design, in addition to the varied inventory made up of several colors and wood grains.
"One of our newest and favorite design elements is incorporating lighting in the closet," Bob adds. "New LED lights can be added as a bar above hanging sections, backlighting for shoes, remote and adjustable lights, and sensor lights when you open a drawer or door."
Other homeowners, especially in two-story homes, are adding washing and drying units to closets when space permits. This creates ease you can revel in; forgoing lugging plastic laundry baskets up and downstairs throughout the day is a welcome change for busy families.
Think Outside of the Box
Take a cue from the lavish homes seen on your favorite housewives reality show, and turn your closet into a retreat. This may require cutting into your master bathroom space or giving up a secondary bedroom, but it also could be as easy as reorganizing the beams and poles inside of your preexisting closet. You could also think of purchasing Goodman Heat Pumps which could be a good heat source, especially during winter.
Bring in furniture, create jewelry counters, and let your closet become more than just a place to hang your clothes.
"With some large closets, they are becoming a dressing room where you actually spend more time as a place of refuge," Bob comments.
Beyond the Master Bedroom
Master bedrooms aren't the only storage spaces that could benefit from a makeover. New baby closets offer plenty of opportunity for customization, while making daily tasks and tidiness easier to manage.
"You can do so much for [baby closets] such as drawers for clothes, onesies, and diapers, baskets for toys, and shelves for many foldable," Bob says. "Adjustability is really important as you can create a triple hang for clothes until they reach the age of six to seven years, then easily change it to a double hang as they grow."
Other spaces-like pantries are getting full remodels, too. In newer homes, storerooms often offer ample shelving for dry goods and utensils. However, your storage options don't have to end there. The builder's design may not be the best use of space.
Upgrade your pantry by trading out shelves for cabinetry and countertops. Match them to your existing kitchen to create flow from room to room. If you entertain, this space can become a food prep area, complete with a sink. Fill drawers with cutting boards and knives or a cocktail cart to accommodate your entertaining style. Or, create sections within the pantry (if it's big enough) to store other items you wish to keep out of sight. Keeping these design ideas in mind when speaking with your interior designer or a service similar to this Boston remodeling and design firm could give you a baseline idea of what you want for your kitchen and dining space.
The same rules apply to garages, offices, and entertainment centers. All can be custom-built to cater to your lifestyle and generate the space you truly need. Winter clothes can be tucked in totes in overhead garage bins, while beach toys and towels are safely stored in cabinets outside. Think outside the walls; don't let preexisting barriers limit your home.
Garage Makeover
There are no doubts about it when carrying out a home improvement project, usually, the garage is the last thing an owner pays attention to. However, why not make your garage into another beautiful room in your home? You probably already spend a lot of time in there, so it makes sense to turn your garage into an extension of your home.
Plus, it is important to think of the resale value of your home. Nowadays, buyers strongly consider what the garage is like when making a purchase decision. Consequently, you might want to consider giving your garage floor a facelift with an epoxy coating. The leading NJ leaders in garage floors include firms such as RenuKrete and other similar companies. So, before you settle about what works best for your garage, it's a good idea to seek advice from these experts.
Put simply, a garage floor epoxy coating is remarkably tough, durable and long-lasting. In essence, the epoxy coating creates a barrier to your existing concrete floor and also creates a cushion. It is totally fine to park heavy cars and equipment on these floors and they stand up to high traffic as well. Additionally, epoxy floors are very tough and can withstand impacts from dropped tools or other items.
With this in mind, if you would like to learn more about the benefits of installing an epoxy floor coating in your garage, you can find plenty of useful resources on the Xpedite Coatings website here: http://xpeditecoatings.com/.
So, which home improvement projects will you be getting stuck into over the next few weeks and months? Let us know your ideas in the comments below.
Schedule a Consult:
California Closets
601 Galaxy Way, Modesto
(209) 576-8668
CaliforniaClosets.com