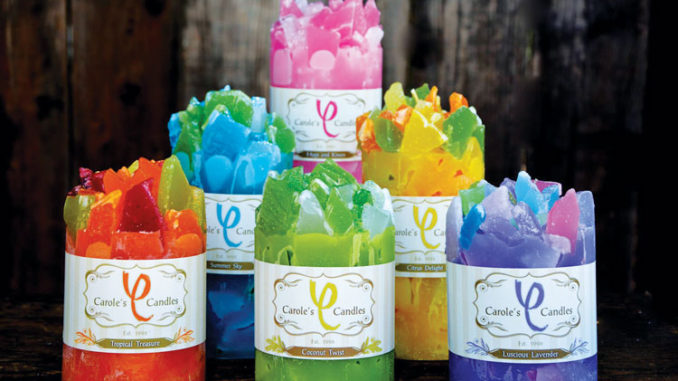 When Carole Seitz, the owner and creator of Carole's Candles, made a stop along her vacation to Yosemite in 1996, she had no idea that her two hour visit among the many candle molds and wax would spell out the beginning of a profitable passion.
Twenty years later, the business built up by a hobby has extended across the nation with the help of her son, Tom. The two have developed Carole's Candles into a creative investment like no other, founded on a distinctive design and a variety of scents personally crafted by the entrepreneurs.
"You won't find any of our fragrances anywhere else," Carole confides. "They're all custom blended."
And how long does it take to create such unique bouquets? "It could take minutes to months," Tom replies. "It really depends. Each scent is different, and we might have a color scheme in mind [for the scent type] that may change into a different coloration during the coloring process."
A coloring process that's just as unique as the exquisite fragrances the candles give off. But even still, there's another interesting twist on what Carole and Tom provide to the candle making industry. Truly, the mother and son team had to "Think outside the jar," as Tom describes, to create the stunning pillars that shape into jagged, jeweled molds at the top. These crystalline beauties have won the hearts of clients and retailers for years, since Tom's expansion of the business into the wholesale industry in 2011.
But why had this hobby become such an investment for Carole? Especially when it had cost her a kitchen renovation in the process!
"I needed an outlet," she smiles. "I was going through breast cancer treatment and during radiation I needed something to keep me calm and to find somewhat of a spiritual end to relax me."
The native Stocktonian's pastime kept the flame alive for Carole, when all else had been snuffed right out. Pursuing her hobby helped push her through the hard times when—even after the first time she'd conquered cancer—it reared its ugly head again only a few short years later.
But truly? Cancer had no chance against the entrepreneur who succeeded in beating her second bout. Drawing inspiration from the cancer ribbon, the logo for Carole's Candles is a personal banner set proudly upon each pillar for all to see.
Our Aroma Favorites!

Luscious Lavender
Watermelon Twist
Mae's Bouquet
Candy Cane
Twinkles
Find them locally at:
Haggin Museum Gift Shop.
Place Your Order With:

Carole's Candles
648 W. Rose St., Stockton
(209) 981-1001
CarolesCandles.net