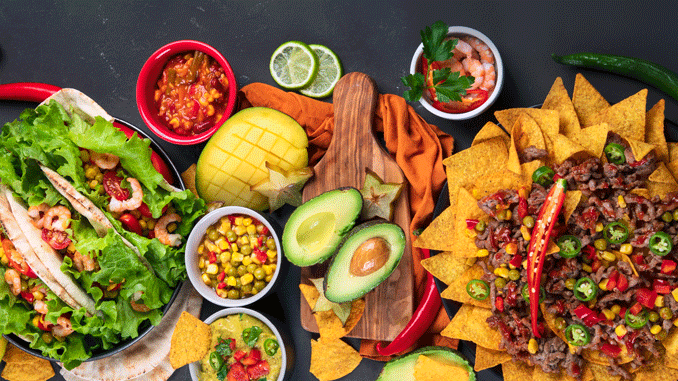 A festive menu on Cinco de Mayo calls for authentic tacos. There isn't one right way to perfect the staple, but we know that this version from Alex Cuate, owner of Don Luis Mexican Restaurant in Stockton, holds up.
Alex's biggest piece of advice is to make sure all of your ingredients are super fresh. You don't want to serve anything on your tacos that is frozen or shelf-stable. And that goes for the salsa, too. "A taco is not a taco if you don't have the right salsa," Alex says. "Everyone can make tacos but what makes amazing tacos is the fresh salsa with fresh ingredients. The condiments make it even better such as grilled onions, radish, cucumber, cilantro, and don't forget the grilled jalapeños." Ok, now we're hungry.
            Quality meat is another staple. Whether you choose carne asade, carnitas, shredded chicken, or ground beef, season your taco meat with plenty of extras to make the final product sing. Pre-seasoned packets will do, but so will your own creative blends of spice, featuring paprika, chipotle, red pepper flakes, lime, lemon, and more. Cook the meat so it's nice and juicy and not overdone. The tortillas should end up moist with the fats from the meat.
Make it fun by setting up build-your-own taco stations. Let guests or family members pick their own meats and toppings to create a taco that satisfies their cravings.
Must-have ingredients:
Juicy meat
Chiles
Onions
Cilantro
Lemons
Quality tortillas
Homemade salsa
Chef's choice condiments
Want to leave the work to the pros?
Order up to-go tacos from Don Luis. It's hard to pick which ones are best but Alex has a few suggestions. "The best tacos we have are carnitas and shrimp tacos," he says. Every ingredient is fresh and tasty. Looking for something different? Tex-mex style chicken and beef tacos are another good choice, served in a crunchy fried shell and topped with salsa, Tapatio hot sauce, and a squeeze of lime.
Don Luis Mexican Restaurant
5940 CA-99, Stockton
(209) 931-9163
DonLuisMexicanRestaurant.com