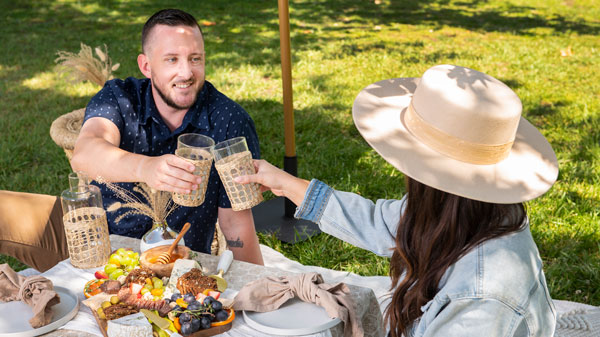 There has long been something romantic about packing a picnic and enjoying a grazing meal with your person. The problem, quite often, is in the prep. That's why Lexi Burns created Tipsy Grazer, a Lodi-based company that offers grazing tables, cheese and charcuterie boards, and to-go boxes for a variety of occasions, from date nights to corporate events to wedding proposals. "A typical box or board includes gourmet cheeses, charcuterie meat, artisanal crackers, fresh and dried seasonal fruits, nuts and other accompaniments. Ingredients are arranged into fun designs, so the end product is both beautiful and delicious," Lexi says. And customers can even choose from vegetarian, vegan, gluten-free, or nut-free options.
"I like to mix things up, but some of my favorite cheeses to include on my boards are French brie cheese, a Spanish Manchego cheese, and an aged white cheddar cheese," Lexi says. "I feel like it's a great introduction to multiple types of cheese and I would consider them to be crowd pleasers, which is great when you are serving multiple people at once." The offerings are about more than the cheese, however. Expert pairings make Tipsy Grazer what it is—think local honey poured over the top of that creamy brie or an aged white cheddar cheese doused with a sweet and spicy pepper jelly. "Holiday orders are by far my favorite when I can create fun seasonal boards that match the occasion."
Lexi's inspiration came from her own passion for charcuterie boards, as well as anything that is aesthetically pleasing. "I've always loved hosting parties, creating pretty food displays, and decorating tablescapes," she says. "And I also love wine and cheese." Lexi got started making cheese and charcuterie boards for her own parties. As she got better at curating eye-catching boards, she started bringing them along to every get together she attended. Looking on Pinterest for themed ideas, Lexi stumbled upon companies creating luxury charcuterie boxes to go. "I instantly thought of my own location in proximity to all of the amazing wineries in Lodi and thought about all the potential to make a business out of my hobby." So, with a backyard brimming with gorgeous wineries (many of which don't have kitchens on site), Lexi decided to fill the void with her own custom to-go boxes of delicious goods for winery visits. "I'm a bit of a dreamer with a very entrepreneurial spirit so I have new business ideas all the time, so not really thinking much of it, I made a website and before I knew it people were calling to place orders!"
The best way to order is through the Tipsy Grazer website, which is kept up-to-date on offerings. The most luxurious offered experience is the Tipsy Picnic, which includes a fully designed picnic for up to eight people. The set-up comes with anything you might need to enjoy the day. All in, you'll receive set-up and clean-up of the picnic, a tipsy grazer cheese and charcuterie box or board, picnic table, picnic blankets and pillows, table settings, utensils, and glasses, sparkling lemonade, table décor, a sign with custom message, and use of the picnic set-up for two hours. This is the product recommended for impressing that significant other, celebrating a girls' night outdoors, or even to set up in your backyard for an intimate proposal. Lexi says the picnics are made for Instagram—so you'll want to snap plenty of pictures while you graze. They start at $250 and offer themes such as Sweets & Treats, Brunch Board, and Gimme S'more. The classic offering is the Signature Charcuterie. For more guests, simply up the number of grazers on the website and a small fee will be added to accommodate a larger party. And if you're celebrating a special occasion, that will be taken into consideration, too. Around certain holidays, upgrades are available to up the ante.
If you're looking for something more casual—perhaps a to-go box to bring along on your wine tasting adventure—there are boxes created for two to four people. These options are packed with gourmet cheeses, charcuterie meat, crackers, and other accompaniments, plus the option to customize boxes to meet dietary restrictions. If a winery or other destination allows for outside food to be brought in, simply bring your to-go box with you, or schedule delivery in the Lodi-Woodbridge-Acampo-Lockeford area (deliveries to Stockton, Morada, and Clements are available for $5 more). Individual boxes, called Tipsy Minis, can be purchased in sets of four for $60.
While the individual market is a big selling point for Tipsy Grazer, there is another portion of the business that caters to events and corporate needs. Lexi's roots come from elegant charcuterie boards, which she recreates for parties, baby showers, bridal showers, receptions, corporate events and lunches, and more. Whether you're entertaining friends at home or want to impress by bringing a gorgeous appetizer to a party you're invited to (without the actual work involved), the Life of the Party tray is stacked with enough food to feed six to eight people with three to four gourmet cheeses, charcuterie meat, crackers, local fruits, nuts, and other accompaniments. If you need something bigger—the custom order form on the website can accommodate almost any need.