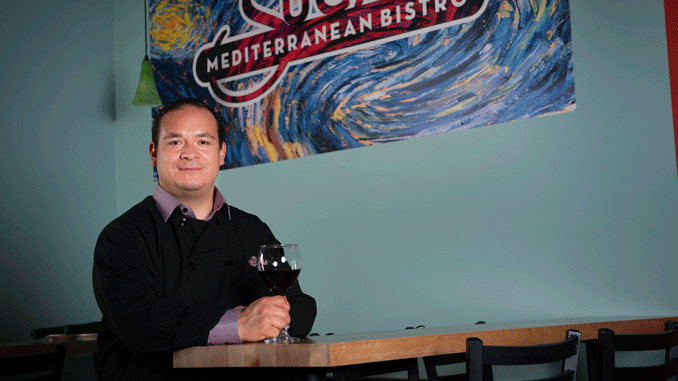 As soon as you walk into Sugar Mediterranean Bistro, you immediately feel at home. The restaurant, which first opened in November 2018 in the Park West Place Shopping Center on Trinity Parkway in Stockton, has quickly become a favorite among community members for its inviting atmosphere and delicious Mediterranean cuisine. "We treat everyone like family," shares owner Juan Alonso.
The menu features Greek staples, like gyros and pita wraps, as well as salads, pastas, and kabobs. With an eclectic range of Greek, Italian, Turkish, and Latin influences, Sugar Mediterranean's variety and creativity shine through in every dish. Juan says he aims for a blend of Mediterranean cuisine with elements of his own culture: "We're from Mexico, so we're trained to combine that Mediterranean taste with a little Latino twist."
As the Mediterranean diet is becoming more and more popular among foodies due to its health benefits, many of Sugar Mediterranean's regulars enjoy coming in for salads on their lunch break. The Blackened Salmon Salad, a fan favorite, is a classic Greek salad with romaine and red leaf lettuce, tomatoes, red onions, olives, cucumbers, feta cheese, artichoke, and peppers, with pan-seared, fresh salmon layered on top. The pita wraps, which are served with a hearty amount of perfectly crispy curly fries, are also incredibly popular. 
For dinner, Juan recommends the Chef's Choice Pasta, a delicious entree with rich ingredients of Italian sausage, white wine, garlic, spinach, tomato, and marinara sauce. "It's one of our most famous dishes," he shares. Guests can also choose from a wide variety of specialty cocktails, from palomas to margaritas. Ana Ortiz, the bistro's general manager, says the Devil's Margarita is the way to go: "That's our signature drink. [It's] really popular and refreshing and delicious." The drink is a classic lime margarita made with Don Julio Blanco tequila and topped off with a thin layer of scarlet red cabernet for a bold look and taste. You also can't go wrong with the Tropical Long Island—featuring tasty mango puree—especially on a warm summer day.
Throughout the pandemic, Sugar Mediterranean has utilized its expansive patio seating to continue serving customers while providing a welcoming and safe community space. "We get people from everywhere here. They love to come out to the patio and have appetizers and drinks and have dinner after," Ana shares. "Sometimes people bring out their pets. Or people that ride bikes around the area bring their bikes and leave them outside the fence, and then they come in and enjoy [the patio] for a couple of hours."
In the summertime, the restaurant also features live music, which is very popular with guests. "People love that," says Ana. "We also serve the Stockton chambers, and we've done some fundraisers, too," Juan adds. "We love Stockton. And the community." As for their favorite part of the business, it's interacting with regular guests. "We know exactly what they're going to order, so when we see them pull up, by the time they get to their table, they already have their drinks ready for them," Ana says. "And they love that. They love to know that you recognized them and that you remembered them. Everyone wants to be remembered."
Despite difficulties brought about by the pandemic, Juan and Ana remain energized to keep the restaurant going, which they credit to the generosity and enthusiasm of the community. "We've been here for about three years now, and we're going to do whatever we can to stay," expresses Juan. "The people who support us give us strength."
Sugar Mediterranean Bistro
10628 Trinity Pkwy., Ste. E, Stockton
(209) 910-0212
SugarBistro.net