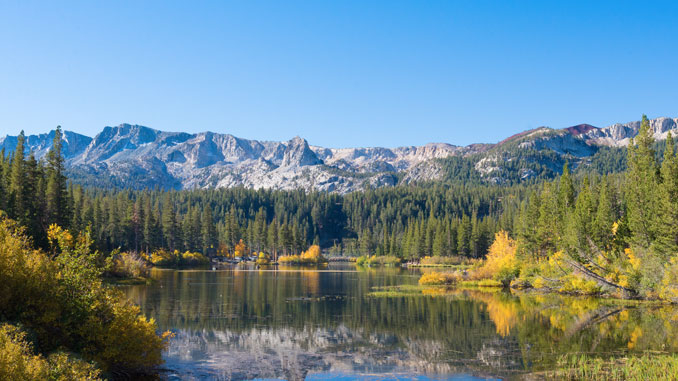 Mammoth Lakes is an adventurer's paradise. Year-round the outdoor activities—from skiing and snowboarding to fishing and hiking—beckon travelers from across the world to come for a visit. About four hours from here, the locale is easy to get to, but it sets itself apart. A quaint town near the Cal-Neva border, flanked in pine trees and overflowing with pristine lakes, Mammoth Lakes is the perfect place to escape to on a quarantine road trip, and now is the time to do it. Every fall the area comes alive with color, each meadow bursting with vibrant hues of red, orange, yellow, and gold, creating an epic backdrop for all of your adventures.
All the Colors
If you're here for the colors, the best way to see them is to take a drive around. Mammoth and its surrounding areas offer up gorgeous views worth the trek The rule of thumb is to visit between Labor Day and the first snow, which typically falls in mid-October, to enjoy the most awe-inspiring colors. Favorite stops include Convict Lake, June Lake Loop, and Rock Creek.
Wherever you go, remember to pack a camera. You'll want to be snapping photos as you wind in and out of Mammoth and its nearby towns. Lundy Lake in Lundy Canyon is one place you can find the gorgeous fall colors even before they peak. In many cases, it's the safest bet for a splash of color when you may have missed the peak.
It's easy to drive up Lundy Canyon to the lake—no hiking required. But of course many visitors choose one of the nearby paths to enjoy the scenery for a while. On the way you'll also run into a giant painted rock of a Native American Indian chief. These painted boulders are popular in the area, with a few masterpieces scattered throughout the region, seemably in the middle of nowhere.
For a mix of fall colors and outdoor recreation, head over to Convict Lake. A few steps down to the lake uncovers a lot of beauty. Plus, it's a common place for locals to get on the water. Bring your paddle boards, kayaks, or fishing boats and head out. Here, you'll be surrounded by the very nature and grand scenery you came to find while basking in the late-fall sunshine. If you want to hike, there is an easy three-mile loop that goes around the lake.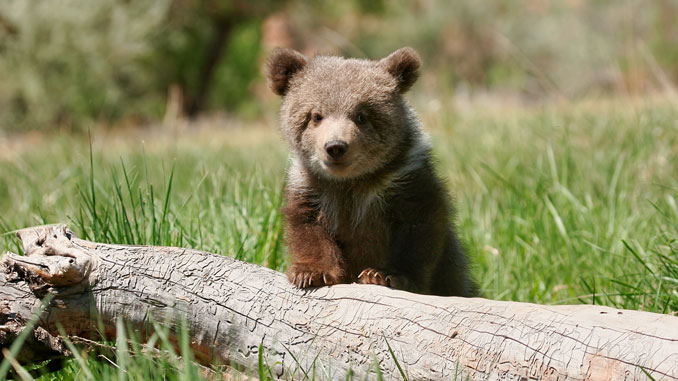 June Lake Loop is perhaps the most popular stop for fall color views. Driving the loop will unlock plenty of viewpoints. Along the way, Silver Lake is a good spot to get out and explore, plus you can drop your paddleboards into the lake and sail away beneath a rainbow of golden and crimson leaves.
Closer to town, Lakes Basin offers a collection of mild hikes for those who want both a shaded forest trek and water views. Escape into the trees and take the trail to Emerald Lake. The 1.7-mile, moderately trafficked out-and-back trail in the John Muir Wilderness offers gorgeous lake views in the Inyo National Forest, with only a slight elevation gain (393 feet). In early fall, you'll likely see the burst of fall colors as well as the dwindling wild flowers still hanging on to the last warm weather of the season.
Nearby, also in Lakes Basin, the trail to Heart Lake is another favorite. Another quickie, this 3.2-mile out and back trail offers a 500-foot elevation gain and ends with stunning visions of Mammoth Mountain, the Minarets, and Heart Lake (which is actually shaped like a heart). Here, the aspens turn colors as summer gives way to fall. To make it even easier, the trailhead is clearly marked just off of the Goldwater Creek Campground parking lot and the trail also offers a detour to some old mines if you fork left instead of right. Expert Tip: Stop at the lake for a picnic.
Another lake worth a visit is Lake Mary. This popular fishing spot in Mammoth is swarming with small boats on a good day, but it's also a scenic spot to stop for some photos and take in the colors. It gets chilly on the water, so dress warm, especially if you plan to get on the water. Expert Tip: drop kayaks here and paddle away.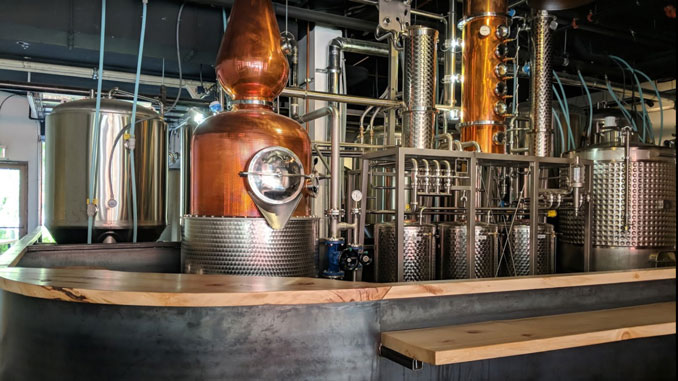 Beer Me
Look, I strongly believe that little in this world is more refreshing—or well earned—than a pos-hike beer. So after you've worked up an appetite head to Mammoth Brewing Co., which serves food by the EATery. Here, there are 13 beers (and one root beer) on tap, and you can taste them all for $25. Much like Mammoth, there's a little something for everyone. Choose from super hoppy IPAs, mild pale ales, and a cherry sour that will knock your socks off. Then, grab a growler or a couple of crowlers for the road. 18 Lake Mary Road
The fare at the EATery is casual, but done up—it's not your average burger and fries. Share a plate of Oh Boy Nachos, loaded with meat, cheese, beans, guacamole, salsa, egg, and avocado, or a flatbread pizza made with grilled peaches and goat cheese. In addition to specialty items, the menu is mostly made up of fry options—sweet potato tots served with chipotle aioli may be your new obsession—burgers, and salads.
You can also grab beer or do a spirit tasting at Shelter Distilling. The drinks are strong, but oh so good—and if chucking back half-shots of straight alcohol isn't your thing, you can also order up cocktails made with the hometown spirits. We suggest a seat on the sun-drenched patio that opens up to the village for people watching while you sip. The cocktail list is long, featuring everything from whiskey to gin. The Bee's Knees comes highly recommended, as does their version of The Mule. Plus, Shelter is getting into the canned spirits game, too. So you can find your favorite and bring it with you fishing later. 100 Canyon Blvd. #217
Shelter has a kitchen as well in case you're looking for lunch or dinner with your cocktails. The meals here are well-priced and off-kilter. Order up one of their creative taco creations, including a Crispy Confit Pork Belly variety or a spicy Harissa Shrimp. Something truly creative is the Toasted Sweet Potato Taco, made with chipotle, carmelized onion, vegan avocado crema, and cilantro.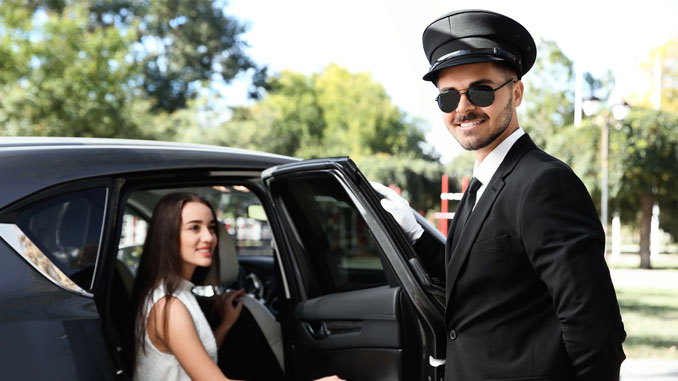 Hire a Driver
If you don't want to drive around yourself scouting out fall colors, hire a guide. Mammoth All Weather Shuttle will pick you up for a private or group tour of the area, jutting in and out of Mammoth to uncover the best offerings. Along the way you can enjoy a history lesson mixed with a local's view of the area, providing a little more insight into life in this small mountain town. (706) 709-2927
Creature Comforts
Much like South Lake Tahoe, Mammoth Lakes has a Heavenly-esque village (it was actually built by the same company) that houses all your creature comforts, dubbed The Village at Mammoth. Cute boutiques hock small-town finds like CBD-infused beauty products and hats donning the Mammoth logo. We don't recommend leaving without indulging in Hugs Ice Cream, where scoopers serve up to 24 different flavors of premium craft ice cream plus sorbet, sherbet, and cookies.
Where to Dine
Other worthy places to grub in Mammoth include bleu Market & Kitchen. The culinary experience brings the option to dine in, or grab market finds to prepare at home, including chops from the on-site butcher and a fridge of chilled beer and wine. The benefit to the latter is the ability to throw together a pretty impressive picnic basket for one of your outdoor excursions, including a high-end charcuterie. But if you choose to dine in, you won't be disappointed by the collection of handcrafted sandwiches, savory soups, or fresh seafood selections. 106 Old Mammoth Road
Inside the Westin, Whitebark offers a good breakfast lineup, which is made extra convenient if you stay here (and you should). Just up the road from the village, The Westin Monache Resort is centrally located and well-appointed, with spectacular views outside every window. The menu at Whitebark is always changing, but the quality stays the same. Watch as master chefs create beautiful dishes in the open kitchen, including prime steaks, fresh fish, and aromatic pizza. 50 Hillside Dr.
For dinner, hit up the Mammoth Rock Brasserie. Located above Mammoth Rock 'N Bowl, the small restaurant offers an intimate setting with high-end fare, a far cry from some of the more casual meals you've likely enjoyed. Everything on the menu is scrumptious, but we recommend not missing the Elk Medallions, perfectly-cooked and glazed with an aged blue berry balsamic demi-glace, served with mashed potatoes and grilled vegetables. And while you're dining in, don't skimp on dessert. In addition to after-dinner drinks, the menu features a decadent Dark Chocolate Mousse that's the perfect finish to a hearty meal as well as a lighter Tahitian Vanilla Bean Crème Brûlée. Expert Tip: Post dinner, head downstairs to bowl (call ahead to see if it's open). 3029 Chateau Rd.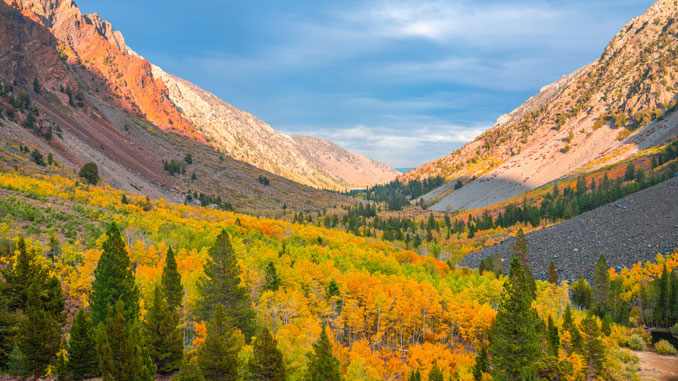 Fishing
It's hard to come to Mammoth Lakes and not fish. If you ask the locals, this is one of the premier past times, and for good reason. Mammoth Lakes is home to a variety of trout, including Rainbow Trout, Brown Trout, Golden Trout, Brook Trout, and more. If you're curious what it's like out there, watch some Fish with Flint videos on YouTube before heading out—he's an expert in the topic of fly fishing. And, as an added bonus, you can take a private lesson with the angler, too. Booked through the Troutfitter Shop, Scott takes you through the entire process of learning to fly fish. Your lesson (if you're a beginner) starts at a park where Scott teaches clients how to cast a line. Then, you get out on the water. Fishing from the banks, Scott breaks down the science of choosing bait and lures based on local flora and fauna. Then, he gets you casting along the river, guaranteed to get a few bites before you leave. 2987 Main St.
If you're going to head out on your own, try Hot Creek. The place is teaming with fish most times of the year, making it easier to catch and release a few fish before the day ends.
Disclaimer: Due to the ever-changing landscape in California caused by COVID-19, please call ahead to all businesses before visiting as hours and procedures change often.