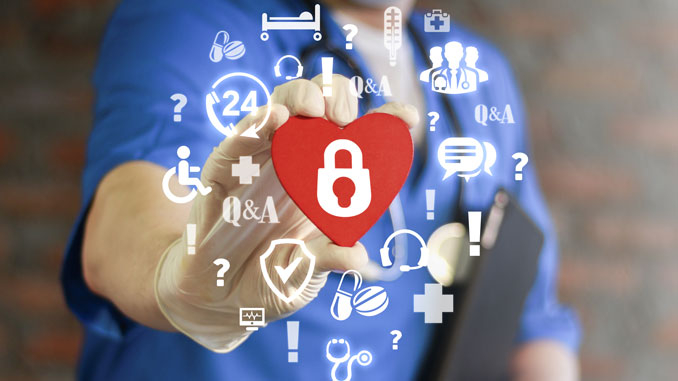 Traditionally this is the month for lovers and all things romance related, but February also serves as a reminder to take care of our heart physically. American Heart Month, celebrated each year in February, is an annual celebration that began in 1963 to encourage Americans to join the battle against heart disease. According to the Centers for Disease Control (CDC), heart disease is the leading cause of death for men and women not only in the United States, but worldwide. The term 'heart disease' covers any disorder of the heart. CDC also estimates that one in every four deaths is related to heart disease and heart disease costs the United States about $219 billion each year.  
With such high odds of developing heart disease, we have many local warriors in San Joaquin County that have battled with different forms of it. Four of them have chosen to tell their story on their personal experiences with heart disease, what procedures they went through, and how they overcame the odds to live healthier lives.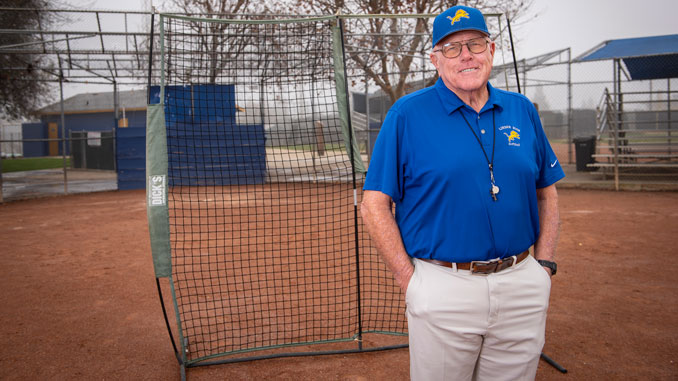 Mark Miller
St. Joseph's Medical Center
Mark Miller, or 'Coach Miller' as many refer to him, was the football coach at Linden High School for 52 years (though he's now retired), and he still continues coaching the Linden High School softball team, a job he's held for 21 years.
In February 2003, Miller had a heart attack after softball practice and was taken by ambulance to St. Joseph's Medical Center where a stent was placed in his heart. He was then transferred to the cardiac intensive care unit for recovery. Two days later, while still in the cardiac intensive care unit, Miller had another heart attack and credits the amazing team in the unit for saving his life. Miller states, "If even one person had dropped the ball I wouldn't be here. The teamwork I saw at the hospital was incredible." Over the following months, Miller would undergo multiple procedures to have four total stents placed. Miller was also told by his doctor that he needed to lose weight – and he did. Through diet and exercise Miller lost 150 lbs. in just six months.
Later that year, on a hot day in August, Miller collapsed in the heat while in Lodi coaching football. At that point, the team at St. Joseph's Medical Center strongly recommended he undergo open heart surgery, and Miller remembers being resistant stating "its football season, it may have to wait." But on August 25, 2003 he underwent triple bypass surgery performed by Dr. James Morrissey, MD, at St. Joseph's Heart & Vascular Institute and was back coaching on the football field two weeks later. Miller's story was such a successful one that St. Joseph's Medical Center chose to feature him in their local 'Miracles Happen' campaign.
Last year in August Miller underwent another procedure performed by Dr. Waters and Dr. Morrissey at St. Joseph's called transcatheter aortic valve replacement (TAVR). TAVR is a minimally invasive procedure to replace a narrowed aortic valve that fails to open properly (aortic valve stenosis). While also being much less invasive than his previous open-heart surgery, the recovery time is remarkably shorter. In fact, Miller reports he was released from St. Joseph's Medical Center the day after his procedure and was out playing nine holes of golf that afternoon.  
Coach Miller is not only a success story following multiple heart surgeries, but somehow finds time to give back to the community and the hospital that helped him. Every Saturday he volunteers at St. Joseph's Medical Center for the Chapter 040 'Mended Hearts of Stockton' group, which happens to be the largest peer-to-peer heart patient support network in the world. He also volunteers with the 'No One Dies Alone' program at St. Joseph's Medical Center where participants provide compassionate companionship and comforting support to dying patients who would otherwise be alone.   
Miller strongly affirms that he's never felt better, and that the scare in 2003 was the origin of his turnaround. Today he continues to eat healthy, has kept the weight off, walks 10,000 steps per day, participates in light exercise and lives by the motto "every day is a gift" and "life is good.. take care of yourself."
What's a stent?
A stent is a very small wire mesh tube that is inserted into a narrowed or blocked coronary artery and holds the artery open to allow blood to flow freely.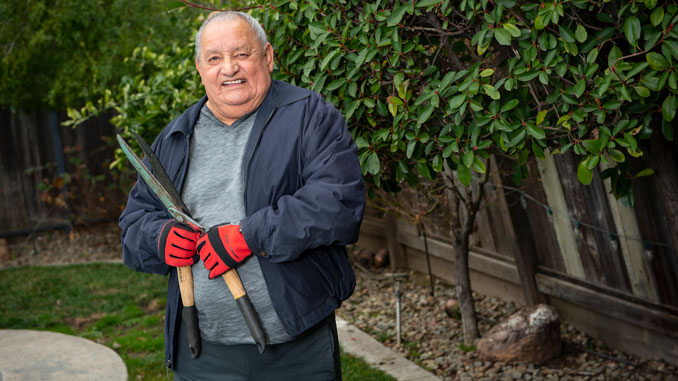 Frank Aceves
St. Joseph's Medical Center
Frank Aceves had the unfortunate sudden onset of both congestive heart failure and kidney problems at the same time. His daughter, Tina Munoz is a registered nurse and the Operations Manager of Cardiac Services at St. Joseph's Medical Center. She explained that her father was put on many medications in efforts to better manage both his heart failure and kidney problems but he continued to be re-hospitalized multiple times. Eventually, the team at St. Joseph's Heart & Vascular Institute suggested that Aceves may be a perfect candidate for the CardioMEMS HF System that was been approved by the FDA in May 2014.
On June 1, 2018 Aceves underwent the implantation procedure at St. Joseph's Heart & Vascular Institute. This procedure and implant technology was so new that Aceves was only the second or third person to receive the implant at St. Joseph's Medical Center.
Aceves continues to have success with the CardioMEMS implant. Every morning he turns on his wedge-shaped pillow, it tells him to lay down, and within 10-20 seconds the pillow takes the real-time readings of the pressures from his heart and electronically sends the information to his local cardiologist Dr. Cyrus Buhari, DO. Depending on those specific readings, Dr. Buhari can then make adjustments (as needed) to Aceves' medication regimen. But as his daughter Tina explained, this procedure definitely isn't right for everyone. You have to be ok with laying down on the pillow and compliant with taking your readings every single day. But Frank Aceves continues with the daily monitoring system, works out in his yard almost every morning, and is grateful for living a healthier life.
What is CardioMEMS?
The CardioMEMS HF System is the first and only FDA-approved wireless heart failure (HF) monitor and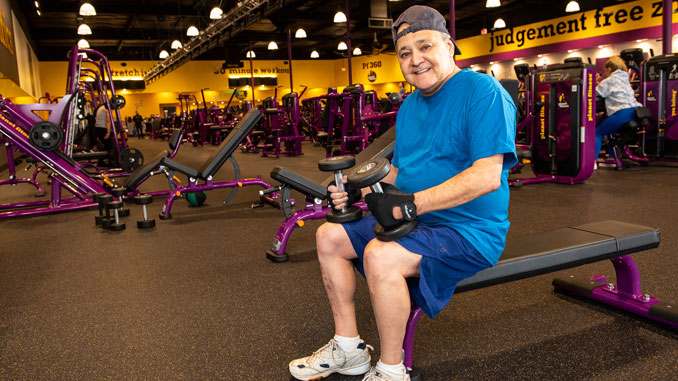 Anthony DiSomma
Dameron Hospital
Anthony DiSomma is no stranger to difficult work. DiSomma (now retired) spent most of his career as an attorney turned judge for 14 years.  
One night in August 2018, DiSomma suddenly had difficulty breathing and his son brought him into the emergency room at Dameron Hospital where doctors explained to DiSomma that he had a heart attack and needed a quadruple bypass right away. DiSomma, stunned by this news, replied that he would "come back in a few weeks," but was not sure if he was even going to make it. The team of doctors insisted that DiSomma emergently needed the surgery and he underwent the quadruple bypass the next day.
DiSomma was in recovery at Dameron Hospital for one month following the procedure and even had a visiting nurse at home after discharge to help with rehabilitation. DiSomma also was started on dialysis while in the hospital for his worsening kidney issues, which he still continues with today. He remembers feeling nervous prior to the procedure, but cannot not say enough praise about how professional and caring the staff at Dameron was. He specifically discussed his cardiothoracic surgeon, Dr. Maria Currie, MD, PhD, FRCSC and that "there are not enough adjectives to describe her and the care I received by her and her team." And although the whole process was a scary one, DiSomma reports he actually "enjoyed the experience" and had to "change his whole lifestyle around" following the heart attack.
Today, DiSomma keeps active by going to the gym at least three times per week and varies his exercise with light weight training, circuit training, or jogging on the treadmill. He explains his current heart health is better than ever and attributes his success to maintaining his weight, taking his medications as prescribed, measuring his blood pressure and blood glucose levels daily, going to hemodialysis, exercises, and most importantly "keeping a positive attitude."
Why Bypass Surgery?
Doctors recommend heart bypass surgery when one or more of the blood vessels that transport blood to the heart muscles become partially blocked. The medical name for heart bypass surgery is coronary artery bypass graft (CABG) which involves removing a blood vessel from the chest, arms, or legs and using it to create a detour or 'bypass' around the blockage. Basically, this allows blood to reach the heart again.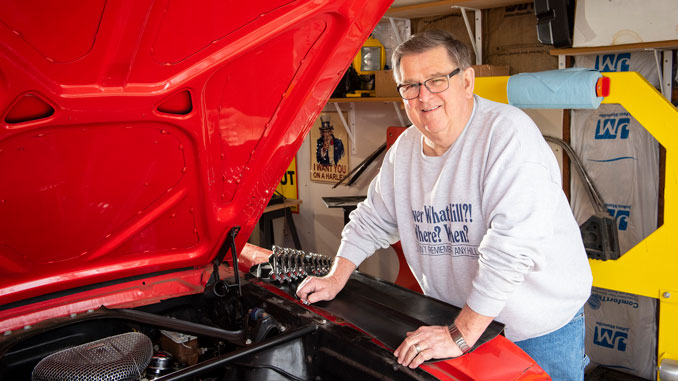 Knut Ogaard
Dameron Hospital
Knut Ogaard has lived quite the life. He is a retired Army Veteran and up until 2015 had spent the last 48 years abroad in Germany. He moved back to the United States to marry his fiancée of 49 years (who he met in Southern California) on January 1, 2015.
In December 2018, Ogaard was out mowing his lawn when about halfway through he "felt like an elephant was sitting on his chest" and began sweating profusely even though it was only 60 degrees outside. He decided to take a 30-minute break. He went inside and eventually felt food enough to finish mowing his lawn. Fast forward a few months later and Ogaard went in to see his doctor, Dr. Maria Currie, MD, PhD, FRCSC, for a previous aortic valve problem. He eventually underwent a heart catheterization procedure and they found that his aortic valve problem was more serious than expected. In fact, staff explained that if he did not have open heart surgery his heart would either explode or he would have a stroke. So, on March 21, 2019 Knut Ogaard underwent aortic valve replacement surgery, a type of open-heart surgery where the failing aortic valve of a patient's heart is replaced with an artificial heart valve, at Dameron Hospital and spent five days recovering in the intensive care unit.
Ogaard believes that Dr. Curry and the team at Dameron saved his life and explains that the open-heart surgery was his thirteenth surgery since retiring from the Army, but was the best care he has ever experienced. Just a few months post-op, Ogaard participated in the 2019 San Joaquin Heart & Stroke Walk put on by the American Heart Association this past fall and was able to walk with Dr. Maria Curry and the nursing staff from Dameron Hospital.
Ogaard also completed his six-month cardiac rehabilitation through St. Joseph's Medical Center in November 2019, and has lost about 12-15 pounds. He explains that it is still frustrating not being able to do 100 percent of everything you want, but he wants to continue with his recovery getting healthier so he can get back to doing what he loves to do, working on cars and motorcycles. Ogaard believes he is lucky. "Not often do you get a second chance in life," he says.