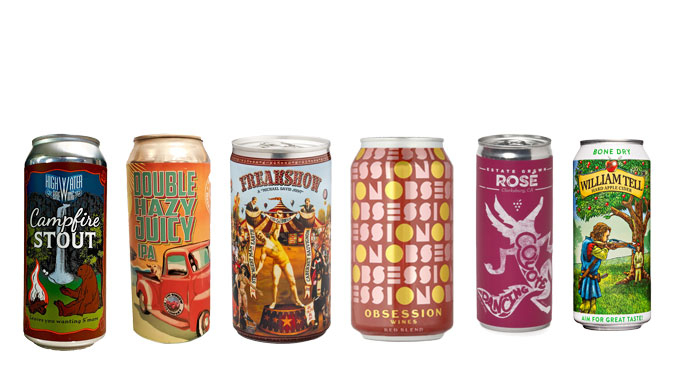 Canned wine has climbed to the number one spot when it comes to industry trends, but it isn't the only beverage getting a new look—and a new vessel to make it from the facility to your mouth. Local businesses are investing in canned products to carry their wine, cider, and beer to customers. The packaging is more versatile, has fewer limitations, and, in many cases, is a positive for taste.
Pacific Coast Bone Dry Apple Cider
Cider Brothers
This straightforward cider offers a full mouth of tarte apples balanced with a sweet, but dry, finish. The light fruit aroma tempts the senses and foreshadows the light, crisp apple drink without overdoing the carbonation.
ABV: 6%
Freakshow Cabernet Sauvignon
Michael David Winery
This deep red blend shows off its oaky flavors and dark, black fruits without losing any of its bold flavors in the can. Moderate tannins make it an easy-to-drink red blend, yet still one of the boldest canned wines on the local menu with hints of wood smoke, baking spices, and maple in each sip.
ABV: 14.5%
Obsession Red Blend
Ironstone Vineyards
This full-bodied fruity red wine offers bold tastes of sweet cherries and strawberries with hints of vanilla, but it finishes bold and juicy. Just one in a lineup of three Ironstone Vineyards wines that hit the market in cans this past June. Fans of the Lodi winery can now pick up a rose, symphony (white), or red blend in a 375 ml can.
ABV: 14.5%
2017 Rose of Pinot Noir
Dancing Coyote Wines
When it comes to wine drinking, this light-bodied rosé varietal made from pinot noir grapes offers fans a crisp, floral wine punctuated by notes of sweet fruits like strawberry and watermelon. Unlike many rosés, this one is not sweet, but the dry quality of the wine brings out the fresh flavors and is balanced by a crisp acidity.
ABV: 13.5%
Double Hazy Juicy IPA
Five Windows Brewing Co.
Get ready to be blown away by this smooth IPA. Presenting a softer texture than your typical IPA, this hazy, juicy brew is high in hop aroma and low in bitter notes, offering a refreshingly bold taste.
ABV: 8%
Campfire Stout
High Water Brewing
This impeccable stout tastes like smores, if smores had hops. Perfect for sipping on a cool evening, High Water Brewing has perfected a beer rich in flavors of chocolate with notes of graham cracker and marshmallow.
ABV: 7.3%