Is there a better meal than Thanksgiving Dinner? We think you'd be hard-pressed to find one. Whether you opt for a pan-roasted turkey or honey baked ham, chances are you've got your work cut out for you making the main dish. Which is why we have searched far and wide for the perfect sides to lessen your load and simplify one of the most complicated meals of the year. From mashed potatoes and gravy to savory dressings and everything in between, these six San Joaquin establishments offer an easy alternative to a weeklong prep in the kitchen so you can focus on the star of the show.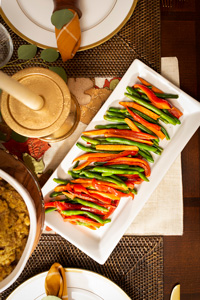 Papapavlo's Bistro and Bar
French Green Beans in Butter and Garlic
Let me make one thing clear, these are not your grandmother's green beans. For this Thanksgiving season, let's forgo the soggy casserole from yesteryear and opt for a fresher green. Papapavlo's Bistro and Bar has just what you need. Their French green beans are fresh, cooked until they are tender yet crisp, and loaded with flavor. Sautéed in butter and savory garlic, these green beans will satisfy both the health conscious and vegetable lovers at the table, plus the fresh factor makes this the perfect green for your Thanksgiving meal. After all, there are plenty of heavy sides in the line-up already.
Get Your Greens at Papapavlos $46 for half-pan, $94 for a full pan
Order deadline is one week prior to Thanksgiving
501 Lincoln Center, Stockton, 209-477-6133, Papapavlos.com
---
Tin Roof BBQ and Catering
Mac n Cheese
Mac n cheese is a dinner table staple, but this mac and cheese cannot be duplicated by something out of a blue box. At Tin Roof BBQ you'll get the creamiest version of this classic dish to please both the kids and the grown-ups at your Thanksgiving table. It's ooey, gooey, cheesy goodness is legendary in Lodi and it's easy to see why. Larger than life macaroni noodles are loaded with a combination of fresh cheeses and cream to satisfy the heartiest of cravings at your turkey feast.
Savor the Goodness at Tin Roof BBQ, $12 for 32 oz.
Order deadline is the Monday before Thanksgiving.
171 S. Guild Ave., Lodi, 209-366-1128, LodiBBQ.com
---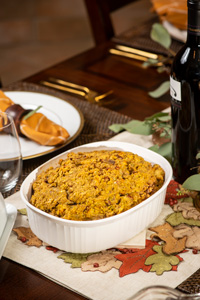 Honey Baked Ham Store
Cornbread Pecan Stuffing
Some folks call it stuffing.  Others refer to the classic dish as dressing. Regardless of what you name it we all know that this dish is a staple in any turkey day feast. Forgo fussing with stuffing your turkey or worring about food borne illness from undercooking it inside the bird. Make it easy by heading on over to the Honey Baked Ham store where the cornbread pecan stuffing—a sweet and savory combination of cornbread, crunchy pecans, and herbs—is prepared with all the fall flavors needed to compliment your meal.
Serve up Stuffing from the Honey Baked Ham Store, $8.99/quart.
Order deadline is three days before Thanksgiving.
6530 Pacific Ave., Stockton 209-955-0430, HoneyBakedOnline.com
---
Midgley's Public House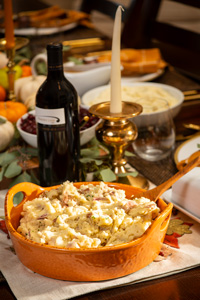 Garlic Red Mashed Potatoes
Midgley's Public House is a community staple for comfort food. So, there's no surprise that we suggest their signature garlic red mashed potatoes to pair with your herb-crusted Thanksgiving turkey. A rustic take on the traditional mashers, these potatoes are next level! Creamy and garlicky, your guests will be grateful; and so will you. After all, isn't peeling potatoes one of the most tedious tasks of hosting Thanksgiving?  Midgley's also offers up a glorious version of mashed sweet potatoes with toasted marshmallows, in case you're in need of more than one potato side.
Make room for mashed potatoes at Midgley's Public House, $25/pan, Mashed Sweet Potatoes with Marshmallows $30/pan.
Order deadline is the Monday before Thanksgiving.
296 Lincoln Center, Stockton, 209-474-7700, MidgleysPublicHouse.com
---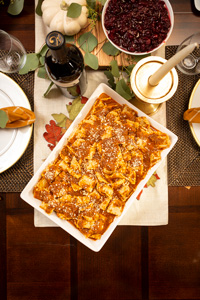 Angelina's Spaghetti House
Raviolis in Marinara
You may be surprised to hear that a healthy helping of families serve ravioli annually on Thanksgiving, and if you haven't started yet, we suggest you give it a go this year. The ravioli from Angelina's Spaghetti House are stuffed with perfectly seasoned beef and tossed in an herbaceous marinara sauce that will have your guests begging for seconds. The pasta is both tender and flavorful. If you have vegetarian guests at your table, Angelina's also serves a meatless ravioli and an asparagus version.
Rave about Ravioli at Angelina's Spaghetti House, $54 for a small order (feeds up to 16 people) or $135 for a large order (feeds up to 40 people).
Order deadline is two days before Thanksgiving
1563 E. Fremont St., Stockton, 209-948-6609, Angelinas.com
---
Whirlows Tossed and Grilled
Mashed Potatoes and Gravy
If there is one dish besides the turkey that gets all the glory, it has to be mashed potatoes and gravy. This All-American side dish is the ultimate compliment to your turkey meal. At Whirlows, the potatoes are made fresh. Creamy as can be, these spuds are buttery and topped with a rich and flavorful turkey gravy.
Pick up marvelous mashers at Whirlows Tossed and Grilled, $34.99 for a half pan, $99.00 for a full pan, $5.99 for a pint of gravy
Order deadline is the Monday before Thanksgiving
1926 N. Pacific Ave., Stockton, 209-466-2823, Whirlows.com