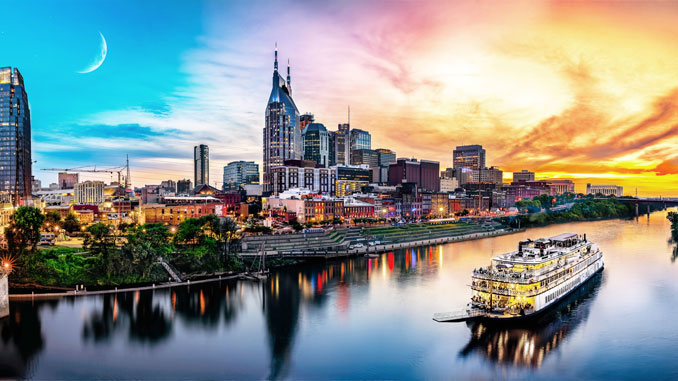 Celebrate your nuptials in Music City
If you like country music, late nights, and good vibes, Nashville may just be the place to celebrate your new relationship status. Revel in music history, taste the local cuisine, and stay out all night at the celeb-inspired bars on Broadway. Don't forget to add a little romance and luxury into your trip with off-the-beaten path excursions that will allow you to escape the hustle and bustle—briefly—as a couple.
---
Arrington Vineyards
Start your trip off slow with an excursion outside of Nashville's city limits. Arrington Vineyards is one of few wineries in the area, and it gains notoriety because it's owned by Kix Brooks of Brooks & Dunn.
Take the road 25 miles south of Nashville to land in Arrington, Tenn. Here, rolling hills welcome guests to a place that feels a million miles away from the city as you trade rooftops for a deck with open seating, and city lights for expansive countryside views. Sip award-winning varietals made on-site over the property's 75 acres. For a real treat, visit on a weekend when Music in the Vines is on the calendar—every Saturday and Sunday, April through October. During this event you'll have the opportunity to test out two bands every day with bluegrass in the barn and jazz in the pavilion. Aside from gourmet meats, cheeses, and chocolates available for purchase, there are no restaurants in the city of Arrington so guests are encouraged to bring picnic lunches, or have food delivered by Simply Living Life nearby.
Choose a spot on the patio, in the barn loft, or on a picnic table available to guests to share a bottle while you take in the views. When the tasting room is open, guests can also sip the line-up of available wines during a tasting experience. 6211 Patton Rd., Arrington
---
Broadway & Beyond
Looking for a wild time? Lower Broadway has been likened to the Vegas of the South, with nightly parties, packed bars, and constant live music. The rule of thumb is that if a musician is playing on Broadway, they're good! So head to the music row and prance between stops. Stay for bands you like, and if you find one you truly enjoy, ask where they will be next; many artists play multiple spots on the street in one night so you'll be able to follow favorites from venue to venue. Expert Tip: order cocktails made with sweet tea everywhere you can.
We suggest starting at one end and working your way down. It's the best way to hit all the places (or, honestly, as many as you can). If you're walking by and hear something you like, stop in. The music makes the atmosphere in many of these places.
Start at Acme with multiple bands on several levels. Take the elevator to the top and grab a frozen beverage. Then, enjoy the DJs and live bands that frequent here. It's a little less touristy than most of the strip, but offers a stunning rooftop view. From here you can plan out your next moves, spotting establishments owned by Luke Bryan, Jason Aldean, Kid Rock, and Dierks Bentley nearby.
---
Celebrity Treatment
Lower Broadway is packed with bars named after your favorite country music celebrities. From groups like Florida-Georgia Line to standout singers like Jason Aldean, each bar follows a formula: several levels with a new band on each floor, quality cocktails, and, of course, a rooftop. Here are some favorites:
---
FGL House
Serves Southern-style pub fare and cocktails.
120 3rd Ave. S., Nashville
---
Ole Red
Blake Shelton-inspired this high-end honky tonk that serves Southern cuisine and signature drinks. Expert Tip: Eat here! The redneck nachos and kiss my country a** quesadilla are just the tip of the iceberg at this raucous eatery with a large dance floor.
300 Broadway
---
Kid Rock's Big Honky Tonk Rock n' Roll Steakhouse
Kid Rock's restaurant is a mix between a steakhouse and a honky tonk, featuring five stories of live music.
221 Broadway

---
Jason Aldean's Kitchen + Rooftop Bar
This saloon offers four levels of live music and has a rooftop. Expert Tip: It's also a good spot to stop and watch a game.
307 Broadway

---
Dierks Bentley's Whiskey Row
Most days of the week this rooftop gets busy, plus inside there is more music and pub fare.
400 Broadway
---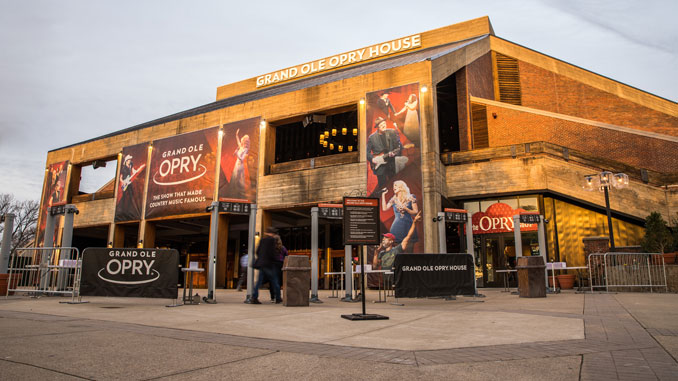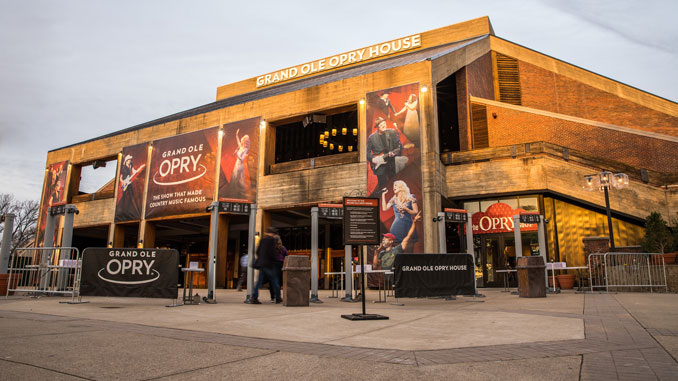 Old School Landmarks
In between the rowdy rooftop bars sit some older establishments that attract a different crowd. Here, the classics are more likely to be played by live bands than the newer soundtracks you're used to, and the crowd may or may not be a little bit tamer.
While there are a few housed next door to each other on Broadway, Tootsie's Orchid Lounge is a favorite. This storied establishment became well known as the place big stars would perform after their show at the Grand Ole Opry was up. Now the line-up features a combination of top-name performers and local artists with the same lively atmosphere it's always had. 422 Broadway
Don't forget to stop by Margaritaville, as well. This restaurant can hold up to 300 people and it hosts live bands and features a playable piano staircase. On Fridays, The Sirius-XM Highway radio station stops by for Music Row Happy Hour and interviews guests. 322 Broadway
---
Local Grub
If you ask the locals, they'll have a list a mile long of the food you should try while you're visiting Nashville. Take as many suggestions as you can—chances are they aren't lying about how good it all is.
Hot chicken may be the most popular choice for visitors, and if you're looking for the best place to get it, we recommend Hattie B's. Chose between wings and strips and then douse it in a sauce ranging from mild to "shut the cluck up" spicy. Finish your meal with a cup of sweet tea—if you went spicy, you'll need it! Warning: the line often reaches outside of the door, but some locations are busier than others. 112 19th Ave. S.
The other can't miss Nashville cuisine is a goo-goo. These gems are available throughout the city, but the main place to get one is Downtown on 3rd Avenue at The Goo Goo Shop and Dessert Bar, open 10 AM-7 PM daily. There are a few variations on the dessert but the classic is a chocolate dipped cluster of peanuts and marshmallows. 116 3rd Ave. S.
---
Music History
While live music, rooftop bars, and signature cocktails may be what you came to Nashville for, we have a feeling the city's deep roots in music history may have had something to do with its appeal. There are tons of landmarks to hit while you're in town, but if your stay is short, you may have to pick and choose. Read on for favorites that live up to the hype.
---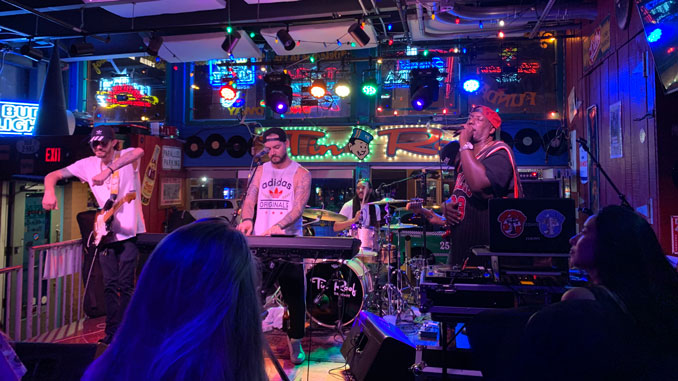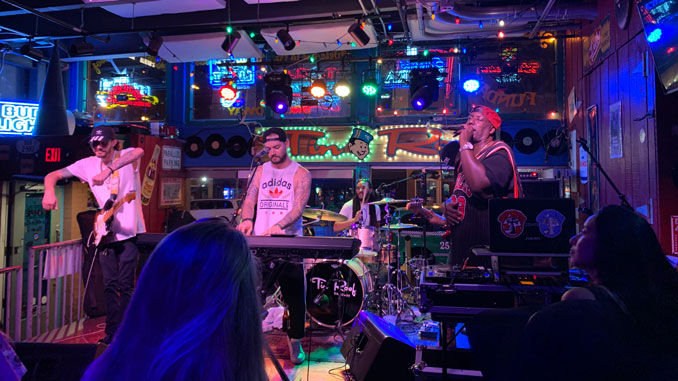 Country Music Hall of Fame
This museum is one of the largest venues dedicated to American music in the world. Step through exhibits to see costumes worn by famous performers, video clips from the 1950s (and before), and posters from old concerts and tours. The museum also pays homage to more modern country music with a hands-on exhibit dedicated to Taylor Swift and memorabilia from Jason Aldean, Carrie Underwood, Chris Stapleton, and more. An interactive area also answers trivia questions about country music, and inside you can make your own album cover. 222 5th Ave. S.
Outside a collection of gift shops is a good place to grab a souvenir from Music City, and an attached restaurant that has just about nothing to do with country music offers surprisingly healthful Mexican grub before you go. Stop in for a stuffed burrito or some tacos.
---
Tour the Grand Ole Opry or Ryman Auditorium
If you have time, do both. The consensus is never clear on which tour is better. Daytime tours take about one hour and offer guests a behind-the-scenes look at country music's most famous venues, the Ryman being the original home of the Grand Ole Opry. 2804 Opryland Drive OR 116 Fifth Ave. N
If you're lucky, you'll be able to catch a show at the Opry while you visit. Most nights of the week well-known country acts are taking the stage at the historic venue to entertain audiences with a range of musical tastes.
---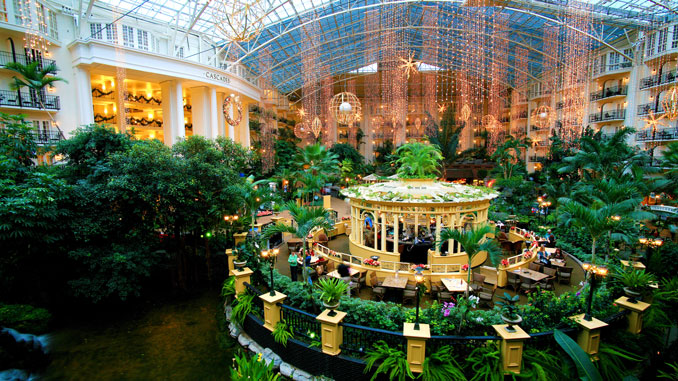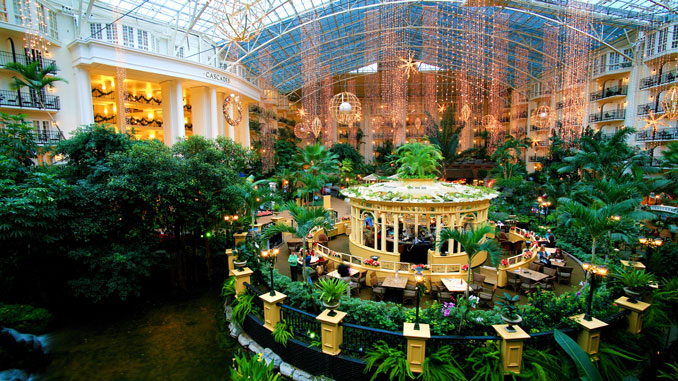 Stay: Gaylord Opryland Resort & Convention Center
There's no reason to skimp on your honeymoon! To stay in style in Nashville, book a room at the Opryland Resort, located in the heart of Downtown Nashville. Without leaving the hotel you'll be able to dine in, get pampered at the spa, play a round of golf, and discover SoundWaves, a water park located on-site. One of the biggest draws perhaps is that guests—and non-guests—can take a ride through the hotel by boat on a guided tour. Inside there are nine acres of lush gardens and waterfalls for guests to admire, and outside you can take a splash in one of the open pools. Expert Tip: Take it over the top by booking the presidential suite. 2800 Opryland Drive