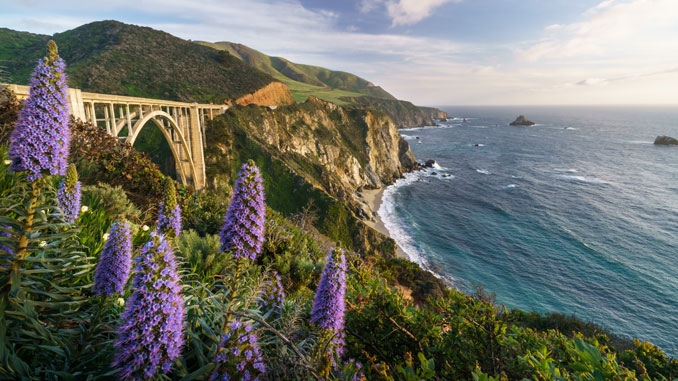 A Central Coast Getaway
Iconic Highway 1 is a gold mine for those looking to merge the beauty of the outdoors with the finer things in life. Set on California's Central Coast, the Highway 1 Discovery Route winds through ten artisan communities. In a long weekend, anyone can reasonably trek through the region's northern half, stopping through beach towns, wine regions, and wildlife refuges. Follow our course through the northernmost cities—San Simeon, Ragged Point, Cambria, and Cayucos—to find adventure, authentic farm-to-table cuisine, award-winning wine, and wide-open spaces worthy of your time.
---
San Simeon
Spend a day in San Simeon, in between Ragged Point and Cambria. Here, Hearst Castle stands out as the landmark to see, while wide-open outdoor spaces make the ideal scenery for hiking and outdoor exploration.
---
Accommodations
Tuck in at the Cavalier Oceanfront Resort, just three miles from Hearst Castle (9415 Hearst Drive). The hotel rests on a scenic bluff overlooking the ocean and many rooms offer outdoor patios where guests can sit and enjoy the sound of crashing waves. Downstairs, an outdoor pool and hot tub are available to guests, just steps from the sandy beaches of San Simeon. Finish your night roasting marshmallows over an outdoor fireplace rooted in the sand.
Grab an easy breakfast at the hotel before heading out—we've got one more coastal city for you to explore before trekking home.
---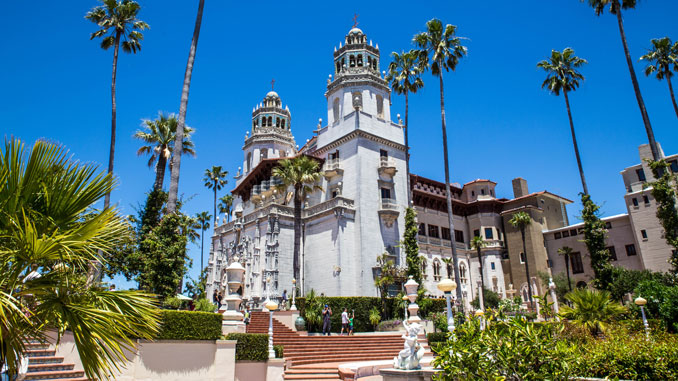 Hearst Castle Tour
Sign up for a guided tour through the castle and its expansive grounds, designed by its owner William Randolph Hearst, a publishing giant who passed away in 1951, and architect Julia Morgan. The mansion was under construction for several decades, and is now preserved as a registered landmark.
Guided tours last about an hour, taking guests through the grounds. See the infamous Neptune Pool and the rooms Hearst used to entertain guests in, including prominent movie stars from the 1920s and 1930s. Lady Gaga even recorded a music video at the indoor pool a few years back.
After the tour, guests are invited to stay and walk around as long as they like before catching a bus back to the station. If you look closely, you may even spot a zebra roaming the rolling hills as Hearst used to house a small zoo on the property.
---
Lunch & Wine
Dine at Sebastian's while visiting San Simeon. The casual eatery is housed in the same building as Hearst Ranch Winery—and they share an address—so you'll be able to combine two activities in one (442 Slo San Simeon Rd.). Everything on the menu is divine at this counter-serve restaurant (with an outdoor patio), but we recommend the burger above all else. Let us warn you—it's big! So bring your appetite.
After you've demolished your meal, step five feet to your left for a wine tasting experience unlike any other. Down-to-earth wine savants pour sips of Hearst Ranch Winery's best varietals, and if you ask, they'll even test your palette. The wines are produced from an estate vineyard in nearby Paso Robles and served in the tasting room, a historic 1852 building. While you're there, you can catch glimpses of Hearst Castle and the Pacific Ocean from the deck where you sip.
---
The Great Outdoors
Walk it off by visiting two of San Simeon's best outdoor recreational areas. Start with a hike on Boucher Trail that winds past the Piedras Blancas Lighthouse (15950 Cabrillo Hwy.).
If you'd like to explore the lighthouse, see this gem on a tour. Through August 31 tours of the lighthouse are offered daily 10 AM-12 PM except on Wednesdays and Sundays.
Close by the Piedras Blancas Elephant Seal Rookery is a sight to see (Highway 1). On the coast, elephant seals rest in large packs throughout the area, resembling a less-urban Pier 39 in San Francisco.
Ragged Point 
This is the ideal place for an easy day on your tour, and Ragged Point Inn is where you should stop to rest your head after a day of exploring nearby beaches and trails (19019 CA-1). The scenery echoes what is seen in Big Sur, jagged rocks and daunting cliffs layered in fog most days of the year. At Ragged Point Inn, the hotel plays up the surrounding landscapes with outdoor decks and seating and an in-room fireplace. Expert Tip: You can always backtrack here after a day in Cambria.
Check in for dinner where the gourmet, on-site restaurant offers fresh cuisine above the cliffs. Take a seat outside for the best views—and around the fire pits to stay warm. The ambiance is so inviting here you won't want to leave. Make your meal last with multiple courses of farm-fresh cuisine, much of which is grown in on-site gardens. If the deck is full, the dining room still caters to those looking to catch a sunset at dinner with floor-to-ceiling windows all around.
Before leaving the next morning, take a walk down to the beach; a set of wooden steps is just to the side of the restaurant. Walk as far as is comfortable to escape into the bluffs. Then, grab a quick breakfast on your way out at the espresso bar, located around back of Ragged Point Restaurant.
---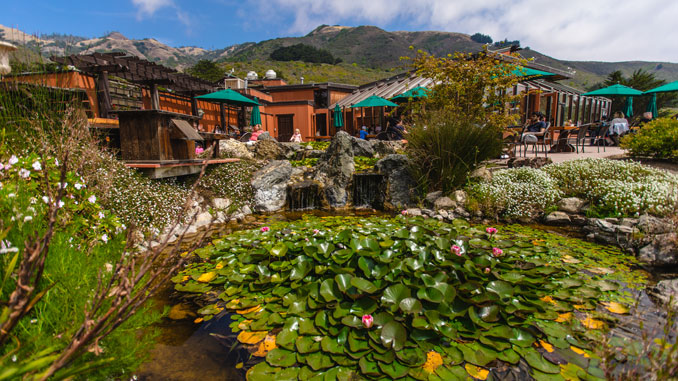 Cambria 
Lunch & Pie
Fuel yourself for a day in Cambria by filling your belly. The first stop once you hit Cambria's quaint downtown is Linn's Restaurant (2277 Main St.). Linn's started as a fruit stand in Cambria but has since turned into a local staple with several locations throughout Cambria. The lunch menu is packed with filling paninis, salads, and other farm-fresh foods, but the real draw is the pie.
Linn's olallieberry pie is what most people come in for, and if you're curious just what an olallieberry is, well, the server will hand you a sheet that thoroughly explains how these fruits come to be. Hint: it's by expertly mixing other berries together in some sort of agricultural science experiment. Grab a slice of homemade pie, fall in love, and then purchase every olallieberry product the store offers—from candy to tea, jams to dressings. Expert tip: our second favorite pie here is the apple served al la mode.
---
Wine Tasting
Once you've readied yourself with a belly full of pie, it's time to move on to the next tasting activity of the day. The Pacific Coast Wine Trail represents six boutique wineries along the Central Coast, and you really can't go wrong with any. First up, stop into Moonstone Cellars just down the road from lunch. A bar made of old wine barrels acts as the centerpiece in the dog-friendly establishment. Editor's Choice: Sip the 2018 Pink Elephineaux, a clever play on saying "Hell if I know." This tempranillo rosé is fresh, light, and dry—not too sweet.
Move on to Cutruzzola Vineyards in Cambria's West Village (555 Main St.). The reds and whites here are both divine, but the winery specializes in rieslings and pinot noirs. Wines are sourced from a local, Cambria vineyard near the water where the cool climate caters to these varietals, and are served in the tasting room along with other sips from the label.
A little way down the road sits Stolo Family Vineyards, up a winding stretch into the hillside (3776 Santa Rosa Creek Rd.). The tasting room offers a cool place to try the vineyard's line-up, plus an outdoor area for gathering with friends. Editor's Choice: Dive into the pinot noirs and syrahs while you're here; there are typically a couple of each available to taste. On Saturdays in August, the tasting room welcomes live music.
If you want to try a little bit of everything, stop by Fermentations, a downtown wine bar located in Cambria's East Village on the main stretch (2306 Main St.). Inside, a long list of wines is available to taste from 10 AM-8 PM daily, with an expert wine steward behind the bar to pour.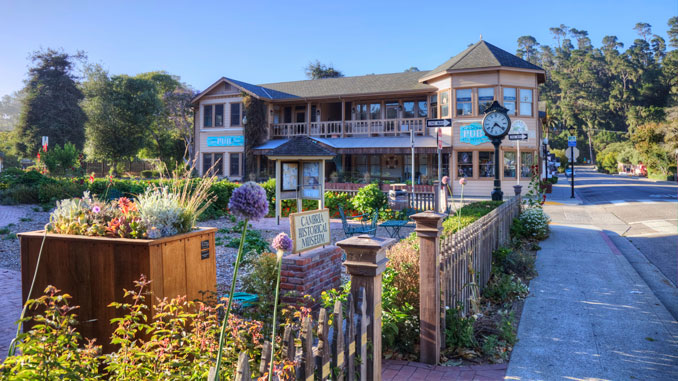 ---
Pizza & Pinot
Pair the popular Central Coast varietal with a favorite cuisine. On August 18 from 1-3 PM at Stolo Family Vineyards, guests can chow down on artisan pies from Fire & Ice Catering while sipping handcrafted pinots by Stolo (and the estate rose).
---
Ride a Clydesdale
Look, I knew that horseback riding was a thing in most beach towns, but riding a Clydesdale? I didn't even know you could do that before I visited Cambria.
Tara Covell, 19, started Covell's Clydesdales on her parent's farm at just 15 years old (5694 Bridge St.). Now she provides group trail rides across the property as a business. Each ride starts with an introduction, making excursion possible for those who have never even mounted a horse before, as well as those who are expert equestrians. Once you've been briefed on how to control the horse, you set off into the hills for a leisurely stroll (with some trotting when you feel comfortable).
---
Cayucos 
This quiet beach town offers little more than your run-of-the-mill beach shops, fishing, and surfing, but it is a gorgeous beach worth a stopover with a few standouts.
Indulge in the scenery of Cayucos by starting your visit with a walk down the pier. Here fishermen are busy casting lines into the water, and nearby surfers are riding waves back to shore. It's a serene experience, and a leisurely stroll that grants you all the windswept hair and salty sea breezes you've been craving.
---
The Sweets Life
Next up, treat yourself to a brown butter cookie at the Brown Butter Cookie Company (98 N. Ocean Ave.). These delectable sweets come in a variety of flavors—may we recommend the coconut lime?—and samples are doled out generously to patrons so you know exactly what flavors to stock up on and take home.
Cayucos Candy Counter is the other sweet shop you'll want to visit. A glass case filled with fresh-baked goodies is all the temptation you need to break that diet, and the ice cream flavors are the perfect indulgence on a hot day (75 Cayucos Drive). Expert Tip: Grab a cone before heading out on that pier walk.
---
Dine
Whether it's lunchtime or dinnertime, Schooner's is the place to dine. Open 11 AM-9 PM daily (and until 10 PM on Fridays and Saturdays), Schooner's is known for its menu of fresh seafood and perfectly cooked steaks. You'll be able to fully embrace the Central Coast charm on Schooner's outdoor patio overlooking the ocean as you dine on oysters and sesame-crusted ahi, offering all the ambiance you need to end your trip.
---
Want to Learn More?
Visit www.Highway1DiscoveryRoute.com for more locations and things to do on both the north and south half of the Central Coast route.