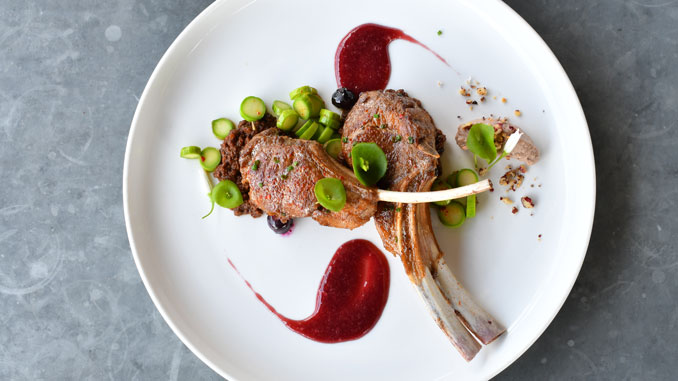 with Chef Ian Bens of Rosewood Bar & Grill
Five random ingredients, one talented chef; put them together and you've got an exciting culinary contest on your hands. When I asked the renowned Chef Ian Bens of Rosewood if he would be up for the challenge, he eagerly accepted. The five mystery ingredients? Lamb, blueberries, walnuts, asparagus, and potato chips.
So, what is this feast for the eyes? Rosemary and garlic lamb chops with a sweet and sour blueberry sauce, toasted walnut hummus and potato chip crusted asparagus spears. For the full recipe, check out our digital exclusive at SanJoaquinMagazine.com.
Dijon marinated lamb chops
Ingredients
8 Lamb Chops, Frenched
1/4 cup Dijon Mustard
2 Tbsp Olive Oil, 1 TBSPN. For Cooking
2 TBSN. Butter
2 Sprigs Rosemary
2 Garlic Cloves, sliced
Salt and Pepper to taste
Directions
Mix mustard and olive oil in a bowl. Brush mixture all over the lamb chops, avoiding the bones. Let chill 2 hours or up to 24 hours. Season the chops on all sides. Heat 1 tablespoon oil in heavy large skillet over medium-high heat. Add chops to skillet along with rosemary and garlic. Add butter to the pan, it should melt and foam. Baste the meat with the melted butter with a spoon. Cook 3-4 minutes per side for medium-rare, 5-6 minutes per side for medium. Let rest 5-10 minutes before serving.
---
Lamb Ragu
Ingredients
1 TBSN.Olive Oil
1 Onion Finely Diced
2 Cloves Garlic, Minced
1 TBSN. Chopped Rosemary
1 Lb. Boneless Lamb, ground or cut into very fine dice
Coarse salt
Freshly Ground Pepper
1/2 C. Merlot
1- 14.5 ounce Can Italian Plum Tomatoes, coarsely chopped
Directions
Put the oil and onion in a large skillet and cook over moderately high heat, stirring frequently, until the onion is pale gold. Add the lamb and cook until browned, 5 minutes. Season with salt, pepper, rosemary and stir. Add the wine and simmer until evaporated, 10 minutes. Add the tomatoes and simmer gently, stirring from time to time, until the fat begins to separate from the sauce, 15 minutes.
---
Sweet & Sour Blueberry Sauce
Ingredients
1/2 C. Sugar
1/2 C. Red Wine Vinegar
1 C.  Blueberries
Directions
Heat sugar and vinegar to a simmer, add blueberries and bring back to simmer. Remove heat and let cool down completely. Puree in a blender until very fine. 
To assemble, layer the ragu and the lamb chops. Spoon the blueberry sauce over the lamb and enjoy! Bon Appetit!
Rosewood Bar and Grill
28 S. School St., Lodi