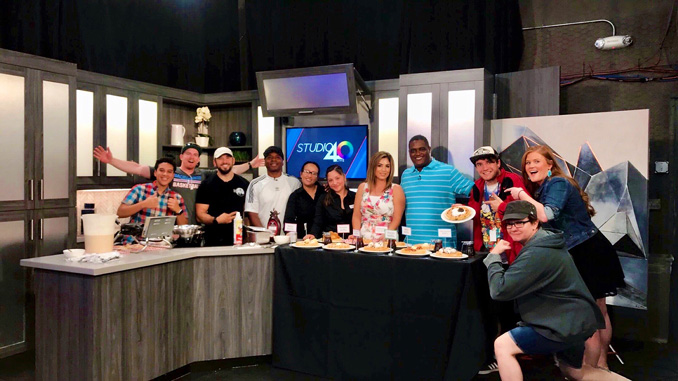 We ask you this: what's more American than chicken and waffles? This match made in culinary heaven features all the crunch and savory flavor of fried chicken, elevated by the sweetness of a syrup-soaked waffle. And, as everybody in San Joaquin knows, nobody does this dish better than America Waffles.
Celebrating their 10th anniversary this month, it's no secret that America Waffles has thrived in the past decade. San Joaquinians everywhere have visited this beloved waffle house and emerged with bellies and wallets full, totally satisfied with their experience. "We serve great dishes with large portions at reasonable prices," explains America Waffles owner Nesrin Shabbar. "It feels wonderful to be successful for 10 years, and to have accomplished so much."
Among their many accomplishments is their nomination for Best Chicken and Waffle in 2017 and 2018, as well as Best Waffle in 2018. So much attention has come to this establishment that Nesrin and her team were invited to Fox 40's recording studio.
"My best memory here was this last August, when Fox 40 invited us for National Waffle Day to make our waffles on live TV," recalls Nesrin. "We prepared between 10 and 12 types of waffles, and we even got to take a picture with the staff!"
And this wasn't the first time America Waffles had attracted televised attention: three years earlier, Good Day Sacramento visited America Waffles, and filmed the team preparing their "Waffle Burger". Burgers at a waffle house, you ask? But of course—and that's only the beginning. For example, Nesrin's favorite dish is the smoked salmon eggs benedict paired with a guava mimosa (they obtained a wine & beer license in 2018). She's also a fan of the spicy burger.
"Because we take pride in everything we do, we prepare the best dishes from the best ingredients," states Nesrin. "When my husband Ibrahim passed away, I inherited this business. I had just received my master's degree in business and implanted what I learned."
A decade later, nothing brings Nesrin more joy than seeing regulars return daily to indulge in their favorite breakfast, or having new customers enjoy their first meal at America Waffles, promising to return again soon. It's that joy that defines success, a joy that Nesrin invites all of San Joaquin to be a part of. "When you are passionate about you do, success becomes your destiny."
Eat American:
America Waffles
1540 E. March Ln., Stockton
(209) 951-1175