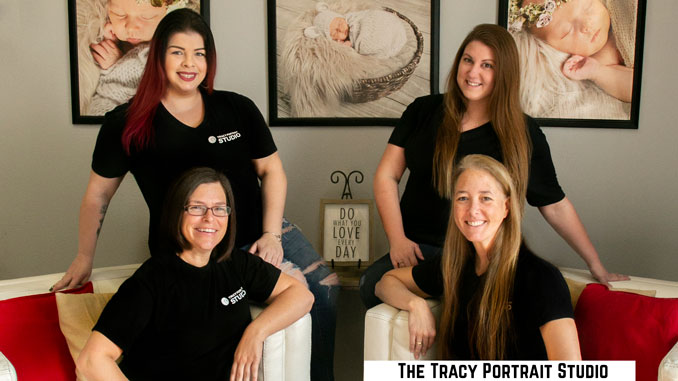 We live in the age of the photograph: the snap, the 'gram, the selfie. Many families are content to document their family's growth through the lens of a cellphone, but what are the chances you're ever going to print those photos and hang them for all to see?
If we're being honest, slim to none.
Alas, the steady march of time dictates that, one day, your little one won't be so little. That means there's no better time to schedule an appointment for a photo shoot—a professional photo shoot.
"We believe that pictures are the most valuable gift one can leave behind for generations to come," states Tais Richardson, owner of Tracy Portrait Studio. "Whether in print or digital, pictures can tell the story of where you came from, what you became, and what you built during a lifetime."
Having relocated and reopened under new management in July 2017, Tracy Portrait Studio has since been growing their services, providing clients with elegant, high quality portraits of them and their families.
"When the studio reopened in August of 2017, we vowed to be focused on what we do best," remembers Tais. "Our greatest joy has been transforming our studio into a place where everyone can get a beautiful picture of themselves and their families, by capturing the beauty within."
Sarah Wagenaar, lead photographer on staff at Tracy Portrait Studio, has developed close relationships with her clients as she's documented their family's growth. "It's a big part of why I do what I do," says Sarah. "Some of my dearest friends started as clients, and I have since had the pleasure to see their family and love for one another grow."
Tracy Portrait Studio has expanded their services to offer everything from portrait sessions, to restoration, to enlargements, to prints, and even event photography. And with spring lingering beyond the horizon, Tais, Sarah, and the rest of the staff at Tracy Portrait studio have your spring photography needs covered, complete with studio Easter bunnies.
Renowned American documentary photographer Dorothea Lange once said, "Photography takes an instant out of time, altering life by holding it still." It's a paradox, in that most people take photos to take a moment out of life and preserve it, not alter it. But the truth is, life is always changing. Let Tracy Portrait Studio take the photos that will at once keep those kids forever young, and also change your family's lives forever, in the best possible way.
Tracy Portrait Studio
2251 W. Grant Line Rd., Suite 127, Tracy
(209) 834-2052
TracyPortraitStudio.com