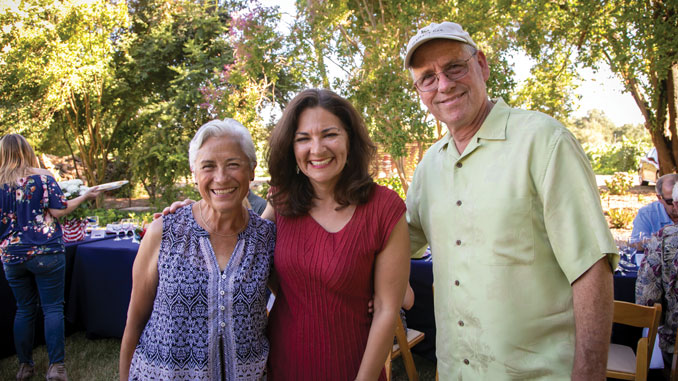 Rare Wines in a Special Space
If you believe you've discovered all your Lodi appellation favorites, think again! Add this new addition to your stops along the tasting trail. Paskett Winery and Vineyards' roots run deep with nearly 50 years of winemaking experience, and just recently, the family decided to produce wines for the public. Now, we're all able to enjoy the fruits of their labor—literally!
"We've always known that we had special vineyards with beautiful fruit, and ideal soil and climate—and we've been eager to share our wines," says Lorraine Paskett, owner of Paskett Winery. And with everything needed to make great wines, all that remained was a place from which to share them.
"Finding the property felt serendipitous," Lorraine says of their beautiful grounds, located on the historic Langford Estate. The estate dates back to the mid-1800s when it was established by Lodi's first State Senator, Ben Langford. "My dad, Herb Paskett, found this property and fell in love with its history and what it represents for Lodi and the Lodi AVA," explains Lorraine.
"We wanted a place with deep roots that tapped into the regional pride," she adds. "We restored the main house and the schoolhouse and tried to replant trees and shrubs that would have been planted in the mid-1800s. We preserved the old Gingko tree and the old olive trees."
With such a rare gem of a tasting room location, it's no wonder that they're known for producing wines that aren't easy to find in the region. Their Charbono is just one of those wines. Paskett Winery & Vineyards has one of the only, and oldest, Charbono vineyards in California, located right on the riverbank of Langford Estate. Their Rosé of Charbono is another rare varietal, and this bone-dry blend with cherry undertones pairs well with rich foods, such as cheeses, lamb, or pork tacos.
If you're looking for a bottle of wine for your holiday table, Lorraine has a few recommendations, so families with a wide range of tastes are in luck! "I would suggest the Albariño, the Rosé, our signature Estate Cabernet Sauvignon—or the Cabernet Sauvignon blend—and the Estate Charbono. Those wines cover anything from roast beef to turkey to ham." And they go well with all the sides!
Buy bottles to share with friends and family this season, or sip on these unique varietals at their tasting room from Friday through Sunday, 11 AM to 5 PM.
Start Sipping:
Paskett Winery and Vineyards
11070 E Woodbridge Rd., Acampo
(209) 200-1959
PaskettWinery.com