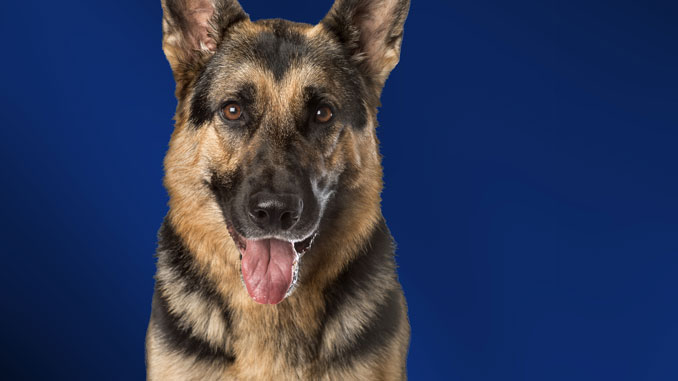 When budget cuts hit our county's police departments, K-9 units were the first to go.
Today, our local police reach into their own pockets to reintroduce an essential crime-fighting element: One with a heightened sense of smell, a high drive, and a startling bark. In fact, it's the bark that is the most effective, yet least aggressive, tool in support of the K-9 Units' mission—to keep suspects and officers safe.
Bark over bite is always the desired outcome, though officers stress that the latter doesn't indicate an upset or angry dog. In reality, it's a loyal pup eager and ready to please his owner. Sure, these dogs train continuously and work 10-hour days performing narcotics detections, apprehensions, and search and rescue missions, but off the clock, they're the family dog that craves love and attention. Much like their owners, our county's canines are committed to positive community connection and want to engage. Catch them at the next demonstration, public event, or out on patrol.   
---
K-9 Handler & Officer Dominic Carillo and Cabo, Lodi Police Department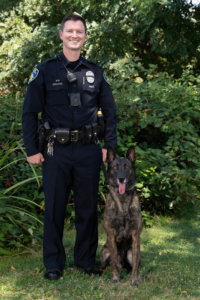 About Cabo
Age: 5 years old
Focus/Specialty: Narcotics detection and protection.
Putting in work: We continuously train—completing four hours of training every Monday, and on and off-duty training throughout the week.
Community Connection: See Cabo, other K-9s and their officers at the annual Art O'Keefe Memorial Canine Trials, a narcotics detection competition held each September in Lodi. Teams compete in a vehicle search, building search, and more. The protection phase is open to the public!
Hangin' at Home: My two-year-old is in love with Cabo and constantly wants to spend time with him. He's amazing with my kids. He has such a well-balanced demeanor: a strong drive when it's time to work—but a friendly, approachable, social dog off the clock.
---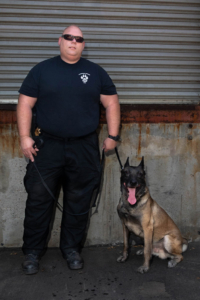 K-9 Handler & Officer William Mueller and Ryder, Manteca Police Department
About Ryder
Age: 6.5 years old.
Weight: 70 lbs.
Specialty: Ryder has a great nose and is a search pro!
Putting in work: When we're training he's like a kid—he doesn't always listen, he knows what he's doing, and it's fun for him. That's the thing about these dogs—people think they're mad when they're apprehending, but they're not, they're happy.
Career Highlights: The combative subject was yelling, screaming, and not complying with the five other officers who were trying to get him into custody without any harm. The second Ryder came out the suspect went straight down, and that kept both the subject and the officers safe.
---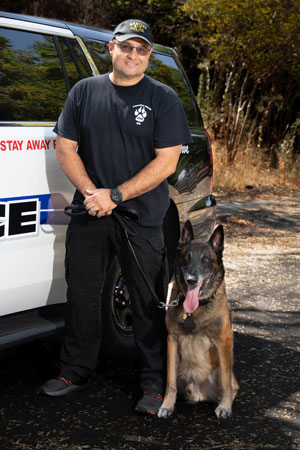 K-9 Handler & Officer Jason Massey and Max, Manteca Police Department
About Max
Age: 10 years old. He's getting ready to retire!
Career Highlights: He's only had two bites in the seven years we've worked together—which is a good thing! But we've had tons of arrests. He's an excellent tool in protecting officers and the public.
What do you enjoy most about being a part of the K9 unit?
It allows people, especially younger kids [who don't interreact with police officers that much] to get to know us.
Hangin' at home: When I first got Max, the trainer said to keep him in the back yard and slowly integrate him with the family. My daughter was about nine. I go outside and Max wasn't in the backyard. I go back into the house to find my daughter. She'd made a tent out of blankets and Max's tail was sticking out, wagging. It was an immediate match with the family.
---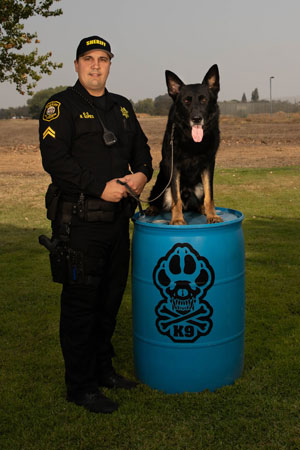 Deputy Sheriff-K9 Handler Nick Gomes and Maximus, San Joaquin County Sheriff's Department
About Maximus
Age: 5 years old
His personality in three words: Friendly, curious, and loyal.
Career Highlights: Maximus received 1st place overall for the Lodi K-9 Trial in 2017. He also has located and apprehended several violent and dangerous suspects over the last three years.
Specialty: Apprehension, Protection, and Searches. Maximus completes building and field searches for potential hiding suspects, and helps by protecting all deputies in our department from harm. He is also certified to work with the SWAT Team in tactical missions.
---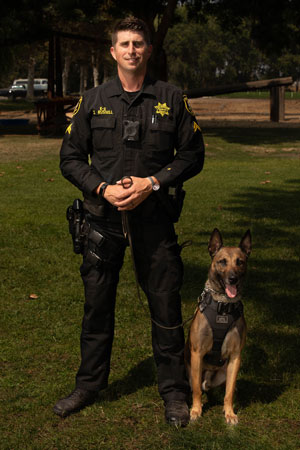 Officer, FTO, K-9 Handler Ron Zalunardo and Roscoe, Stockton Police Department
About Roscoe 
Age: 7 years old
K-9 Quirks: At work, he's very possessive of his patrol car, and me. If I get out of the car, he barks, if I start talking to someone he really barks! He's extremely attentive and loyal.
Hanging at Home: Off the clock Roscoe is a family dog. He goes camping and plays in the backyard with three young kids—they can do anything they want to him and he's as gentle as can be. He's a big part of the family. When we take holiday photos, you better believe he's in them!
Career Highlight(s): One time he saved my rear end! A guy broke into a school campus and was hiding in the dark, but I didn't know where he was. Roscoe alerted me that he could see someone, so I yelled for the suspect to show his hands. The guy dropped the large pipe he had and complied, as Roscoe kept his eyes on him.
---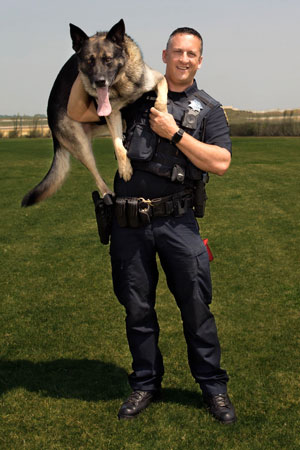 K-9 Officer Cody DellaBitta and Marko, Special Enforcement Unit, Tracy Police Department
About Marko
Age: 7 years old
 K-9 Quirks: Marko is crazy for his Kong toy. He will literally do anything for his toy, which he has with him 24/7. Having a high toy drive k-9 makes a good police dog, and Marko definitely fits the bill. He is great with children and ignores cats, dogs, and other animals. He is only interested in his work, his dad, and his Kong!
 A day on the Job: Marko's main purpose is to assist the Special Enforcement Unit (SEU) team in enforcement. He is first and foremost a patrol dog used in apprehension, tracking, locating evidence, and searches. Marko is first to go in to make sure officers are safe to follow. He works closely with the narcotics unit doing interdiction. 
Career Highlights: Marko has talked multiple people into custody with his "verbal judo." During narcotics work he has alerted to and found multiple pounds of marijuana, multiple ounces of heroin, methamphetamine, cocaine throughout his career. He has found narcotics in a vehicle after officers have thoroughly searched it. Marko is the current interdiction K-9 for Tracy PD and has alerted to over seven hundred thousand dollars which was seized for asset forfeiture.
---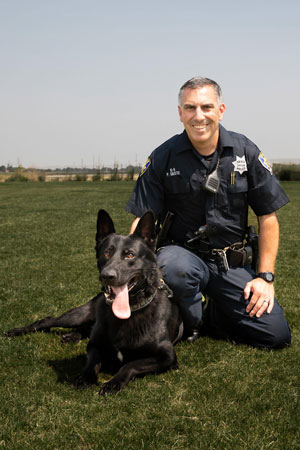 K-9 Handler & Officer Phil Giusto and Ryker, Tracy Police Department
About Ryker
Age: 4 years old
Work hard play hard: Ryker knows when he is at work and knows when he is at home. At home he is a lover and gets along great with my family and acts like any other dog. He loves to fetch a ball, play tug-of-war, get treats and love from the family. When at work, he is more focused and in work mode.
Career Highlight: A shooting suspect had just been taken into custody from a residential home which backed up to a sound wall along a highway. I was directed to conduct an evidence search with Ryker along the freeway side of the sound wall in an attempt to locate any evidence that may have been thrown over the sound wall. The area was all dirt and pine needle droppings. I sent Ryker out to conduct his article sniff and within about five feet he stopped and laid down, which is his alert he found something. When I initially looked down all I could see was a stick but after a closer look there was a bullet shell casing in the debris. He ended up finding 4 shell casings and 1 live bullet all in that area which matched the same caliber gun that was later located on the property of the suspect.