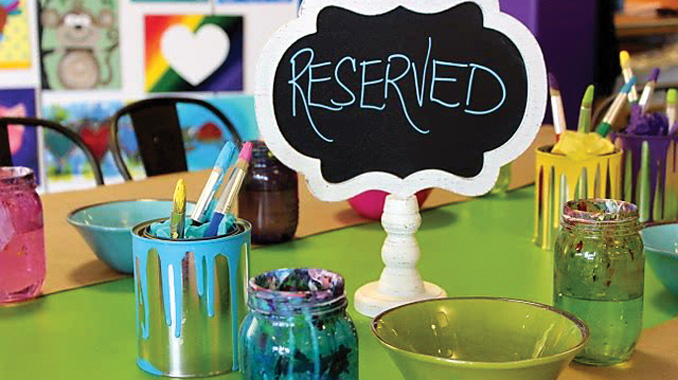 While public schools continue to phase out art classes in favor of math and science, our community's youth are becoming less inclined to explore their own creativity.
That's why it's so important—now, more than ever—that parents make the effort to cultivate their child's creative spark. Marcie Delacruz and Jamie Rodriguez recognized this creative void in their community and strove to fill in the blanks with Shades of Color Paint, an art studio unlike any other in Stockton.
"It's so important to introduce kids to arts and crafts when they're little," says Marcie, co-owner of Shades of Color Paint. "When they're exposed to painting at a young age, it encourages them to explore other types of creative arts."
From painting on canvas and wood, to decorating pottery, to exploring mixed media art, Shades of Color Paint offers classes on just about everything a budding artist could want. "What I love about instructing and watching our artists is seeing their reactions at the end of the class: Whether they're adults or kids, they're always so amazed at the beautiful piece they've created," says Marcie. "It's the best part of my job!"
And make no mistake, their classes aren't just for the little ones—with beginner and intermediate adult classes, you too can explore your inner artist at Shades of Color Paint. The best part? "You can bring in your own beverage while you work, like a bottle of wine," promises Marcie.
Check their online calendar to see when the next adult classes are offered!
But back to the little ones: This summer the studio is offering a Summer Art Camp where children can come to the studio and play with slime and play dough, make popsicle frame art and dream catchers, explore texture painting, and much more. The Camp runs every Tuesday through Friday from 9 to 11 AM through July 20th, with the exception of July 3-6.
There's never been a better time to let your Picasso-in-training explore the world of painting, drawing, and mixed media. Add some color to your child's summer vacation and sign them up for a class—and maybe sign yourself up, too!
Explore Your Inner Artist:
Shades of Color Paint
5759 Pacific Ave. #B135, Stockton
(209) 594-0198
ShadesOfColor.net