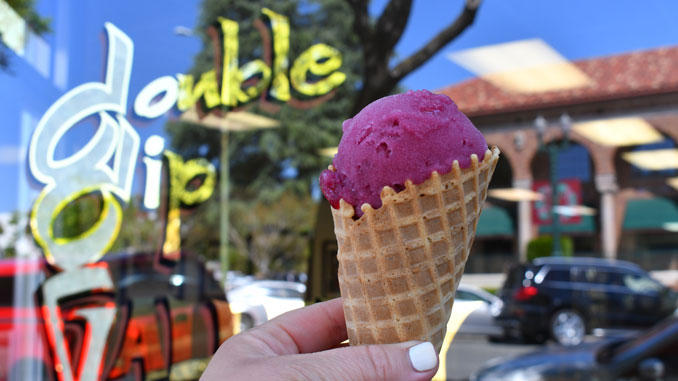 If you love wine and sorbet, we've got the sweetest summertime combo to cool you off! In the heart of Downtown Lodi, Double Dip Gallery makes a Petite Syrah-Petit Verdot Sorbet that is as refreshing as it is satisfying!
Double Dip Gallery owner Tony Segale wanted a flavor that would be unique to his shop and highlight a local Lodi product. So, after working with Michael David Winery on several art projects, Tony decided to make a wine sorbet featuring MD's Petite-Petit red wine blend.
How does he do this? Tony sends bottles of the wine to the Sacramento based Gunther's Ice Cream and they churn out the tasty treat for us to enjoy. Even cooler is the fact that the wine sorbet is an exclusive flavor to Double Dip Gallery!  
The sorbet is a rich, dark purple, much like the award-winning wine it is made from. It's sweet but balanced and I'm not sure there could be anything more refreshing to enjoy while soaking up the San Joaquin County summer sun!  The best part? You can savor this flavor seven days a week in the charming setting of Tony's Art Gallery in Lodi.
 Taste this Treat:
Double Dip Gallery
222 W. Pine St., Lodi
FB // Instagram @doubledipgallery