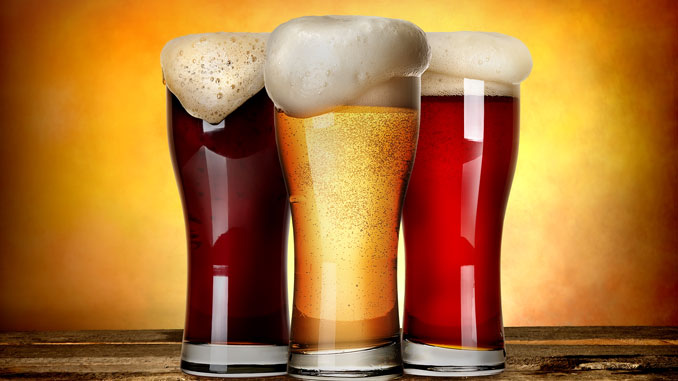 Ask any San Joaquin resident what beverage defines our region, and their answer will most definitely be wine, and for good reason:
In our cities, local wines line the shelves of our grocery stores and are celebrated in festivals. In our rural areas, we live among stately vineyards within a stone's throw of the finest wineries.
But, there's a new beverage taking root in the Valley, popping up in our restaurants and taking over our taps. It's complex, carefully crafted, and delicious—and it's time we made our official introduction.
Craft beer: the drink that has every bearded hipster in the early stages of dad-bod. From hop-heavy IPAs, to chocolaty porters, to crisp sours, there's something delectable about being able to appreciate complex flavors of a beer the way one would a glass of red wine.
"There's never been a better time to be a craft beer drinker," says Michael LaCross, Chief Operating Officer at Morgan Territory Brewing. "The U.S. used to be the joke of the beer making world—now we're up there with the best of the best. There has never been more good beer out there to drink than there is right now."
In just the past few years, the San Joaquin beer scene has gone from being a craft beer-desert to a budding oasis. Newcomers like Channel in Stockton, Five Window and IDOL in Lodi, River Rock Brewing in Galt, and Morgan Territory in Tracy have begun to build the area's reputation for offering some of the best craft beer around.
But what is "craft beer"? What makes it different from the fizzy yellow libations people break out at a tailgate party? And why is it suddenly elevating what used to be a strictly blue-collar drink to trendy, almost intellectual levels?
According to the American Brewers Association (ABA), a not-for-profit trade group that protects and promotes small and independent U.S. Brewers, there is no true definition for "craft beer"—like the sacred Dao, it is too glorious to be confined to the limits of language (our words, not theirs). Luckily, the ABA did give us the definition of where a craft beer must be brewed, which can aid us in our search for a definition.
A true craft beer must be brewed in a brewery that is small, independent, and traditional. In San Joaquin County, there are approximately eight American craft breweries toiling away to brew, boil, and bottle America's new obsession. So, what do our home-grown breweries think defines a craft beer?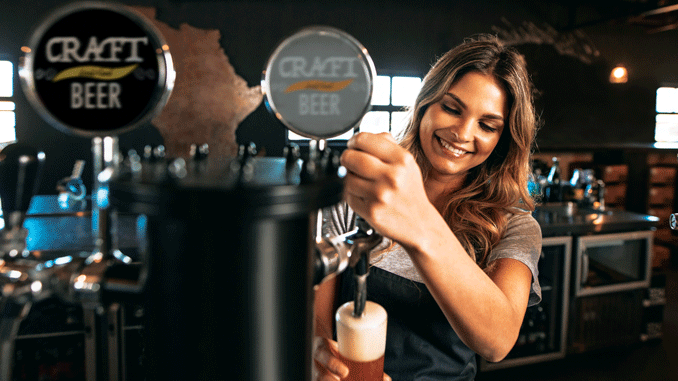 "Craft beer is beer made with tender love and care," says Michael LaCross, owner of Morgan Territory Brewing. "Where the concern is more for the quality of beer than the margins and the cost."
"I would say craft beer is a community of people that enjoy beer," says Ryan Sharpe, Head Brewer and co-founder of Channel Brewing Co. "It's an experience."
IDOL Beerworks' owner and Master Brewer Grant Hamilton argues, "Craft beer is human touch, it's ingenuity, it's the sense of responsibility, accountability. That's what makes a craft, right?"
Craft beer, it seems, is a matter of personal philosophy as much as it is a matter of taste.
But for being such a subjective topic, the recipe for this drink has stayed steady since medieval times, back when the best brewmasters were monks, and most monasteries had a brewery on site. At this point in history, water was unsanitary and often carried diseases, but the brewing process sanitized the water and added nutrients. Further incentive for monks to brew beer was the Rule of Saint Benedict, which stated that monks were expected to be self-sustainable and not accept charity—thus, it was common practice to sell their beer to the public. And, because they believed they were brewing for the glory of God, their beer was usually the highest quality available. These were, essentially, the first craft beers.
"Brewing beer allowed monks to have a revenue flow to build bridges and walls for their monasteries," explains Grant. "And so, you look around at some of these old monasteries today and you'll see these incredible buildings. I'm not saying they were all built by beer, but that was a big part of it." Fun fact: The oldest existing brewery in the world, Germany's Weihenstephan Monastery Brewery, will be 1,000 years old in 2025.
Apart from its role in sustaining ancient monastic orders, in more recent history, beer also played a part in establishing farmworkers' rights. Barri Altimari, Chief Flavor Officer at High Water Brewing, reflects on the namesake of High Water's first official beer, the "Hop Riot" IPA.
"The Hop Riot was an actual event in history that happened in 1913 in Wheatland, California," says Barri. "Wheatland was the second largest hop grower in the nation back then, and there was all this hop growing in their fields, so the ranchers called out to the community every summer to get people to come pick hops. Women, men, children even. But a lot more people showed up than they expected."
Unfortunately, Durst Ranch was under-prepared for the 2,800 prospective farmworkers that showed up that summer. There was an inadequate number of toilets, garbage disposal units, and camping space, not to mention the wages, which were minuscule due to the high number of laborers. In response to these conditions, members of the international labor union "Industrial Workers of the World" reportedly organized a strike, which escalated to a riot. Shots were fired. Four people were killed, and at least a dozen others were injured.
Indisputably tragic, the Hop Riot called some much-needed attention to the plight of California's agricultural laborers. "It was the first real movement toward workers' rights and farmworkers' rights; it paved the way for farmworker's labor unions," says Steve Altimari, legendary Brewmaster and owner of High Water Brewing. "Up until then, they had basically no protection."
And through the years, beer and breweries have continued to act as catalysts for change, providing opportunities for citizens to get together and converse, debate, and reflect on the state of their cities. "For a long time, breweries were that," says Ryan Sharpe of Channel Brewing. "In Europe, breweries were the 'community center' where people discussed everything from politics to events in the area. I feel like we've done a good job of providing that here at Channel."
And the ingredients of the drink that's causing all the buzz? Since its earliest days, the recipe for beer has remained simple: water, grains, hops, and yeast. In today's modern beers, there are usually other ingredients involved, but these four still make up the foundation of every brew. It is variances in the potency of these four ingredients that have resulted in such a vast range of styles and flavors that we have today.
"I've learned recently that the most important thing that goes into your beer is water, and it's often the most overlooked," says Ryan. "If you've ever had bad tap water, you taste chlorine and minerals and whatnot. Imagine that going into your beer. And if the brewer doesn't do anything to change it, you're still going to get that flavor in your beer regardless of the hops, malt, and yeast."
Joseph Ehlers from Five Window Beer Co. echoes this sentiment. "That's why Oregon and Colorado have such fantastic beer—they have a great water supply. Over in Milwaukee, their water is so pure that some of the best beers come out of that area. However, we love Lodi water because we love Lodi," he adds, with a smile.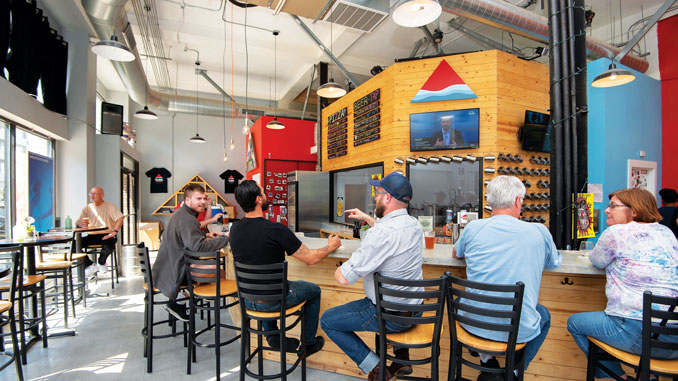 The most noticeable difference between a "normal" beer and a craft beer is depth of taste. In craft beer, rich aromas and flavors abound throughout the different styles of beer, in which you can identify hints of each ingredient, and pair with different foods to enhance the flavors. Barri Altimari explains how she introduces High Water's award-winning sours to craft beer-newcomers: "Our sours are barrel-aged for 12 months in wine barrels. For somebody who's not used to sours, I say to them, 'Think wine.' Because you know, it has a tartness like wine. It has different flavor profiles. It has a different ability to cross lines of appreciation with food, and other things like that."
While they may be enjoyed in similar ways, the processes that make beer and wine couldn't be more different—while wine simply ferments, craft beer goes through an extensive brewing process before it turns into the carbonated liquid we know and love.
The steps are as follows: 1. Mulling the grain 2. Mash conversion 3. Lautering 4. The boil 5. Wort separation and cooling 6. Fermentation 7. Maturation 8. Filtration, carbonation, and cellaring. Complicated stuff—we asked the brewers to break it down.
"It's kind of like you're just steeping grain, just as you would steep a tea bag at a certain temperature," says Joseph of Five Window Beer Co.
"Then you extract it," adds Charlie, Joseph's cousin and co-owner of their brewery. "You extract the sugars out of the grain and it goes into the kettle. You bring it to a boil and add in hops periodically, depending on what you're brewing."
Those are the basic steps of brewing, but the most important part of the brewing process, many would say, is sanitization. "If you can clean, you can brew," says Ryan Sharpe of Channel Brewing. "Beer is dependent on yeast, and yeast needs a healthy environment to thrive. So, if you have clean equipment, the yeast can then properly eat the sugars to create alcohol and the other flavors that create beer."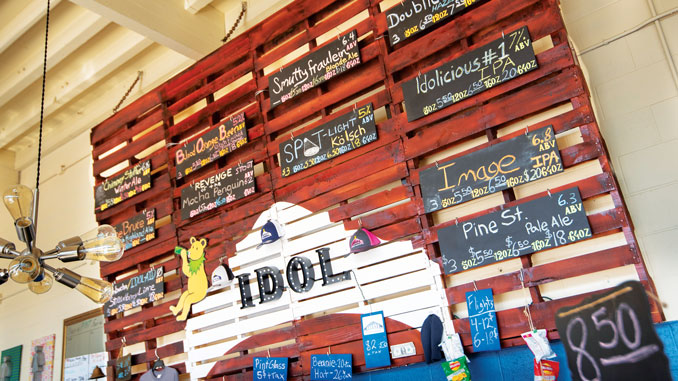 While our craft beer scene is growing at a fast pace, the number of breweries in San Joaquin is still just a fraction of the number of breweries in the neighboring counties. But local breweries are looking to change that: Channel Brewing in Stockton has taught brewing courses at Pacific, and often uses their own small batch system to educate hopeful home-brewers on the intricacies of brewing. "Because there's a such a small beer scene here, we're trying to incorporate as many homebrewers as possible, and teach people that don't know how to brew, how to brew. The more people that can brew, the better beer scene you're going to get," says Ryan.
Additionally, it seems that almost every one of our local breweries is planning an expansion in one way or another in the coming months. Morgan Territory is looking to expand their brew system, IDOL is growing their own hop garden, Five Window is adding a pizza oven, a hop garden, and additional brewing tanks.
Perhaps the most anticipated development of all is the Stockton-based, internationally-recognized High Water Brewing opening their official taproom in Lodi, a "blendery" that is expected to open around October of this year. Along with their award-winning beer, High Water Taproom will also serve wine, which can be enjoyed in their 5,000 square-foot hop garden.
Though the beer scene isn't yet as developed as the surrounding areas, public enthusiasm for craft beer remains high. "We were warned coming in here that maybe the Central Valley wasn't ready for craft beer," says Michael LaCross, Chief Operating Officer of Morgan Territory Brewing. "And I can say definitively that that is not the case. For whatever reason, we've been tremendously well-received, not just here in Tracy, but in the entire Central Valley."
All in all, things are looking good for the future of the craft beer scene in San Joaquin. "I want people to talk about Lodi and San Joaquin as having some of the best beer in the world. And we're already seeing it, the recognition we're getting is tremendous," says Grant Hamilton of IDOL Beerworks. "And we're going to start to see people coming here not only for our wine industry, but because we now have a little beer mecca."
Check Out These Local Breweries

Channel Brewing Co.
Opened only a year ago, Channel Brewing Co. has already established itself as an integral part of the local craft beer community, not to mention one of Stockton's favorite weekend haunts. Deeply invested in their city, Channel Brewing has worked with everyone from 1850 Collective to University of the Pacific. "Our logo is the channel marker," explains Head Brewer and co-founder Ryan Sharpe. "When you're going out to sea, away from Stockton, you see a green square—when you're coming into the port, coming home, you see a red triangle. And that's why we chose that logo, because it's representative of people coming home, back to Stockton." While their most popular beer on tap is the 209 Blonde Ale, Channel likes to offer unique, off-the-beaten-path beer styles such as Scotch Ales, Saisons, and English-Style Pale Ales.
110 N. San Joaquin St., Stockton, ChannelBrewing.co
The Dancing Fox Winery & Brewery
It's a family affair at The Dancing Fox Winery and Brewery, the old-world style eatery that has delighted Lodi residents for years with its wine and cuisine. In 2015, what began as the co-owner's son's home-brew hobby became a full-scale brewing operation and is growing still, as the brewery will have its own building soon. Currently their taproom features 15 beers, but will soon offer 23, half of which will be The Dancing Fox's own brews. Co-owner Gregg Lewis smiles at the irony: "My wife has a sourdough mother dough that she's continuously fermenting, I'm constantly fermenting grapes in our winery, and now my son Jared ferments grains for his beer. So, I guess you could say we're very invested in the fermenting processes!"
203 S. School St., Lodi, DancingFoxLodi.com
Five Window Beer Co.
The brainchild of cousins Joe Ehlers and Charlie Lippert, Five Window Beer Co. is one of the newest additions to the Lodi beer scene. The family-friendly, open-concept tasting room features large windows, exposed brick walls, and wood detail. "The vibe here is just relaxing," says Joe. "People can come here and bring their kids and their dogs. It has a welcoming atmosphere." Since its opening in May 2017, the microbrewery's immediate popularity allowed them to graduate from a 10-barrel system to a 30-barrel system producing 930-gallon batches of hand-crafted, quality beer. With the additions of a pizza oven, hop garden, and even wine, there's something for everyone at Five Window Beer Co. "It's almost been a year since we've opened, and we've created a great community within the brewery," says Charlie. "The people here make our brewery what it is."
9 W. Locust St., Lodi, FiveWindow.com
IDOL Beerworks
With a self-imposed mandate of craft, community, and culture, it not hard to see how IDOL's first year in Lodi has been so successful. And, with the brewmaster Grant Hamilton's roots heralding back to Scotland, it's no wonder their beer tastes so good. "My whole history is beer," says Grant. "It's always been my passion." Apart from serving their loyal customers with crowd pleasers such as the "Smutty Fraulein" and the "I-Delicious" IPA, an integral part of IDOL is its charity work. "For Veteran's Day, we ran a music festival here with 21 bands. In one day, we raised $15,000 for the Vets," says Grant. IDOL also brews a beer called "Relief," the proceeds of which all go to charity. "How often is it that your neighbor comes to you and says, 'I need your help—come drink beer'? But that's how we do it," explains Grant. "This brewery is a vehicle for the community."
100 A, S. Sacramento St., Lodi, IdolBeerworks.com
Morgan Territory Brewing
Boasting ten medals from the Great American Beer Festival and four from the World Beer Cup, it's safe to say that everyone should try the beers at Morgan Territory Brewing. Previously known as Schooner's Grille & Brewery in Antioch, Morgan Territory Brewing rebranded and moved to Tracy only a couple years ago. With 16 of their high-quality brews on tap in their rustic, "Wild West" taproom, Morgan Territory Brewing is a must-visit for any craft beer aficionado. "What differentiates us from other brewers is our attention to detail every step of the way," says Michael LaCross, Chief Operating Officer of the brewery. "It makes the difference between a good beer and a great beer."
1885 N. MacArthur Dr., Tracy, MorganTerritoryBrewing.com
River Rock Brewery
This is one brewery that took their original home-brew inspiration to a whole new level, combining their Galt taproom with a home-brew supply store. Keeping things on a smaller scale, this hidden gem has eight rotating taps, conducting multiple flavor experiments with their beers to keep things fresh. "The most interesting beer we've had so far is our 'Burn Your Butt' Jalapeno Amber Ale, made with fresh jalapenos," says Ed Mason, owner of River Rock Brewery. The brewery also experiments with different yeasts to demonstrate its impact on flavor. At the end of the day, the goal is to provide a comfortable environment and good beer. "We still like to put out the home-brew type vibe," says Ed. "There's nothing better than hanging out in your garage with all your buddies sitting around, drinking the beer you made."
807 C St., Galt, RiverRockBrewery.com
St. Stan's Brewing Co.
The year was 1984, and the craft beer scene was just beginning to spread its wings in the U.S. when St. Stan's opened, making it the seventh-oldest microbrewery in America. In just a few years, St. Stan's made its name as a leader in the microbrew industry, distributing its beers across 17 states and seven countries. This traditional German-style small brewery currently brews 20 of their own beers and is soon expanding their number of handles from 17 to 33 in their Modesto taproom. At St. Stan's, they respect the integrity of craft beer and the brewery experience. "We try to treat everyone as if they're old friends and family," says co-owner Rich Hodder. "We respect of the history of St. Stan's, and craft beer in general. We support the evolution of beer."
1028 11th St, Modesto, StStans.com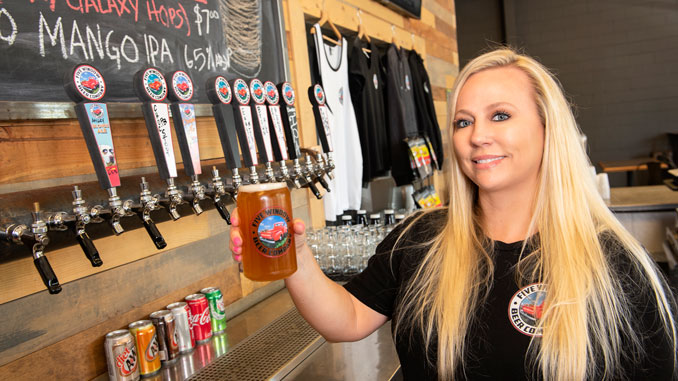 Beer 101
Drink local.
Buying local keeps your money in your hometown's economy and encourages growth of your local craft beer scene.
Start small.
If you're new to the craft beer scene, don't jump right in to an IPA—chances are, you won't enjoy it. Much like coffee, craft beer requires an acclimated pallet. Most begin with wheat beer and blonde ales, eventually moving on to amber ales, then graduating to IPAs. From there, most start experimenting with sours, brown ales, porters, and stouts.
Check the temperature.
Temperature has a significant impact on our taste buds, either suppressing or activating flavor. While mass market lagers can be served at 35-40 degrees Fahrenheit, IPAs, porters, and stouts should be served at 45-50 degrees. In general, the higher the alcohol content, the warmer the serving temperature.
Get proper glassware.
The shape of a beer glass affects both the appearance of beer and the formation and retention of the head (the beer's foam cap) which retains compounds such as hop oils, spices, and fermentation byproducts that give beer its aroma. Essentially, using the correct glass can make your beer look better and taste better.
Use your nose!
The sensation of flavor is a combination of taste and smell that allows you to pick up on complex flavors. Take two quick whiffs before you taste your beer to appreciate its full essence.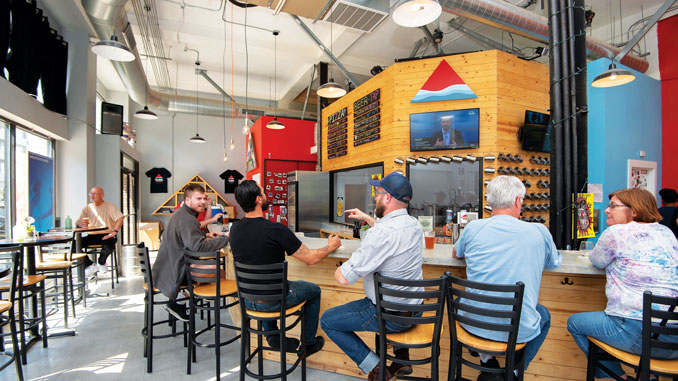 Craft Showcase
Local festivities fit for craft beer snobs.
Lodi Craft Beer Festival
June 16
Hosting over 50 brewers from Northern California right here at Lodi Lake, the Lodi Craft Beer Festival is a craft beer extravaganza featuring a variety of food vendors and music for any craft beer lover to enjoy!
Lodi Lake Park, 1101 W. Turner Rd., LodiCraftBeerFestival.com
Stockton Beer Week Brewfest
July 14
Featuring more than 30 microbrewery beers from across the state, the Stockton Beer Week Brew Fest gives beer lovers the chance to kick off Stockton Beer Week by exploring the vast array of craft beer and cider styles with unlimited tastings, in addition to live music acts, games, and food.
Stockton Arena, 248 W. Fremont St., Stockton, VisitStockton.org
Stockton Beer Week
July 13-22
Get ready for an entire week of beer bliss, as local breweries, bars, and restaurants celebrate the craft beer community by hosting events such as tap takeovers, beer and food pairings, trivia nights, and other fun, beer-centric actives.
Various Locations, VisitStockton.org
San Joaquin Valley Brewfest
September 28
Craft beers, food trucks, wine, games, and classic cars abound at the annual San Joaquin Valley Brewfest that will benefit the local non-profit Give Every Child a Chance, an after-school tutoring program that serves over 4,000 students annually.  
934 Perimeter Dr., Manteca, SanJoaquinValleyBrewfest.com
Central Valley Brewfest
May 11
Sample over 150 of the best of the valley's brews, wines, and even freshly-baked bread at the 7th annual Central Valley Brewfest. Partnered with local food trucks and featuring live entertainment, this fest is filled to the brim with food, fun, and delicious craft beer.
Stanislaus County Fairgrounds, 900 N. Broadway, Turlock, CVBrewfest.com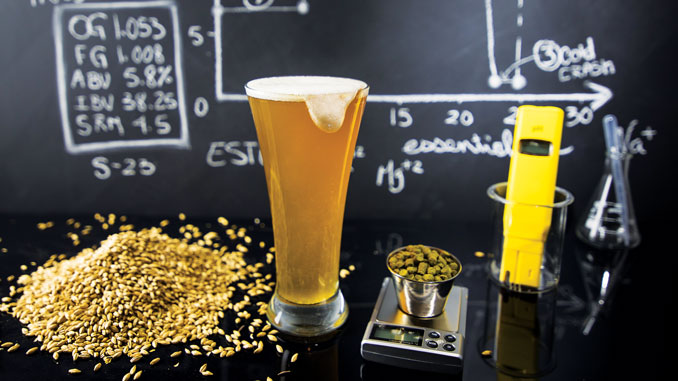 Recipe For Success?
With my black thumb, messy scrawl, and ability to turn the simplest of meals into a Rorschach test, it's safe to say that crafty activities are not my forte. However, I am nothing if not determined—I love beer and have been interested in home-brewing for some time. Knowing my tendency to screw these things up, I decided to start small and use a Mr. Beer Brew Kit, much to the disdain of beer snobs, I'm sure. But hey, if I ended up blowing up my kitchen while trying to use the bucket and tube method, they wouldn't be the ones standing outside my home, watching it burn to the ground, would they?
So, there I was, breaking out in mild anxiety sweats, standing over the boiling "wort", stirring with one hand and holding instructions in the other. Parts of my cheater craft beer kit were scattered around the counter: sanitizer, carbonation drops, and a can of hopped malt extract, brown bottles, and an adorable little plastic keg. I followed all instructions to a T, stored the keg full of wort and yeast for two weeks, bottled the beer, and for fourteen more days, let go and let God.
One night, in the midst of those 2 weeks, I shot off my pillow—I realized with horror that I'd forgotten to sanitize the bottles. From everything I'd heard from the brewers I'd been interviewing, this was craft beer-heresy of the highest order.
Days later, with my friends and family standing around me, I took the first sip of my attempted brew. I sputtered—it appeared that I managed to brew a nice batch of sugar water. I was prepared, though; I had a six-pack of IPAs waiting in the fridge. We all popped the caps and cried "cheers," celebrating the fact that, at the very least, the kitchen was still standing. –A.K.
"The Tide is High"
CRAFT BEER GURU AND BREWMASTER STEVE ALTIMARI LENDS INSIGHT ON THE PAST AND FUTURE OF CRAFT BEER AND HIGH WATER BREWING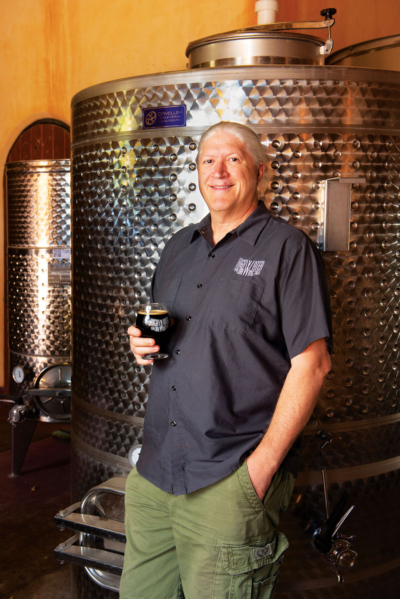 In your earliest brewing days, you won a gold medal for your Barley Wine at the local Celtic Fair competition, but what was the first beer you ever made?
The first beer I ever made was a black spruce lager. It was pretty insanely spruced. I accidentally bought the concentrate and just dumped the whole thing in. I mean, we had a bottle of it for like 10 years, and 10 years later it was like almost drinkable. But yeah that was the first one I ever made, in like 1989. Prior to that is the one I made with my boss at Intel, and that's the one that won the gold medal.
Was it that win that made you realize you wanted to become a Brewmaster?
Well, brewing had quickly turned into a big hobby. I started buying a lot of equipment and fabricating a brewery in my garage. What really got me going was when people were coming up to our house, and my wife Barri was cooking in the kitchen, and I was brewing beers—it was like a pub at our house. And everyone was like, "You know, you can actually get paid for this."
Tell me about High Water Brewing's first beers.
Our first beers sold in March 2011. The Hop Riot IPA was the beer that started it all, our big-seller. Everybody drinks IPA's. Then Campfire Stout came along and changed the game. Now that's how everybody knows us. People who don't even know who we are come up to us like "Oh, you're the Campfire people!"
Can you elaborate on your Brewmaster training at UC Davis?
It was basically 12 weeks of having brewing knowledge smashed into your brain, and there was a portion of the class where you went out and spent 5 weeks of hands on apprenticeship at an operating brewery. Some people went to Redhook, some went to Dogfish—for me, I found out that El Dorado Brewing Co. in Stockton was for sale at the time, so I made that my apprenticeship. No one knew that I was looking to buy the place.
The El Dorado Brewing Co. that later changed to Valley Brew, right?
At exactly the time we bought the business, we found out that there was another El Dorado Brewing Company. And this guy Jim Boyer and I got together and compared notes. What we realized was "El Dorado Brewing Co." existed here in Stockton for 102 years, and they made "Valley Brew" beer. It's like when people nowadays say "I'll have a bud"—the "Valley Brew" was the "bud" name. So, I kept the "Valley Brew" part and he kept "El Dorado".
But, restaurants suck everything out of your life. Eventually, I sold Valley Brew but stayed on as a brewer from 1997 to 2010, when we launched High Water.
How would you describe the craft beer scene in the Central Valley back then?
So, the number one selling craft beer today is IPA, right? Well, back in 1996, we brewed IPA as a "specialty" about three times a year. It was like "Look, we're brewing this special beer, it's called an IPA!" I had to really sell people on it and explain it.
It was just a lot of wheat ale back then. The first real "craft beer" that people started identifying with were red ales. It was Indian red ale, and it was St. Stan's "Red Sky" ale.
How have you seen the craft beer scene in the San Joaquin Valley evolve since your days at Valley Brew?
As far as breweries, it was just us, Seaport Brewing, and then there were the Kelly brothers in Manteca. And of course, St. Stan's, with their monster-distribution. Elk Grove was just coming around. But none of these still exist.
Now there are other breweries like Channel. And the support system here in Stockton is great; within a 50-mile radius, like 90 percent of the beers are local.
I've heard you favor sours. Can you name your top three?
Cantillon Rosé de Gambrinus, any Kriek—which is cherry beer—and Beatification by Russian River Brewing in Santa Rosa. Le Petit Diablotin is my favorite of ours. That's made with cherry and pomegranate.
How is High Water's beer doing on the international market?
It's well-loved. It's actually kind of bizarre to read all the reviews. We'll ship it to Denmark, and then another distributor will buy from him, and it might get over to London or Spain or Rome.
But there's a bar in Russia that had our beer and they goofed on Trump big time. We made this beer called the Tramp, and they made a label for it with a giant orange Trump face. It said "Trump" but with the U crossed off and the A above it. They made these posters, and when I saw it, I was like, "Where did this come from? This is so bizarre." I thought it was a joke. And then the guy sent me an email saying "No, man, we're a bar in Russia, we love your beer!" So he sent me their original artwork.
Can you give us some insight on the next big brews High Water will be releasing in 2018?
We're releasing 26 beers this year officially, and some more unofficially. We're releasing 12 sours this year. One's called "Violets are Blue," I'm excited about that one. It has violet flowers, boysenberry, and orris root, which is the rhizome of an iris flower.
Where do you see the craft beer scene in the future?
This sour of ours, "Ramble on Rose," was aged for a year in a wine barrel. It has rose petals, rosehips, and pink peppercorns. You can taste the wood-flavors. To us, this is where the future of craft beer is headed.
I hear rumors of plans to open an official High Water Tap Room here in the 209. Can you comment on that at all?
We're going to open in Lodi in the next few months. We'll have the largest beer garden around, 5,000 square feet. It's going to be fun. There's actually going to be a winery attached to it, so we'll be licensed to have both beer and wine in our beer garden. We'll also have distillation coming in.
FOR MORE INFORMATION
http://www.highwaterbrewing.com/

Common Beer Styles
Indian Pale Ale (IPA) Usually gold to copper in color, this beer has a strong, hoppy flavor with a bitter finish, and is commonly intermixed with fruit flavors. 
Wheat Beer Seen in a wide range of colors due to the varieties of wheat, this hazy style of beer has a diverse flavor range, but is commonly light, yeasty, and crisp.
Sour Usually pale in color, sours are notoriously crisp, tart, and yes, sour. They are commonly brewed with fruit and can even be floral.
Blonde Ale This golden ale is a simple brew, with no major malt or hop flavors. It can have honey, spices or fruit added.
Amber Ale This ale is named for its coloring, and is usually full-bodied with toasted toffee flavor, occasionally featuring notes of citrus, fruit, and pine.
Porter This dark brown beer is bold and features a roasted malty flavor with notes of chocolate and toffee.
Stout Deep brown to black in color, this beer is similar to a Porter but is usually heavier, boasting a rich, roasted flavor, and featuring notes of coffee, licorice, or molasses.
Creativity on Tap
The best restaurants and brewpubs to quench your thirst for the craft.  
Taps Barrel House
Of its 28 handles of locally-brewed craft beers, six are dedicated to Steve and Barri Altimari of High Water Brewing Co., the internationally recognized brewing company based in Stockton. In addition to their quality brews, Taps also serves sandwiches, salads, and appetizers, courtesy of Whirlow's.
1924 Pacific Ave., Stockton, Whirlows.com
Cast Iron Trading Co.
Offering a whopping 60 craft beers at any time, Cast Iron Trading Co. has one of the best selections of craft beer in town. Their trendy space, local band line-up, and close relationship with Channel Brewing Co. make them one of Stockton's premier chill spots.
114 N. San Joaquin St., Stockton
Brix and Hops
Brix and Hops is making their mark with 30 rotating craft beer taps and a killer local wine selection.  This quaint beer and wine bar welcomes outside food, so along with a group of good friends, be sure to bring some snacks!
14A S. School St., Lodi, BrixAndHops.com
Fat City Brew & BBQ
With a name that tips a hat to Leonard Gardener's Stockton-based boxing novel, Fat City features 28 rotating draft selections and a wide variety of beer-friendly food on the menu. Also licensed for take-home beer, Fat City is a must-visit for any local beer-lover.
1740 Pacific Ave., Stockton, Fat-city-brew-bbq.business.site
The Abbey Trappist Pub
Well-known and well-loved by the local beer community, Abbey Trappist features 8 rotating draft selections and more than 60 rotating and staple craft beer bottles, making this brewpub a hole-in-the-wall with one of the most quality craft beer selections in Stockton.
 2353 N. Pacific Ave., Stockton
Porter's Pub
Enjoy one of Porter's 13 beers on tap in the brewpub's casual atmosphere or on the patio. With their local beer selection and hearty menu, Porter's Pub is sure to satisfy your hunger as well as thirst for local craft beer.
121 S. School St., Lodi, PortersPubLodiCA.com
How to Pour the Perfect Beer
Rinse your glass before pouring to get rid of any impurities
Tilt glass at about 45 degrees, and aim for the middle of the glass
When the beer approaches the lip, straighten glass out
Pour the rest in the center, from higher up
The end result should have a foam head of about an inch to 1 ½ inches