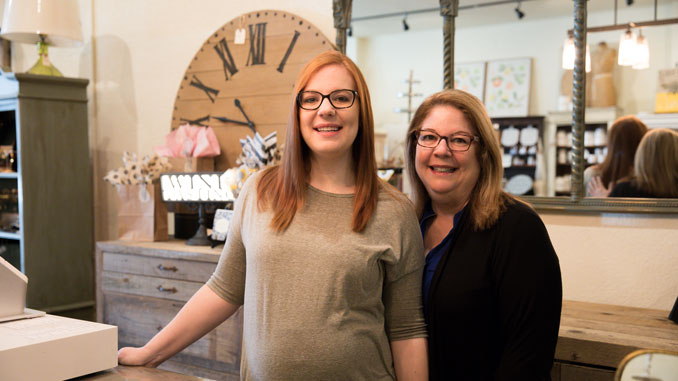 The future is female. Or at least it is at The Owl Box—downtown Tracy's vintage boutique.
In business for eight years, the shop that once exclusively sold refinished antique furniture has transformed, becoming equal parts home décor, gifts, and paint-DIY-craft supplies and workshops.
The team behind the triumph is three generations of women—Rachel, Gail, and Gloria, daughter-mother-grandmother. And this summer Rachel will welcome a daughter, adding one more generation to the family business.
While Gloria seldom spends her days in the shop anymore, her inspiration is still there. And by splitting the buying, Rachel and Gail guarantee a little something for everyone. Being in different stages of their lives, it's easy for the women to connect and shop for others across generations.
The newest girl to join the bunch is already putting her stamp on the store, too, with an expanded newborn and infant section featuring several lines of soft blankets, stuffed animals, and books from Jelly Cat and other brands.
Many locals know The Owl Box as a carrier of the popular Chalk Paint® by Annie Sloan, an easy-to-use product that boasts many colors, textures, and finishes for those looking to add pizzazz to their home. It's a popular choice for painting cabinets and outdoor furniture that doesn't require sanding.
Not only is the paint stocked on the rustic shelves of The Owl Box, the store also plays host to craft workshops that teach customers how to use the paints and other décor elements in the store to create Pinterest-inspired products for the home, and everyone goes home with a completed piece.
"We definitely want to guide our customers through their projects and make sure they are happy," co-owner Rachel Bonacorso says.
Those who use their summer to catch up on home projects are invited to stop in and chat with any member of the staff—Gail, Rachel, or one of 10 other team members, all female.
Each woman who works there is crafty and creative. "It's a good community of women who want to help our customers feel good in their home," Rachel says.
June Workshops
In June, workshops will feature Fourth of July crafts, offering multiple opportunities for guests to create red-white-and-blue home decor. There will also be a chance to make your own hand-painted sign adorned with antlers that reads, "Love you Deerly."
The class schedule is available on the website and Facebook page. Just hit the "workshop" tab for the latest scoop!
Brands to Look For
Mudpie
MantraBand
Lenny & Eva
Jelly Cats
Rae Dunn
Pura Vida
Agape Candles
Chalk Paint® by Annie Sloan
"We really have an even mix of home décor, gifts, and paint, DIY and craft workshops," – Rachel Gabbert, Co-Owner of The Owl Box in Tracy.
Come on in!
The Owl Box
131 W 10th St, Tracy
(209) 830-0796
OwlBoxVintage.com