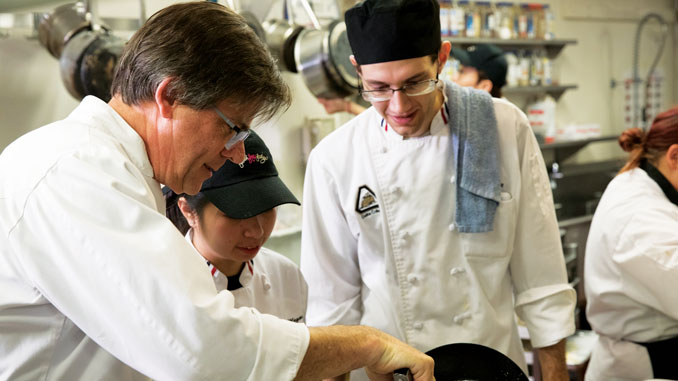 San Joaquin Delta College Culinary Arts Program cooks up new talent.
When Micah Malcolm first enrolled as a culinary student at San Joaquin Delta College he fondly remembers waking up at midnight to bake breads and pastries with his peers who had formed a small baking club on campus. They would sell their fresh-baked goodies throughout the day and all the money they raised funded field trips to nearby restaurants to further pique their culinary interests.
One evening, 21 students dined at Taste Restaurant and Wine Bar in Plymouth, a fine dining restaurant co-owned by Mark and Tracy Berkner who welcomed the young crowd into the kitchen to ask their chefs questions and to see how each dish was executed and plated.
"In between courses I would get up and go into the kitchen and talk with Mark and talk with the chefs. I was probably 19 at the time," Micah says. "Mark gave me as much information as I could ask for."
Mark is also a culinary arts instructor at Delta College along with his wife, Tracy, who teaches beverage and hospitality management. Students who enroll in the culinary arts program run through the gamut of courses offered that teach knife skills, cooking techniques like braising and roasting, and also sauce-making, baking and pastry, and egg cookery. Students also operate a restaurant located right on campus called The Student Chef.
"The menu itself is a bit more eclectic. We tailor it to our demographics. We really want our students coming in, our faculty, and administration sitting side by side in the dining room," Mark says. "The long hours that students spend in the classroom, the kitchen, the dining room, and the bake shops, they see it actually apply and it starts to click."
Mark says The Student Chef is the best deal in town for meals that use seasonal and locally sourced ingredients for $7 to $10 a plate. Open two days a week, students prepare and serve original dishes such as Dungeness crab gratin with fresh spinach, and smoked duck salads with pistachios and mandarins.
In 2009, Micah finished the culinary arts program and earned his baking and pastry degree in addition to a culinary arts degree. Now at age 30, he works as culinary operations manager at both Taste Restaurant and Wine Bar and the Berkners' second establishment The Union Inn & Pub in Volcano, California.
Micah's held a variety of positions throughout the years working for the Berkners such as line cook, sous chef, and chef de cuisine. What's more, this former student is now an adjunct professor at Delta College and teaches the introductory courses he was enrolled in years ago.
"The culinary program is like a little incubator. I have students that were in my class that are now line cooks at Taste. So seeing that growth and seeing students excel is really awesome," Micah says. "Delta offered me so much in terms of my future and helped open doors and move things forward for me. So when an opportunity opened there, I jumped on it because I wanted to be able to do the same thing for the students that are there now. It became a full circle."
Feast at the Fox
Farm-to-table dinner funds culinary scholarships
During her music courses at San Joaquin Delta College, Keiko Kaneichi says the aroma of fresh-baked breads and cookies would waft into her classroom and ultimately lead her to switch majors and enroll into the baking and pastry program.
Keiko was also one of three students last year to receive a scholarship that sent her on a 17-day trip to Italy and it's the reason behind this year's Feast at the Fox farm-to-table fundraiser on Friday, May 11.
"It's a dinner that we're putting together to feature the agriculture of San Joaquin County," Mark Berkner, a culinary arts instructor at Delta College, says. "We will serve 150 people at one long table outside in front of the Fox Theatre in Downtown Stockton."
The event will feature five local chefs that include Richard Hyman from Fenix and Chris Isert from Brookside Country Club. Each chef will plan a course and the culinary students will work side by side with the chefs to highlight the region's seasonal ingredients such as cherries, spring peas, fava beans and asparagus.  
Keiko admits she never thought she'd make it over to Italy, but says the experience made her decision to switch majors with a focus on pastry that much sweeter.
"Going through the process is like holding your breath for six months. When they say your name, it's just like a really delightful exhale," Keiko says. "Everything that I worked for that year paid off. It's something I earned. It's just amazing. I can't explain it much better."
Feast On, May 11 
Enjoy an authentic farm-to-table experience during the inaugural Feast at the Fox on Friday, May 11, from 6 p.m. to 9 p.m. in front of the historic Bob Hope Theatre in Downtown Stockton (242 E Main St.). Tickets are $125 per person and this event is limited to 150 seats. For more information, visit FeastAtTheFox.com or call (209) 938-1555.
The Student Chef Restaurant
San Joaquin Delta College
5151 Pacific Ave., Stockton
(209) 954-5151
Open 11 AM – 1 PM / Tues. – Wed.