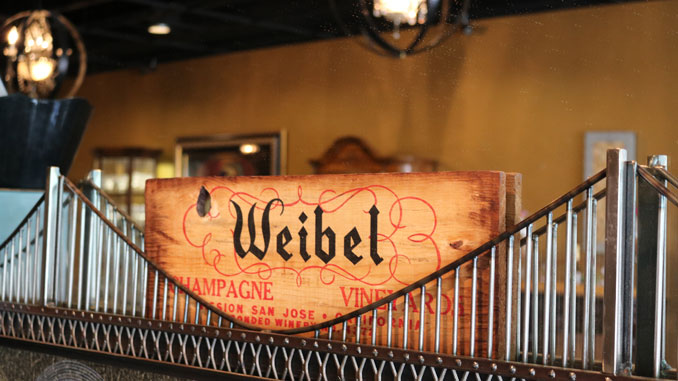 When you're in the mood for something that sparkles (and we aren't talking diamonds), there's only one place to drop into on your visit downtown.
Weibel Winery is the quintessential stop for Moscato and Grand cuvee, Stanford and, of course, a vast variety of sparkling wines in an assortment of flavors. But trust us when we say that isn't all you'll find within the tasting room. In between bottles of Pinot Grigio and Chardonnay, Zinfandels and Cabernet Sauvignon is a story of family that spans the berry-ripe region and beyond.
The secret to Weibel's outstanding blends begins in the early 1900s, when Fred Weibel Sr. and his father, Rudolph Weibel, made their journey from Switzerland to the United States. Burdened only with the tricks of the wine-crafting trade from their homeland, the two first settled into Washington, and then San Francisco, applying their own talents and fostering new skills under the streets and in the depths of the William Tell Hotel.
By the late 1940s, the Weibel family was ready to make their first land purchase and planted themselves among 100 acres of fruitful vines in Mission San Jose. But the Weibel line wasn't yet ready to settle down, and fifty years later, they took to the fertile grounds of the Central Valley where rich opportunities awaited along the Woodbridge region. Since then, Weibel has continued to climb in popularity and promising varietals, harnessing everything one could ask of sparkling wines, and furthering their repertoire with reds such as the Weibel Family Patriot, a Mendocino blend with black berries, allspice, and tobacco accents.
A taste of the Weibel Family GH White Table Wine is a welcome reminder of how French Colombard can truly be: dry, crisp and the perfect complement for a variety of dishes. But what is Weibel without a comment or two on its marvelous sparkling wines?
"Our sparklings have done really well; both in terms of sales and awards," says Fred Weibel. "We recently launched a Strawberry Sparkling and a Pina Colada Sparkling. I believe our clients choose them, not only for the quality, but also the variety. With both classic creations and delectable flavors such as almond, peach, pomegranate, raspberry, peach mango, and citron, we have a sparkling wine perfect for every person, every occasion, every day."
On your next visit into downtown Lodi, check Weibel's tasting room off your to-drink list, and sample some of the highest quality sparklings our region has to offer. Your taste buds won't be disappointed!
Have A Taste With:
Weibel Family Winery
13 N. School St., Lodi
(209) 370-6013
Weibel.com