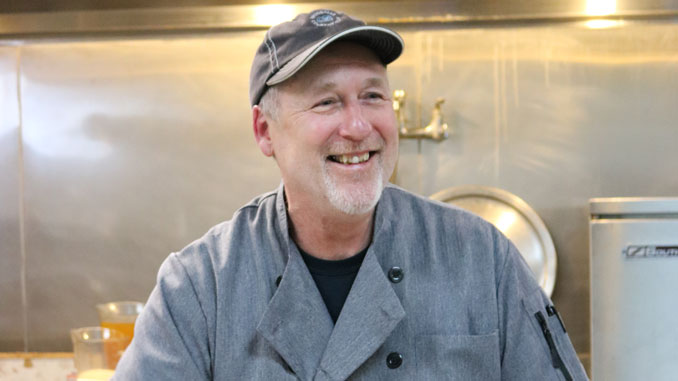 Not all symphonies are delegated to concert halls.
Just ask Chris Isert, the Executive Chef at Brookside Country Club who eagerly applies his trade in an ever-evolving orchestra of spices and splashes of sauce, sizzling meats, and boiling pots. "I've always loved to cook and entertain," says Chris, also adoringly known to all as Chef. As a maestro of fine dining, Chris has showcased his skill in our region since 2001, elevating taste buds to a higher state of foodie-bliss, particularly in his passion for Mediterranean and southwestern cuisine.
"Our menu is constantly changing," he grins. "If you don't [change it], you get bored! There's still so much I just need to get out of my head. Seasons change, you get new ingredients, and it's even better when your crew gets behind you and wants to try new things, too!"
But there are just some things Chris can't take off the menu. "I've tried, but too many people ask for our Braised Short rib." A succulent dish that's just as tender as it is flavorful. Another pièce de résistance we'd despair over departing is the French Dip, with an au jus that makes meager bouillon-based dipping sauces weep. But the base of Brookside members are enamored with the evolution of Chris' menu options, and enjoy every class he hosts that take guests deeper into the chef's repertoire.
"This is a hands-on class. We get fourteen people shoulder to shoulder working a [food] station and I do the rounds." From elaborate dishes, to refreshing, crisp salads, and even desserts, Chris thrives on showcasing his love for cooking with his members. And when the wine is all you can drink, barriers go down and banter is just as free-flowing as the bottles.
But, believe it or not, the expert behind every mouth-watering meal didn't begin behind the knife, but rather, a big rig. "I was a truck driver and a warehouseman, and I decided to go to culinary school when I was thirty years old." The career change was a blessing for Chris, who was soon traveling around the states with only himself as the cargo and a repertoire of culinary experience that transported him to such places as Tourelle and the Carnelian Room, Vail Resorts, Coyote Creek and Aramark Conventions.
But once his travels landed him in the Central Valley, it was here that he decided to remain. And it's here that he continues to reinvent his marvel of a menu for the many members of Brookside Country Club to enjoy.