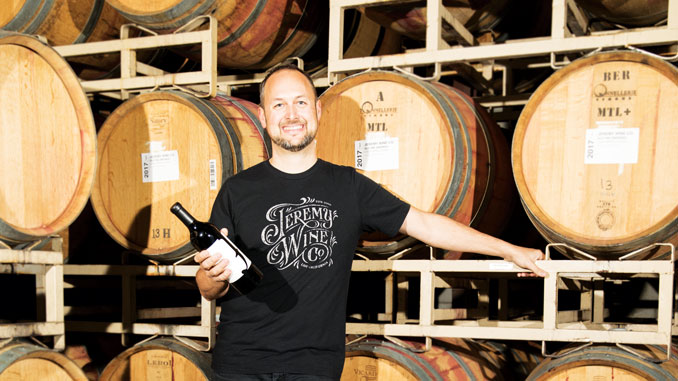 Meet the Maker: Jeremy Trettevik, Jeremy Wine Company
Q. How'd you get started?
A. I started out in 1994 working in the cellar at Sebastiani Cellars on Turner Road (now Constellation). At that time I had no interest in pursuing a career in the wine business, but I continued working and after 3 harvests I was hired by Gnekow Winery outside of Stockton. By this time I was curious and wanted to learn as much as I could about wine. I spent 4 years there (in just about every aspect) before moving over to Michael ~ David Winery as their Director of Marketing.  After 2 years I left to start a small art studio; etching and painting large wine bottles for wineries and auctions. After a couple years, I started a design studio creating wine labels for wineries.  I did that for about 9 more years before deciding it was time to start our own brand. In 2010 my wife Choral and I started Jeremy Wine Co. Our initial production was just a few tons (about 6 barrels) inside leased space at a friend's winery. We moved 3 more times before landing in our current production location where we have about 700 barrels.
Q. What's your winemaking style?
A. I call my winemaking style intuitive winemaking vs. strictly technical.  This doesn't mean that we ignore the technical aspects of winemaking, it's just that the final call comes down to my perception of balance on my palate. I feel that if my palate finds the wine appealing then there must other people out there that will like it as well. I like even, fruity, and well-balanced wines (a sweet spot for Lodi).
Q. What wines do you find inspiration from?
A. Early on I loved Italian Barbera and Sangiovese. Those were the varietals that I pursued along with other niche warm climate varietals—Tempranillo, Albarino, and of course Zinfandel. As I've had more harvests and worked out of vineyards, I've come to realize that it's important to take each wine on its own, asking, "Is this a pleasant wine? Am I enjoying the aromatics? Texture? Fruit?"
Approaching wines without pre-existing bias has allowed me to appreciate beautiful wines that have broken the molds of my expectations.  I may not have had full appreciation had I approached them with pre-existing expectations of aroma, texture, flavor, etc.  It's truly the beauty of wine. Each bottle is a snapshot of time, accessible to you only at the time of opening as the flavor is constantly evolving and representing that particular year's weather conditions, time spent in barrel, and bottle. It's an ever-evolving beverage.
Q. Do you have a favorite wine you've made?
A. Tough question, we make about 28 different wines each year. But the one that sticks out for me is our 2011 Montepulciano, a deep dark red wine with coarse, gravelly tannins and lovely aromatics. Currently, I'm in love with our new Primitivo, it's a variation of Zinfandel, and this particular one comes from a very steep hillside and rugged soil. Bold plummy nose and robust silky tannin.
Q. What's your favorite aspect of the winemaking process?
A. Pulling together the final blends. We pull samples from all of the barrels and as a team tastes through each wine, adding or subtracting barrels or varietals until we have a wine we like. It's fun to have a group together tasting and critiquing the wines.
Q. What's one of the toughest things about winemaking?
A. Its a complex business with a very subjective final product. Every year we have to work with a whole new set of variables in climate, vineyard, and fermentation. Add to that, every facet of the business demands full attention and could be a career in itself. Managing growers and vineyards, producing, aging and blending wine, wholesale sales and the tasting room. It's a constant challenge to stay on top of each division.
Q. What's the most rewarding aspect of your job?
A. Watching the brands grow and interacting with our customers – we have such an awesome customer base, warm and friendly. It feels like interacting with family.  Working with our employees is very rewarding, they all approach their jobs with drive, curiosity, and intelligence. Our working environment is fantastically fun to be involved with.