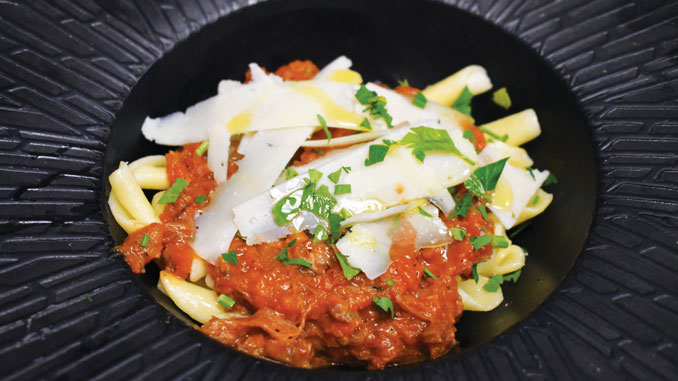 If you've ever had the chance to meet Richard Hyman, you know that he is one of the kindest guys in the food business.
He often wanders the dining room greeting customers and checking in on his clientele. At Hyman's restaurant, Fe-nix, he serves up elevated comfort food in an approachable and colorful atmosphere.
Chef Richard Hyman's culinary style is seasonal, ingredient-driven cuisine. Inspired by the incredibly diverse produce of San Joaquin County, Hyman loves to take recognizable ingredients like salmon, scallops or steak and create dishes that are completely out of the box. Take, for example, his combination of scallops and short ribs, an unconventional pairing that will blow your mind. His cuisine is unlike any other food in Lodi, and he loves the challenge of pairing food with wine.  
When pressed to reveal his favorite local food product Hyman asked, "You mean, besides wine? I'd have to say tomatoes. The tomatoes around here are stellar!" he exclaims. "Come summertime; I use them in just about everything." He also loves local pomegranates, which are added to his signature roasted Brussels sprouts for a flavorful crunch.
Originally hailing from Brooklyn, New York, Hyman landed in L.A. where he got his first restaurant gig at a Beverly Hills Hotel. He subsequently cut his teeth in kitchens across the country in New York, Key West, Los Angeles, Indiana, and Albuquerque. As he learned the tools of the trade, he adopted the motto, "cook, learn, move."
It was during this time in Hyman's career that he worked under restaurant industry icons Susan Feniger and Mary Sue Milliken. They taught him how to season food and not be afraid to use bold flavors. "They were amazing teachers and mentors," Hyman boasts. And during his tenure working under Joachim Splichal, he was introduced to a world of food that was completely out of the box for its time. The avant-garde techniques undoubtedly rubbed off on Hyman, who pumps out courses like Suzuki sashimi with watermelon, herb emulsion, and olive oil powder.
But the first time Hyman found a home in the kitchen was at Avenue X, located in a historic hotel in Santa Paula. It was his first foray as a restaurant owner and one that gave him great joy. Until one day, someone flicked a cigarette into a trashcan and burned the entire building to the ground. It was the first time in Hyman's career that fire tried to extinguish his culinary dreams.
Eventually, he was recruited to Lodi and helped open Old Arch Brewery in downtown. He also served as the Executive Chef at Le Bistro, and later opened Mezzo in Stockton, where he proudly crafted authentic gourmet food as an owner and chef. 
Unfortunately, Hyman's fortitude was tested again, after a propane tank explosion left him severely burned, causing serious damage to his hands. He spent months wondering if he would ever cook again, enduring an agonizing year of surgeries and physical therapy before realizing he would retain full use of his hands.
His determination to get back into the kitchen resulted in the opening of Fe-nix, a staple in Lodi's upscale, downtown dining scene. If you haven't tried his food, stop on in and get a taste. I bet Chef Hyman might even stop by your table for a chat! 
Taste On:
Fe-nix
117 W. Elm St., Lodi
FenixLodi.com