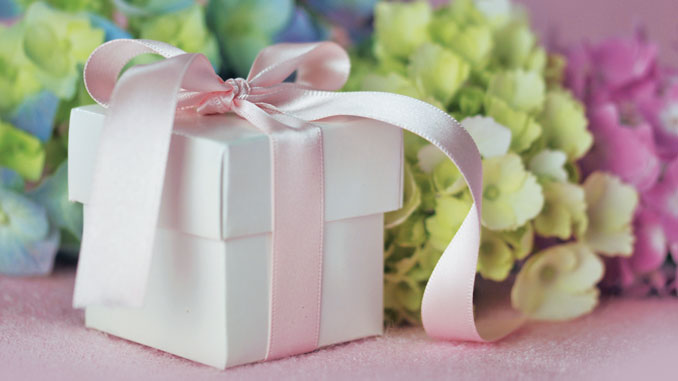 Shopping for a wedding gift can be a balancing act when you want to find something unique and thoughtful, but also something the happy couple will actually put to good use.
So, if you find yourself shell-shocked among the endless array of shimmering items at Pier 1 Imports, or lost somewhere in the twisting labyrinth of Ikea, here's your no-stress guide to buying that perfect wedding gift.
Steer clear of customization
It may be tempting to emboss everything from throw pillows to cutting boards with the couple's monogrammed initials, but this is one bandwagon you can wave goodbye. Too many personalized household items can become tacky in a hurry. Unless it was specifically requested by the bride and groom, many of these gifts are likely to get the boot.
The couple who uses gifts together stays together
"Experiences over things" has become a battle cry for young couples tying the knot. Try to pick a gift that the bride and groom can use together, rather than those that will be displayed on a bookshelf or eventually end up at the back of a closet. Cookbooks are an excellent go-to for the gourmet couple but don't be afraid to think outside of the box either. Gift the newlyweds a hotel room for a weekend getaway, rock climbing classes, or tickets to a museum.
Divide and conquer
Eyeing that big-ticket item on the couple's registry, but find yourself unwilling or unable to swallow the price tag? See if another guest is willing to split the cost—and the credit—with you. Oftentimes these are the items that aren't at the gift table the day of the "I do", and are later purchased by the couple out of pure need.
Just say no to home décor
No matter how well you know the couple, it's incredibly hard to get someone else's style precisely right. If you must get home décor that isn't explicitly on the registry, stick to something small like a standalone picture frame or flower vase—and don't be too offended if they take advantage of that gift receipt.
When in doubt
The bride and groom spent time putting together that gift registry for a reason. While it may not be particularly glamorous to gift a shiny new toaster, and that welcome mat may not elicit many "ohs" and "ahs," you can be sure that these items will be put to good use. If the gift registry just doesn't have enough va-va-voom for your liking, consider choosing a few small things off the list and building a themed gift basket.