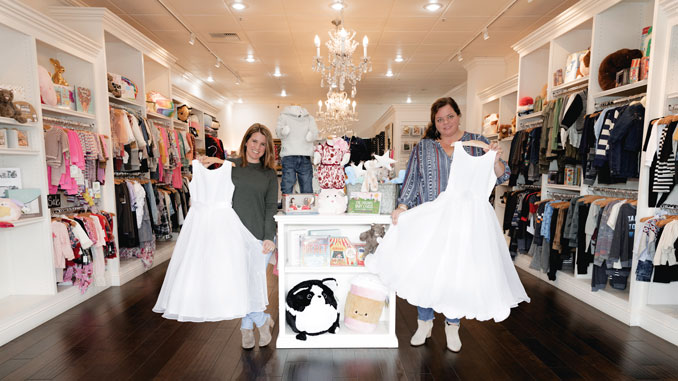 Flitting down the streets of Stockton's bustling Lincoln Center, popping in and out of local shops, is an experience Angela Scannavino Karp had often growing up in the portside town.
Her love of fashion and her hometown of Stockton inspired a dream early in life that she just couldn't let go of—owning her own boutique. And location was never a question.
In March 2011, her dreams were realized when Angela opened the doors to Sassy Pants Boutique, a fashionable children's clothing shop in Lincoln Center. Inside, racks of dresses in a rainbow of colors and more relaxed gear for young boys and girls fill the bright store. European designers are the shop's specialty, and ever-changing inventory keeps the store as fresh as young kids look wearing the designer duds.
"Kid's clothes are so fun," Angela gushes. "I opened Sassy Pants because I had always had a dream of owning my own store, and when I had children of my own, I fell in love with shopping for them!"
The clothes inside are handpicked for children infant through age 14. And those that aren't from cherished Spanish designers like Mayoral, come from neighbors, creating a cool space for local makers to reach a bigger market. It all ties in to Lincoln Center's not-so-secret mission to promote small business, as more than 80 percent of its 94 businesses are locally owned and operated—and Sassy Pants is no exception.
Spring is approaching and Sassy Pants is already prepared for the change of season. Gone is the cold weather gear. Instead shelves are flush with new pieces—including communion and flower girl dresses. And to complete those trendy outfits, Sassy Pants stocks shoes, jewelry, bows and purses, plus a few toys.
Mark Your Calendars!
Sassy Pants Boutique is gearing up for its annual Communion Dress and Flower Girl Trunk Show! Save the date—February 2-9, (by appointment only on Sunday).
Sassy Pants Children's Boutique
354 Lincoln Center, Stockton
(209) 451-9775
shopsassypants.com