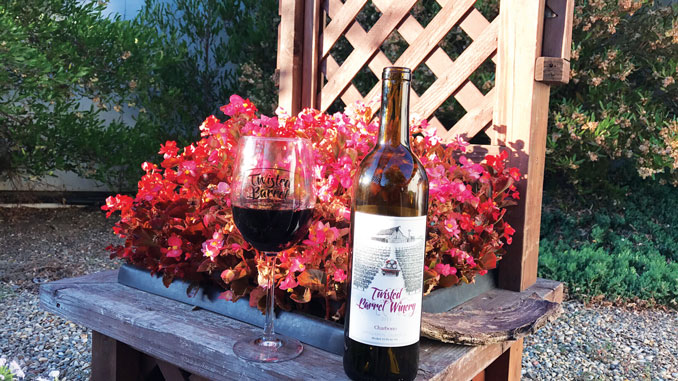 It takes equal portions of passion and commitment to turn a beloved hobby into a thriving business, but fortunately for Lodi's wine aficionados, the Tanner family behind Twisted Barrel have both traits in spades!
Tucked along the outskirts of Lodi, the winery has made a serious claim to fame in their Spanish and Italian Varietals, harnessing their love for all things vino into small batches that are big on flavor!
"We specialize in the more unusual wines such as Primitivo, Touriga Nacional (a Portuguese varietal) Mourvedre', and Barbera," explains Mark Tanner, owner of Twisted Barrel Winery.
But where does Twisted Barrel's story begin? While the business first opened its doors in 2014, the Tanner family has had its hands in wine-making since 1988. Verl Tanner, fellow owner and senior wine maker, harbored a love for crafting his own unique blends and sharing them with friends and family. As the popularity of his efforts grew, Verl moved from Modesto to Lodi, joining with the Lodi Amateur Vintners Association. By 2004, Verl's son Mark was ready to join the family team in what was quickly evolving into something much larger than mere hobby.
Fast-forward to 2017, and Twisted Barrel Winery has committed to crafting deep, rich reds such as their Petite Sirah, a luscious, full-bodied wine with lots of fruit on the palate. And Charbono, a big wine with great mouth feel and complex flavors. Twisted Barrel's whites are also in high demand, such as their Chardonnay—fruity, crisp, and delightful.
While the winery's tasting room has evolved since its opening in 2015, the Tanner family has decided to expand. "We are very excited to be moving our tasting room into the lively downtown Lodi scene as of January 1, 2018," says Mark. "Here, we can offer extended hours, music, and a convenient setting to meet up with friends."
Accented in wine-kissed décor, it promises to hold a variety of appreciation nights for different community groups, such as our firefighters and teachers, nursing specialists, and more. The four-generation family that's big on flavor bids you welcome. So, sit back, enjoy a glass, and let the evening unfold.
"We continue our twisted, delightful flavor for wine, and life, and family!"
Twisted Barrel Winery
112 W. Pine St., Lodi
(209) 334-2554
TwistedBarrelWinery.com