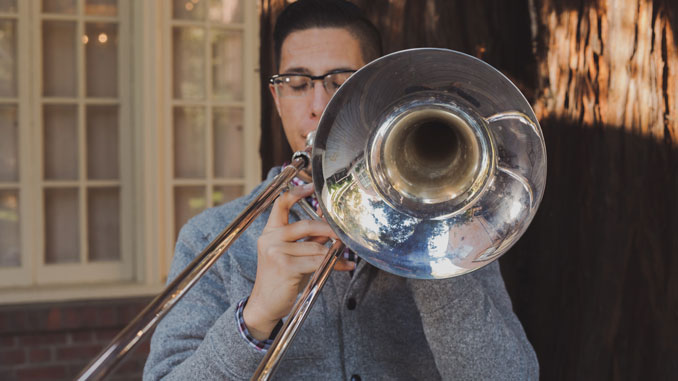 Getting to know the music
There are those that like music, those that love music, and then there are those who live through every note, transforming page scores into resonating works of art. University of the Pacific Graduate Assistant Scott Downs revels in the task, having spent much of his life mastering a plethora of instruments both large and small.
"I've always enjoyed the challenge of learning a new instrument and learning how to accommodate for each instrument's unique difficulties," Scott explains. "I always found people I was inspired by, who pushed me to be a better player, and performer in each ensemble I have been in."
Like many performers, Scott's eager leap into the world of music began when he was very young. As an audience member at his brother's fifth-grade concert, Scott felt the first bite that would later lead him into band. "I always wanted to do what my older brother did, since I looked up to him a lot," says Scott. Once he'd selected the flute as his first instrument, and quelled any beginner doubts, Scott shot down the rabbit hole that twisted and curved through years of elementary, and high school.
Flute and bassoon, bass guitar and euphonium, Scott's repertoire has continued to grow throughout the years, garnering him roles in a variety of bands. "During my junior year of high school and two years with the Sacramento Mandarins, I was accepted into the Blue Devils Drum and Bugle corps, whom I have marched with ever since until this past year…"
Funny enough, Scott had never thought of perusing a degree in music until his parents brought it up. "When I was initially applying to college, I desired to be a biologist or go into teaching biology," says Scott. "They then asked me if I had ever considered a career in music education, since I was so passionate about music and seemed to have an interest in the field of teaching."
Scott had already been accepted into Pacific for a degree in biology, but with their esteemed reputation within the world of Music Education, he enrolled in their four-year graduation guarantee program instead. Since his graduation, he's become a Graduate Assistant for the school, continuing to thrive in his musical prowess, as well as learning the ropes in work related organization, event hosting, leadership, and more.