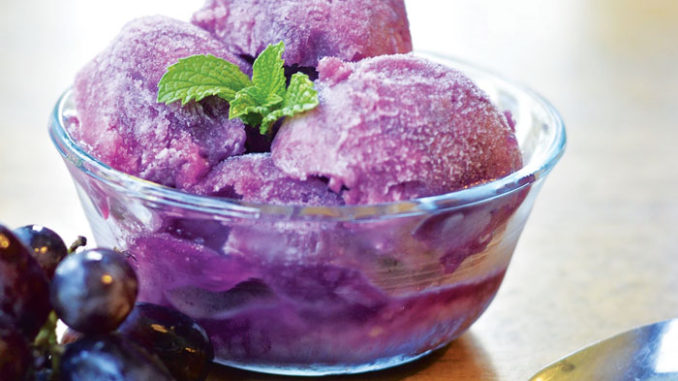 If San Joaquin is known for anything, it's our farm-ability and grape-growing goodness. Grapes love our Mediterranean climate and rich soil, making us a top producer of nationally recognized and enjoyed wines, and the grapes from which they're crafted. But, there is more to these refreshing little poppers than just wine.
Perfect for snacking and chalk-full of benefits, grapes help you pack a source of micro-nutrients like copper, iron, and manganese—all of which are important in the formation and strength of bones. They also keep your immune system strong with high levels of vitamin C, K, and A, all sure to keep unwanted colds away.
Make wine, act as a perfect member of a cheese platter, boost your system, what can't these grapes do?! Take it further and make a natural facial cleanser! Mash a handful of grapes in a bowl. Add a tablespoon of olive oil, half-a-tablespoon of milk and baking soda, and mix together to make a rough thick paste. Apply to your face, and after five minutes, wash off with cool water. Nature's bounty is now our skin's new best friend.
Grape Sorbet
Ingredients:
2 C. water
1 C. sugar
4 C. black grapes
2 Tbsp. fresh lemon juice
1 envelope of plain gelatin
Directions:
In a medium saucepan combine water and sugar. Heat on medium high until sugar has dissolved. Add grapes and cook on high until grapes start to burst (about 5 minutes – it's OK if it boils). Remove from heat and take an immersion blender to blend the grapes into chunks (do not completely puree grapes). Pour grape mixture through a sieve and gently press on solids to extract the liquid. Take 2 1/2 cups of the grape syrup and pour into a medium saucepan. Add gelatin and heat on low and whisk until gelatin has completely dissolved. Stir in lemon juice.  Pour mixture into an 8″x8″ pan and place in the freezer. When sorbet is partly frozen, mix it up and then spread flat again. Freeze until solid and ready to eat.
Recipe courtesy of VirtuallyHomemade.com
Grape Salad
Ingredients:
1 (8 ounce) cream cheese, softened
1 C. sour cream
¼ C. sugar
1 tsp. vanilla
4 lbs. red grapes, chilled
¾ C. brown sugar
1 C. walnuts, chopped
Directions:
In a large bowl, combine cream cheese, sour cream, sugar, and vanilla. If the mixture seems lumpy, stir quickly with a whisk. Carefully fold in the grapes and gently toss until evenly coated. Meanwhile, in a small bowl, mix brown sugar and walnuts. Sprinkle the brown sugar mixture on top of the grapes. Cover and chill at least 4 hours or overnight. Serve cold.
Recipe courtesy of CulinaryHill.com