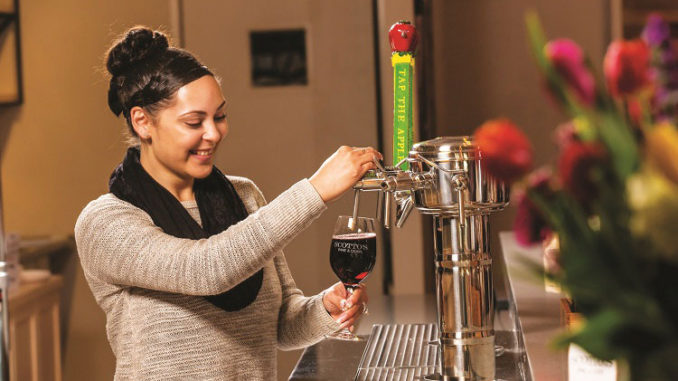 Not many new world wineries are so deeply rooted in the old world as Scotto's Wine & Cider Bar in Lodi. The Scotto family traces their winemaking back over 100 years, to when the Scottos' great-great-grandfather started making wine for his friends, family and neighbors in Italy. After leaving Italy, his wine expertise passed down through the generations, even surviving prohibition. The wine they sold in the U.S became known as 'Rustico', and the Scotto family wine brand, Villa Armando, is now one of the oldest in America.
But, don't let their long history fool you; the winemakers at Scotto's are some of the most cutting edge vintners on the West Coast. At their Wine & Cider Bar, you can sample favorites from the Scotto Family's own brand, Lodi Avenue Cellars, such as a 2012 Old Vine Zinfandel, with its ripe red and purple berry notes and chocolate finish, or a unique dry 2016 Sangiovese Rosé, which won the double gold at the California State Fair Wine Competition this year. But, of course, they still celebrate the achievements of the past, with their classic Rustico, which has now old over 200 million glasses.
No stone is left unturned in the Scotto family's search for fermented perfection. Joining their wine list, are world-class ciders. Paul Scotto, the family winemaker, says he makes "wine by blood and cider by choice". Their cider flights are a unique alternative to wine tasting. In the warmer months, nothing beats one of their refreshing cider and wine cocktails, such as the apple blueberry Zinfandel. Now that's a wine spritzer with a twist! When requested, the resident mixologist also whips up delicious one-of-a-kind cocktails by the pint, made from their selection of five ciders on tap.
The Scotto family took a big leap when they opened their new tasting room on School Street in Downtown Lodi last year. They wanted to create a place for special events and live entertainment that was also a hub for the community, recreating the inclusive Italian family dinner table that the Scotto siblings grew up around. The tasting room, located in the former Rusted Mic building, has a nostalgic feel with its exposed brickwork. However, the wines served there are anything but old fashioned.
After 25 years, the Scottos remain one of the wine industry's most innovative families. From selling wine bottles (and now cider growlers) directly to the consumer, to commissioning Internet bloggers to try their hand at blending a new wine, the Scotto siblings know how to take the initiative, and discover the next big trend in wine making.