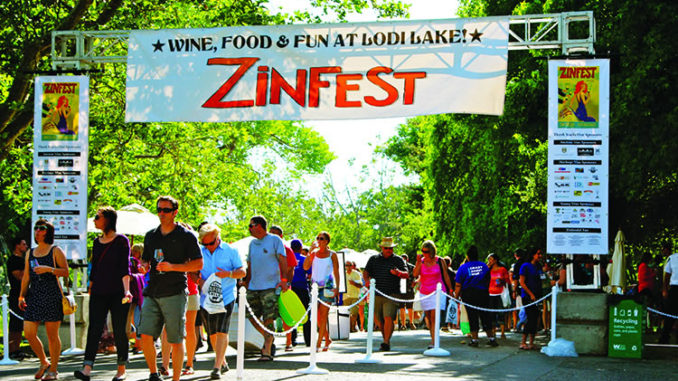 May 19 – 21, 2017
Lodi's premiere wine tasting event is back for another sumptuous weekend, featuring blends from across our beautiful appellation. Tour the Lodi Lake grounds on Saturday and discover new favorites among classic, award-winning sippers in a gathering that honors the creative Zinfandel blends produced by Lodi vines.
Over 40 local Lodi wineries will be pouring, delighted to share their knowledge and history in the industry. Presentations are available for those seeking to learn more about cooking with wine, and live music promises an outstanding ambiance alongside gourmet cuisine. Take a seat along the waters after you pick up your honorary ZinFest glass, or stroll through various booths to find that special souvenir. Specialty ZinFest merchandise is readily available for those looking for that unique touch to add to the mantel. This event is a casual affair, with plenty of walking, so keep those heels low and the attire comfortable for warmer weather!
On Sunday, take to the appellation in a self-guided tour of participating wineries, showcasing their own splendid contributions to the sipping world. Savor one of a kind tastings, and cellar tours. Find your designated driver today and purchase your tickets for a weekend you won't soon forget!
Sip To Your Hearts Content At:
Zinfest Wine Festival
(209) 365-0621
ZinFest.com