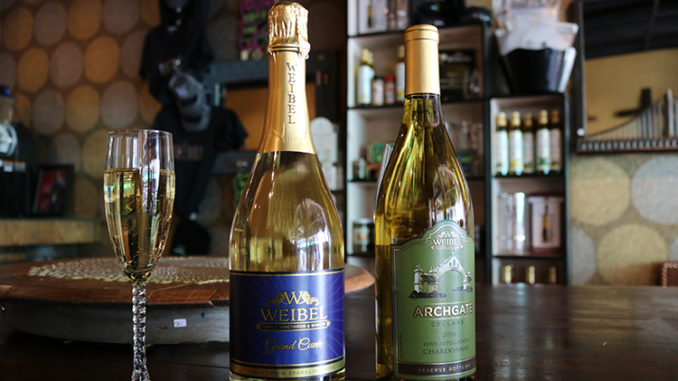 All that glitters isn't gold, so the saying goes. But those browsing Lodi's downtown tasting rooms can attest to the glistening jewels tucked away within each bottle at Weibel Winery. Fred Jr. and Judy Weibel are the third-generation caretakers to the family's wine-crafting legacy. Proof of their success rests just beyond the bar where guests can pen their orders straight onto the countertop. Ribbons hang proudly alongside bottles of sparkling Almond, and Moscato, Peach Mango, and more.
"As my wife says, we're committed to excellence," Fred Weibel Jr. explains. "We pride ourselves in our folks giving excellent service to those that come in."
That very commitment to excellence is what guided the Weibel name to Lodi's robust appellation. Their passion for the industry first began overseas in Switzerland, where Fred Jr.'s grandfather produced his own variations of wine and spirits. He traveled overseas and landed in the United States, and moved his family over shortly after. For the head of the Weibel name, brief partnerships in the industry came and went, but that drive for making exceptional wine remained.
From Vancouver Washington, to the Williams Hotel in San Francisco, a warehouse in Folsom, and then the Leiland Stanford Winery, nothing could ebb the drive for wine in the Weibel line. With sweet release from prohibition, the family finally settled its roots deep into Lodi's Appellation. It's in our valley's backyard where Weibel blends and ages their award-winning creations.
"We produce mainly sparkling, Pinot Grigio, and Zinfandel," Fred Jr. comments. "I like our Petit Sirah, which is going to be released this summer. It's come around nicely." Those that visit the tasting room, which pays homage to the 1940s, are head over heels in love with Weibel's unique sparkling wines. "Almond is probably our biggest seller. But Peach Mango is about to overtake it. We also have standard non-flavored sparkling wines."
Fred Jr. understands that the success his family has harnessed over the years lies in the commitment of his team. For Fred Jr., every employee is an extension of his family. "It's a great working environment. We have great employees."
And with committed employees, the Weibel name extends its winery processing to assist other brands in the region. "We can process for folks," Fred Jr. explains. "We can make sparkling wine for other wineries. We can process blends and ship it back to them. We're a service to a lot of wineries throughout the country. And we have lasting relationships with a lot of people in the industry."
Have A Taste With:
Weibel Family Vineyards & Winery
13 N. School St., Lodi
(209) 370-6013
Weibel.com