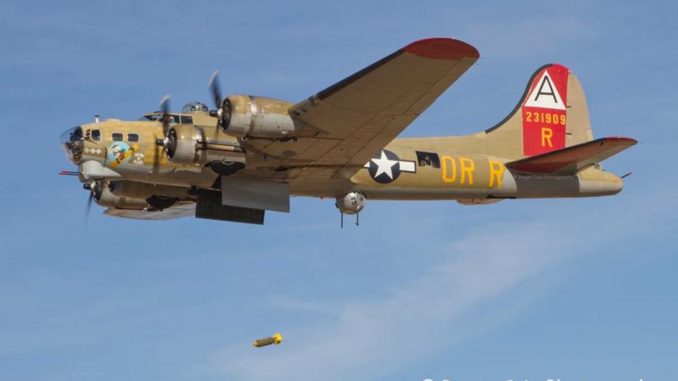 Bomber Camp reignites Stockton's military roots on May 30th
High above San Joaquin's skyline, history soars over the region. As one of three left of its kind, the Lockheed PV-2D Harpoon glides into position over the fields below. Its crew steadies the course, manning the cockpit, radio, and guns. Another sits in the ball turret below. As they reach their target, the bottom of the hull divides, exposing the gaping expanse between the plane and the ground hundreds of feet beneath them. Final coordinates are relayed, the all clear is given, and a series of bombs are sent soaring to their final destination.
What sounds like the final act in a military movie is actually the crescendo to the three-day bomber camp that takes place each year at Stockton Metropolitan Airport. The Stockton Field Aviation Museum, along with 20 volunteers, make it their solemn duty to rekindle the flames of the training facility that once saw off so many of our young soldiers in the 1940s.
"I had the idea for Bomber Camp back when I was in college at San Jose State University," says Taigh Ramey, CEO and Founder of the Museum. "Bringing history back to life [is] a great way to give future generations a small glimpse of what it was like for those of our Greatest Generation, and as a tribute to them as well."
Bomber Camp first began in 2008, and has since grown in popularity. Students arrive at a portion of the airport that's been transformed into the very training facilities one would experience more than 70 years ago. With tents raised, and historic vehicles pounding across the asphalt, students are taught the basics in military protocol. Different bomber crew positions, including radio, navigation, bombardier, and gunnery are drilled into the students. Each "cadet" also experiences time behind a variety of training guns, much like their forefathers would have done.
Emergency training and more instruction all leads up to the grand finale of the camp, where two teams of students go up in the bomber for their classified mission. "In the bombers, the students rotate around different crew positions in flight, and try their hand at shooting the guns, broadcast on the WWII radios, take the ball turret for a spin, and actually drop dummy bombs with the bombsight," Taigh explains. "After the missions are complete, there's a celebration at the USO show that evening. It's an amazing experience that can only be found here at the Stockton Field Aviation Museum."
Relive Stockton's History With:
Stockton Field Aviation Museum
7432 C.E. Dixon St., Stockton
StocktonFieldMuseum.org