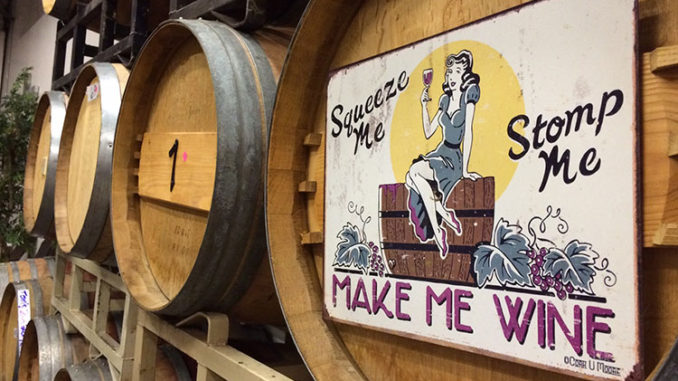 When you've got the gumption to think outside the box, things can get a little twisted. And that's how they like it at Twisted Barrel Winery, where wicked results are expected out of each and every barrel. Owners Verl Tanner, Mark Tanner, and Mike Salimbeni have perfected the art of the bottle, creating specialty blends of Italian and Spanish Varietals. This passion for wine led them to craft their own unique taste on Barbera and Montepulciano, Alicante Bouschet, and Malbec, to name just a few.
Their business began back in 2014, but the family and friends behind Twisted Barrel spent decades honing their skill before opening their doors. For them, it's always been about perfecting each blend, then sharing it with the world. There's no greater joy for the winery, than the smile they get from visitors after every sip. And that's why—to the delight of guests—many of the movers and shakers of Twisted Barrel make time to visit with their fellow wine aficionados during their sampling.
Standing at that bar isn't just a tasting, it's an experience. And staffers are only too happy to share their stories with newly made friends as they are with old. "Our tasting room is small, warm, and welcoming," Maxine Tanner explains. "We are a totally family owned and operated winery. Many times, you will find four generations all working or playing together at Twisted Barrel." That comfort flows throughout the tasting room, from the double glass doors, to floor to ceiling mural of their label. The perfect place for a few selfies, if we might add!
French, American, and Hungarian oak are on the menu for every crushed and pressed grape that comes rolling through the winery's eager doors. The barrel is the trick in making each batch so twisted, and rich. Aged just right, what was once a juice becomes liquid gold in varietals such as the 2015 Lodi Malbec and the 2014 Tracy Hills Barbera.
It's no surprise that the wine club is so popular—as members receive two bottles per quarter, a 20% discount on all purchases, and a complimentary tasting for three. So do yourself a favor and join the Twisters, for exclusive invitations to parties, events, and much more. Things might be a little twisted, but here in Lodi, we're up for the challenge.
Savor the Flavor At:
Twisted Barrel Winery
1376 E. Turner Rd., Ste D. Lodi
(209) 334-2554
TwistedBarrelWinery.com