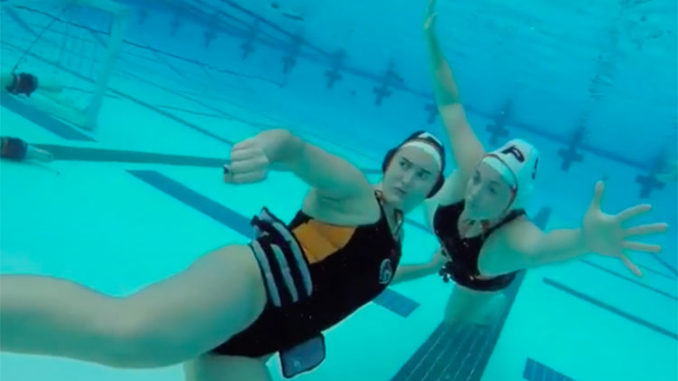 The Mannequin Challenge is the latest in a slew of viral video trends filmed for both entertainment purposes and marketing value. With social media, the trend has spread like wildfire, much like the 2013 Harlem shake videos.
Characterized by a camera moving around a scene that appears completely frozen in time (participants stand motionless, often in silly positions) some of the videos are quite elaborate.
Groups in San Joaquin County—from sports teams to restaurant staffs—are joining the fun. The San Joaquin Regional Transit District filmed their challenge at the downtown transit center in Stockton on metro express route 40.
"We saw it was a growing trend," Kelvin Cao, the customer engagement analyst who filmed the video, says. "We wanted to be the first public transit agency in California to take it on."
The video features both passengers and employees.
"It wasn't planned out very much, it was more very candid," Kelvin explains. The entire video took about one hour to shoot, mostly because they had to correct bloopers (i.e. people moving when they shouldn't be). A successful video hinges on participants' stillness.
"It was fun but it was also kind of advertising," Kelvin admits. "We got tons of comments on Instagram and on Facebook."
The goal was to show the approachability of RTD, and it seems to have worked. Kelvin says the bus driver was quickly recognized, and can now add video star to his resume.
University of the Pacific's women's water polo team received international recognition for their video featuring teammates in various staged poses underwater.
"It was definitely a more complicated shoot," Head Coach James Graham says. Viktoria Szmodics, the player who filmed the video, "obviously had to be holding her breath."
The team racked up almost 9 million views on the mannequin challenge page (Facebook.com/MannequinVid) and was featured on USA Water Polo, CNN, NBC Sports, and other local and international news stations.
"We're a small, private university," James says. "The opportunity to be out there in the public eye… it's a good thing."
While RTD and UOP had goals in mind (James says his team wanted to get 100,000 views), the staff at fe-nix in Lodi used the challenge as a team building exercise.
"Our pastry chef wanted to do it," Ruben Baumback, the restaurant's floor manager, notes. "We'd seen a few online so we decided to try it."
The video sweeps across the chef's table full of guests, and several employees make an appearance: a buser is cutting bread, the pastry chef is removing something from the oven, and Ruben is taking a phone call.
"We're kind of a close family there so it just brought us closer," Ruben says.