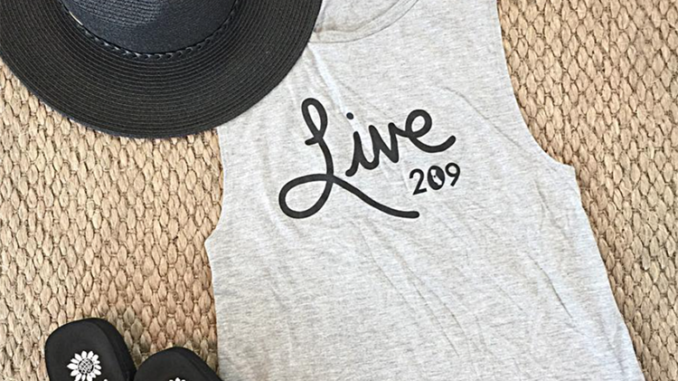 Our community is something special. We come from all walks of life, striving to build up the region we call home. It's certainly something to take pride in, which many of us do. But now there's a non-profit that showcases that pride in t-shirt form. Live 209 is an organization that produces a variety of cutely designed t-shirts and tanks, each printed with an ornate version of "Live 209" on the front. But besides the cool design, what makes these tees so unique?
With every t-shirt that's purchased, one is donated and 100  percent of the profits go directly back to the community. That's right! Treat yourself to something special while simultaneously giving back. How's that for a win-win? The idea sprang to life when founders Rima Barkett, Susan Traverso, and Lynette Zeiter were volunteering in Guatemala. Their work away from home spurred them to find some way to show pride and unity in their beloved 209.
With designs by Danielle Zeiter, Live 209 sets out to events in our area, showcasing their passion for serving our community while also remaining pretty stylish! The tees are also available for purchase at Blackbird Boutique, Zuesters, and Caterpillar Children's Boutique in Stockton. The sizes vary—from kids to adults—so everyone in the family can gear up. And organizations are encouraged to show their support, too! Corporate sponsorships are available for those who'd like to get their whole business revved up or to instill pride in their workers' community.
For More Information:
Live 209
Live209.com