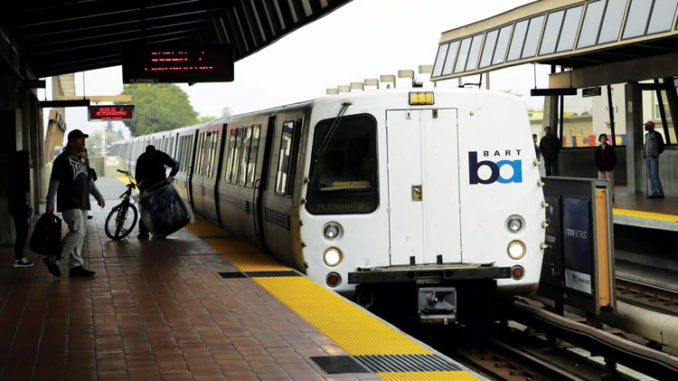 We're not called the Central Valley for nothing—and there are many planes, trains, and automobiles that connect us to surrounding gems and intercity destinations.
San Joaquin Regional Transit District
Whether you're jumping on the bus for a venture into town, a stretch through San Joaquin, or a commute to BART, RTD can get you there for fewer than ten dollars. Avoid the hassle of driving long distances in heavy traffic and instead take your travel time to sleep or prepare for the day. Added bonus? You save wear and tear on your car and the environment.
Their metro routes operate in the Stockton Metropolitan area, while Intercity Fixed Routes connect Stockton with Lodi, Tracy, Manteca, Ripon and Lathrop. For trips to Sacramento and the Bay Area, jump on the San Joaquin Commuter—running every weekday from Stockton, Tracy, and Manteca to BART for only $7 each way. Reservations are strongly recommended as this service has limited capacity, but fret not, because RTD offers monthly subscription passes! SanJoaquinRtd.com
Lodi's GrapeLine
Leap onto the Lodi GrapeLine for weekday and weekend rides spanning all of Lodi. From Kettleman to Lower Sacramento, Cherokee, Lockeford, and Central, riders can easily get to the Safeway and Target shopping center, Costco, Walmart, and downtown Lodi. Grab a 31-day bus pass for under $50! Lodi.gov
Manteca Transit
Hop on Manteca Transit, offering three convenient routes traveling throughout the area. Ride with ease on the Fixed Route System, with stops at key locations throughout the city. For frequent riders, consider a 10-ride or monthly pass for under $40. Manteca Transit also offers Dial a Ride services for disabled, elderly, and medical recipients that have difficulty using fixed route systems. Ci.manteca.ca.us
Tracy Transit
Offering both fixed routes and Paratransit services, the TRACER bus system takes travels to most major destinations throughout Tracy. With routes Monday through Saturday, passengers can hit major stops like West Valley Mall, Wal-Mart, Downtown Tracy, and more. Ci.tracy.ca.us 
Stockton Airport
For a small city, we've got a killer airport. Fly Allegiant non-stop to Las Vegas, Phoenix, and now, San Diego for a seriously low cost. Considered the "Bay Area's Best Kept Secret," Stockton Metropolitan Airport offers $10 per night, secure overnight parking, Enterprise rental cars and Yellow Cab, Uber and Lyft. Enjoy their grill and full bar, Subway restaurant and laptop and mobile phone charging stations and outlets while you await your flight. The best part besides the tons of cash you'll save on your flight? The almost stress-free and line-free experience you'll have as you make your way through security and to your gate. FlyStockton.com
Altamont Corridor Express
California's newest commuter rail service, Altamont Corridor Express (ACE) takes Central Valley residents on quite a ride, using existing rails. A long time in the making, ACE now has stations in Stockton, Lathrop/Manteca, and Tracy, among others outside of San Joaquin (Livermore, Pleasanton, Fremont, Santa Clara, and San Jose).
San Joaquin stations each offer four westbound departure times (beginning roughly at 4:30 AM, with the last train leaving just before 8 AM) and four eastbound, afternoon routes. The ACE stops in Lathrop/Manteca, Tracy, Livermore, Pleasanton, Fremont, and Santa Clara and terminates at the San Jose Diridon Station, where connection can be made to Caltrain, Amtrak, and Santa Clara Transit. ACE currently operates only Monday through Friday, but plans to expand weekend offerings are in the works.
While on board, passengers have access to bathrooms, wifi, ACE Snack Cars, power receptacles, under seat storage, and bike tie downs. Each station offers parking, ticketing, and most work with city transportation for a seamless trip. AceRail.com
Amtrak
With two stations in Stockton and one in Lodi, choosing to travel the Amtrak is a breeze. It's not only green and efficient, but also a comfortable and beautiful way to travel to Sacramento and Oakland. Thruway busses reach more than 90 destinations, including San Francisco and Santa Barbara, to name a few. If you're looking to venture farther, sit back and relax as one of five California trains take you to locations like Los Angeles, Reno, Denver, and Chicago. Traveling through some of the most spectacular scenery, sit back and enjoy the view as you comfortably zoom past mountains, rivers, and lakes.
The "San Joaquin" train runs multiple times daily between the Bay Area and Sacramento, to Bakersfield, where Amtrak Thruway busses connect travelers to Southern California destinations, and of course, Stockton, Modesto, Merced, Martinez, and Fresno. Amtrak.com/San-Joaquin-Train
BART
If you took our above advice and jumped on the Amtrak headed to Oakland's Jack London Square—travel the city like a true San Franciscan as you jump on Bay Area Rapid Transit (BART). With over 30 stations, the BART will take you where you want to go, whether it is Berkeley, or literally any downtown hot spot. No need to worry about parking, tickets, or towing, allowing you to fully enjoy all of the city's magic and mayhem. Bart.gov