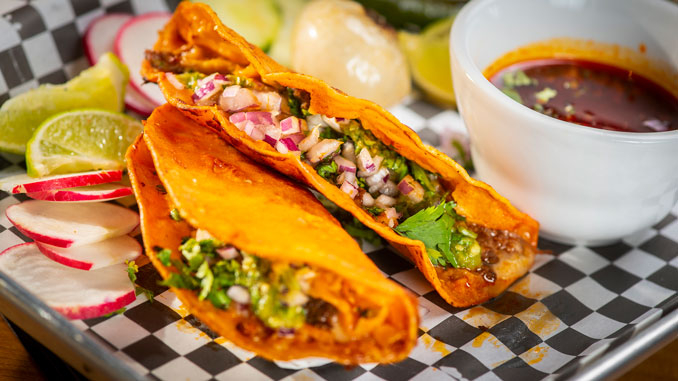 Mexico City is New York without the skyscrapers; an urban mecca bursting with vibrant culture and delectable cuisine. It's also Cuauhtémoc (Cuate) Rivera's hometown—owner and head chef of Don Luis' Mexican Restaurant—and the inspiration behind his newest venture, El Chilango Chido, which translates to "the cool city boy," in Spanish.
Growing up in Mexico City, Cuate became accustomed to street food, especially tacos de guisado, full meals wrapped up in tortillas to become portable, on-the-go fare for busy urban dwellers when time didn't allow for a homecooked meal. More than your typical street taco, topped with carne asade or pollo and drizzled with sauce, cilantro, and onion, these truly authentic creations pay homage to the Mexico City roots Cuate is proud of, and satisfies the cravings of local customers who have no idea what hit them. "Every busy corner has at least a couple street stands in Mexico City," Cuate says. "And tacos de guisado are one of the most popular types of taco stands."
The menu at El Chilango Chido—located on Stockton's Miracle Mile—reads like a menu from a traditional fonda or puesto, serving combinations of corn tortillas, mole sauces, marinated meats, and more. Most are served as street tacos, easy to wrap up and enjoy for a quick lunch, but not short on flavor. While the meal is easy to eat, it takes a long time and a lot of technique to perfect. Cuate hires cooks with knowledge about Mexican cooking and then trains them using his favorite techniques to turn out quality food as economically as possible, which often means cutting time without cutting corners.
Now Hungry Stocktonians (and those from other corners of San Joaquin County) can indulge for lunch, biting into some of Cuate's favorites, including tacos de costilla (ribs cooked in a morita and tomatillo sauce), taco de chicharron prensado (slow-cooked pork, sauteed and cooked with guajillo chiles), and taco de mole verde (chicken with pumpkin seed mole and tomatillos). In the future, the classically trained chef plans to add dinner to the menu, as well, but that hinges largely on finding the and training the staff to support dinner service.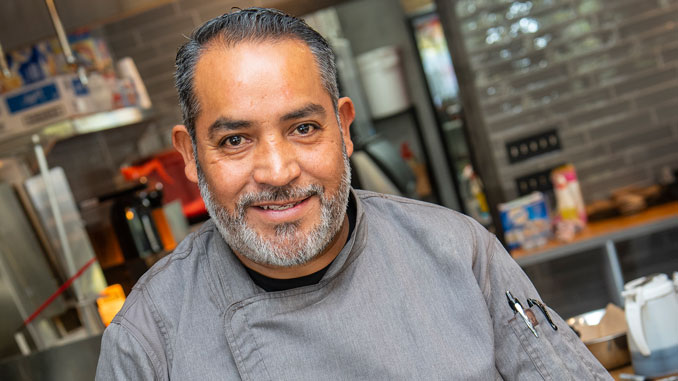 Dining in, the Costilla is a favorite—a slightly spicy and over-sized bone-in rib served alongside Spanish white rice and customer's choice of beans or potatoes. The braised baby back ribs get their flavor from the morita chile it's marinated in, letting off a little spice without sending sensitive eaters running. Peel the tender meat off of the bone and load it into a tortilla using the other sides to finish it off. Rajas and Crema is another lunch special that won't disappoint, combining roasted poblano chiles with corn and crema and the option to add rice or beans, resulting in a soft and savory combination of flavors that almost feels like dessert despite its lack of sweet ingredients.
El Chilango Chido may be known for their tacos de guisado but a list of soups—menudo, pozole, and chicken—that you may be familiar with from Don Luis—and burritos (asada, suadero, chicken, al pastor, chilango birria, carnitas, longaniza, fried fish, and veggie) are also available at the counter serve eatery. To round out the menu, appetizers such as asada fries, quesadillas, empanadas, and tamales are available and before lunch, an American-style breakfast brings customers in along with a traditional breakfast burrito.
Regardless of what you are craving, Cuate's traditional Mexico City fare will have you rethinking everything you thought about tacos, including what your favorites are. Even with little knowledge of the ingredients or what is on the menu, staff can point you in the right direction of something savory to satisfy your appetite before sending you begging for more, despite how full you are.
Order to go or take a seat on a table inside or out. The outdoor patio offers views of the bustling city life in Stockton so you can pretend you are enjoying your tacos de guisado much as the locals do in Mexico City.
Fuel Up:
2535A Pacific Ave., Stockton
(209) 808-5075