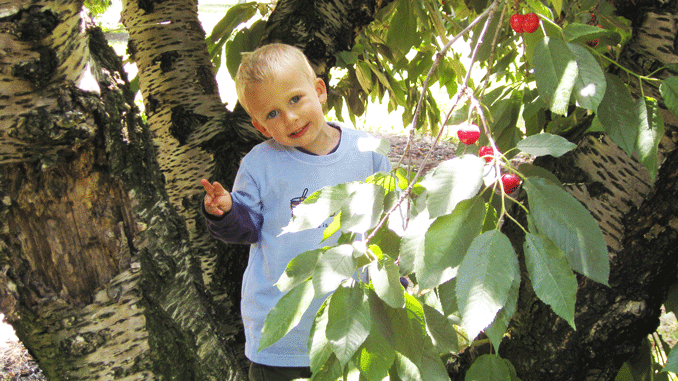 To say the fourth generation farmer behind Lodi Blooms, James Chinchiolo, is eager for the upcoming 2021 U-pick Cherry Season would be an understatement. He is beaming with excitement as he walks through his cherry orchard at Lodi Blooms farm with fiancé Evelyn Ferraiolo on a warm spring afternoon just days after the trees went into full bloom.
On the 40-acre plot in optimal growing conditions, Lodi Blooms holds about 8,000 cherry trees of multiple varieties such as Bing, Brooks, Lapin, and, James's favorite, Coral Champagne. James says only three to six percent of the blooms go on to become delicious cherries. And it's not your typical cherries at Lodi Blooms either. These are premium export-quality cherries you won't find in stores. "They are more sweet, larger, and firmer in texture than most cherries people are familiar with," James says.
Bees play an important role in the operation, as well. "There are two beehives per acre and each hive contains about 10,000 bees for a total of 80,000 bees on this property." But don't worry about getting stung – the hives are relocated prior to the U-pick season.
Pick Your Own
This is the third annual U-pick season at Lodi Blooms. The season typically kicks off in May and lasts 4-6 weeks, but Mother Nature really dictates how long the season will last. This year there will be some new expansions such as the addition of a 5,000 square foot tent with multiple safely distanced weigh stations and cashier areas to keep the checkout process as seamless as possible. There will also be three types of guided tours on the property: public, semi-private, and private, along with personalized U-pick experiences. And the beauty of being out on a 40-acre orchard is Mother Nature has naturally set this up as a very safe, socially distanced event for the entire family. 
If you can't make it to the orchard, Lodi Blooms provides orchard-side pick-up, local porch delivery, and cold-packed shipping anywhere in the U.S.
Lodi Blooms
11560 N. Lower Sacramento Rd., Lodi
(209) 642-4295
LodiBlooms.com
@lodiblooms