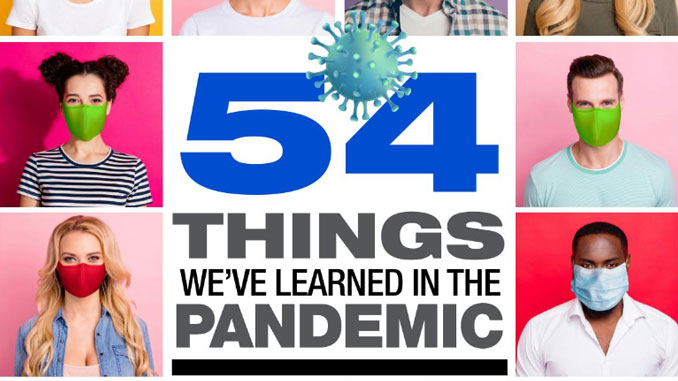 Encouragement comes in many forms. Locals made a habit out of leaving hopeful messages along sidewalks with chalk or on kindness rocks throughout the community, inspiring neighbors through socially-distanced messaging.
Blue-light blocking glasses just may work. With all of those extra hours spent staring at a phone and/or computer screen, the accessory tech may actually be keeping those headaches at bay.
Lodi wine is delicious. And buying a few extra bottles (a week?) helps get us through tough times being out of touch with friends and family—not to mention it helped keep our favorite wineries in business.
There's nothing like meeting a stranger. Saying "I miss strangers," sounds odd, but fellow extroverts understand our pain.
Dogs were the true winners of quarantine. Whether you were spending more time with your long-time pal or used lock-down as an opportunity to adopt and train a new dog (adoption rates were up in 2020), our furry friends certainly love it when we work from home. And if you haven't brought home a new family member yet, the Delta Humane Society and local city animal shelters have someone they'd like you to meet.
How to use Zoom. By March 2020, 200 million daily users were utilizing Zoom services. A month later, that number had already shot up to 300 million.
What it means to be anti-racist. Along with lock-down came a lot of time to funnel energy into social injustice, an issue many of us had been ignoring, or just living with, for far too long. Suddenly education became important as we turned to our BIPOC neighbors to educate us and began to do the work to heal the wounds of our Black brothers and sisters.
The perfect banana bread recipe. No one knows why baking banana bread became a comforting activity in the early days of lock-down, but it seems most of us tried at least once to make a loaf or two. In many cases, it offered a new opportunity to connect with neighbors as well, when we left warm loaves on their front porch.
What sourdough starter is. After we perfected banana bread, making our own sourdough became the next must-try kitchen trend.
How to stock our bar carts for home consumption. When bars and restaurants closed, we had to learn to make tasty cocktails in our home. Luckily local business owners were happy to share favorite recipes with us to pass along to readers, meaning our pages often read like a happy hour recipe guide.
How much we rely on Amazon Prime. There was a period of time when Amazon prioritized the sale of essential goods and getting our hands on the giant inflatable unicorn float we wanted for our new above-ground pool would prove more difficult.
The joy of a to-go cocktail. When we couldn't get those recipes just right, to-go cocktails became our go-tos. Party destinations like New Orleans and Las Vegas have long served drinks meant to be taken with you, but just about every county in California loosened liquor laws to add alcohol to the takeout menu.
Grocery delivery services are convenient. When we didn't feel comfortable heading to the grocery store, whether we felt sick or didn't want to risk exposure, it was nice to know a delivery service would do our shopping for us OR we could pick up our groceries curbside. This is a trend that just might continue even after we return to a sense of normal because, well, it was nice not to drag our kids to Safeway every week.
What PPE is. If you didn't work in a hospital, PPE, or personal protective equipment, likely never registered on your radar. But when there was a shortage of the stuff and everyday people were trying to get their hands on some, we all suddenly learned what qualifies, how to get it, and how to donate it to local hospitals.
To keep a stock of toilet paper on hand at all times. And cleaning supplies, and paper towels…
You can make hand sanitizer using an alcohol still. Local breweries and distilleries were heroes of the pandemic, turning out hand sanitizer when supply was low. They had to follow a lot of laws to pivot their business, but in the end it helped consumers, businesses (with bulk buying options), and the bars that couldn't operate as normal.
That the Happy Birthday song is 10 seconds long and singing it twice indicates you have properly washed your hands. The chorus to Lizzo's Truth Hurts is also 20 seconds (you're welcome).
Time spent with our loved ones is precious. I bet many of us will complain less about visiting out in-laws or spending time with our siblings after a year of limited contact with family and friends.
We'd like to think many of us embraced selfless acts and practiced empathy, making decisions to protect the greater good—from ordering takeout to support struggling businesses to wearing a mask in public to avoid spreading a disease that could end someone else's life—and not just our own well-being.
That we really miss traveling. Passports issued in 2020 dropped by nearly 50% compared to 2019, but if you ask around, you'll hear just about everyone planning their next vacation. When the time is right, it sounds like we all can't wait to hit the road again or take that long-awaited stroll down the airplane aisle.
Healthcare workers are heroes. When many of us were hiding under our bedsheets to avoid catching the mysterious COVID-19 illness early last year, healthcare workers continued to brave the unknown every day to care for patients, many of whom had COVID-19, and sacrifice their own time with family to do so.
That the Bachelor franchise will not be stopped—pandemic or not. This show still found a way to (safely) film and air two seasons of The Bachelor and The Bachelorette, plus a series dedicated to past seasons of the show. It turns out only a mixture of ignorance and cancel culture could bring Chris Harrison down.
Why we get married. Without the big party, is a proposal still worth it? Many decided to postpone their nuptials but others knew that getting married was more about their love than anything else. So with minimonies and elopements trending, plenty of brides and grooms still tied the knot, focusing more on the depths of their love than the occasion.
What six feet looks like and how to tell someone to back up if they are invading your personal bubble.
How healthcare workers feel everyday having to wear a mask for 8+ hours.
What an underlying illness is. For COVID-19, some underlying conditions were more harmful than others, and I bet most of us could now list off not only what those illnesses are but which of our friends and family members have them.
Not to put off going to the doctor. A lot of harm was done by people avoiding the doctor or hospital for fear they would catch COVID-19. Hospitals and doctor's offices put a lot of emphasis on safety protocols so patients wouldn't avoid care, which can be detrimental to your health.
Telehealth has been around for a while. Nothing new, many turned to telehealth appointments for safe checkups.
How many days we can wear the same sweatpants in a row. We may not be proud of this fact but when you find that favorite pair and have an empty social calendar, it became acceptable to lounge in them for a couple days… or more. No judgement here.
Food banks are essential businesses. In addition to the families that are regular customers at local food banks, the pandemic left even more people hungry and without the means to feed themselves. As a result, local food banks stepped up to feed the community and fight against food insecurity, some of which was worsened by the closure of schools.
We really appreciate our teachers. Because not all of us were built with enough patience to teach elementary schoolers.
It's always five o'clock somewhere. And in quarantine, the normal social rules related to alcohol consumption didn't exist. Now, however, there is an uptick in people refocusing on health, limiting or eliminating alcohol from their diets, or opting for lower-alcohol alternatives to rebalance.
Getting outside is good for the body and soul. With most indoor businesses closed for a period of time, including gyms, those who needed a little exercise took to walking, biking, hiking, and more. A University of Maryland study confirmed that more people were getting outside than usual to fight "quarantine fatigue."
The names of many governors and local politicians. You might have already known Governor Gavin Newsom, but I wouldn't be surprised if the names Sisolak, Abbott, and Cuomo are new to you.
States have a lot of power. The federal government has the ability to make mandates, but states yielded most of the decision-making power when it came to placing restrictions on counties, communities, businesses, and more.
We definitely, 100% should NOT, under any circumstance, consume bleach or put it into our bodies in any way. Thanks, Trump.
A new workout. Or eight. Working out at home led to some creativity. Many of us used equipment around the house to complete Zoom workouts with local entities.
How to tune in to a press conference. Whether via social media or on a local news channel, I bet we all watched more press conferences in the past year than ever before in our lives. Many times it was the best way to learn what the new set of rules would be for the following week, and perhaps how long those new rules would be in place.
How to sew a face mask. While today it's easy to find a mask to compliment every outfit, in the early stages of quarantine, we were likely relying on a crafty neighbor or bored aunt to outfit us all with face masks.
We can celebrate all major events without gathering. Just decorate your car and honk as you drive by to show loved ones you care about their birthday/engagement/graduation/baby shower, etc.
Love is blind. Thank you Nick and Vanessa Lachey for bringing us the bingeable distraction that was Love is Blind on Netflix and all of the memes to come after.
How to cut our own hair, but definitely to NOT cut our own bangs. YouTube video searches for at-home haircuts trended while we couldn't see our barbers.
It's easier to work from home than we thought. Um, please make sure our boss knows this.
How to do at least one cringe-worthy Tik Tok dance. And, for many of us, that we're probably too old for Tik Tok.
How to date without seeing each other in person. Men had to get creative to woo women (and vice-versa—girl power!) in quarantine. Vigorously swiping left and right may have led to some cool conversations and Zoom dates that required potential suitors to think outside of the box. Plus it checked some on their intentions.
Drive-in concerts exist. And people will flock to them, rocking out in their cars to experience live music or even a one-night-only drive-in theater type event.
How nice it is to not sit in a middle seat on a flight. If you had to fly during the pandemic, you likely sat on a plane with blocked middle seats. And oh how nice that extra space was!
I bet you never knew this much about disease and how it spreads before.
That it is apparently completely legal to own tigers in some states. However, not everything those who own tigers do is legal.
How to host a truly epic at-home movie night. We're talking popcorn, plenty of snacks, an epic fort, and maybe even a projector screen to make it feel just like the real movie theater. Thanks to many major motion pictures coming out on streaming services, we could even enjoy a new release in the comfort of our own homes—another trend we hope doesn't end with the reopening of movie theaters.
The name of every available vaccine in the U.S. And even those that aren't available here.
How to properly clean just about everything. Let's be honest, none of us were doing as good of a job as we should have been before at keeping germs at bay. COVID-19 may have made us all a little paranoid, but those extra cleaning protocols have certainly contributed to the lower rates of flu and cold going around (you know, that and avoiding people).
All lives are not created equal. And with the light at the end of the tunnel shining, it's important we don't forget it.
It's okay not to be okay. And there is help available if you need it.