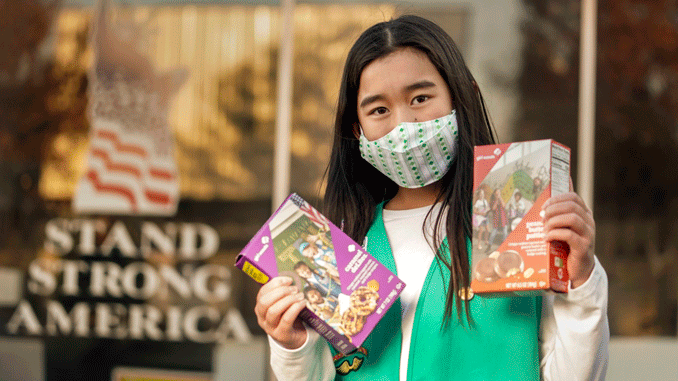 It's that time of year again when girls are out here hawking cookies like their lives depend on it. But in the midst of a pandemic, how are the Girl Scouts Heart of Central California (GSHCC) troops going to reach clientele? An online cookie-ordering platform and virtual cookie booths, that's how!
"While we're in higher risk colors and levels, we are recommending contact-free options like virtual booths and drive-thru order pick up," says Sara Hanson, Communications and Public Relations Specialist for GSHCC. Part of that plan is the online system that was developed four years ago to help friends and family outside of the region support Girl Scouts they knew. This year, the platform is getting an extra marketing boost to assist with pandemic cookie sales.
To order, use the individual link provided to you by a Girl Scout, or, if you want cookies but don't know anyone personally, log onto GirlScoutCookies.org and place an order. When your order isn't linked to a specific salesgirl, you will be connected with a local troop, so funds stay in the community.
Other marketing tactics will include virtual booths. For these, girls can utilize social networks to alert people in the area of drive-thru purchase opportunities. The emphasis is on remaining contactless, so people simply drive-up to the booth, order their cookies, and girls place them into their trunks. Physical money cannot be exchanged but each girl will have access to a digital cookie sales platform that allows for ordering and payment.
Some girls are using the virtual platforms as more of an informational tactic to draw customers in. This way, girls can communicate what they have available—including this year's new Toast-Yay!TM cookie—and encourage the community to make their purchases online. Online orders are fulfilled either by direct shipment or a girl delivery, buyer's choice.
If you spot a Girl Scout door hanger on your doorknob, this is another way girls will be targeting customers and replacing traditional door to door sales. The hangers are customized with girls' individual links so neighbors will know how to place an order without face-to-face interaction. Overall, the emphasis is on contactless systems to keep the public safe. "If the risk levels lower and we get the opportunity to do booth sales in person in front of stores and retail shops, we'll work with Girl Scouts on how to pivot into that," Sara says.
Get Your Own:
GirlScoutCookies.org