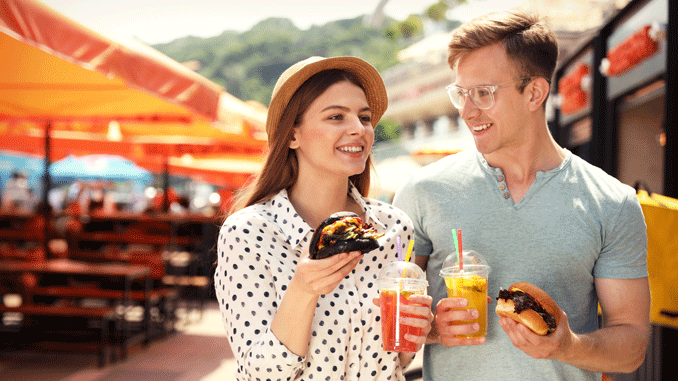 One thing is for sure, San Joaquin County has seriously good grub. But how is one to eat their way through this county without breaking the bank? Have no fear—that's what the food lovers at San Joaquin Magazine are here for. We've created an itinerary for two days' worth of local fare—that's six meals—for just $150 (tax and gratuity not included). We've even made space in the budget for wine and cocktails along the way. Take our advice on where to go and what to order and both your stomach and your wallet will be happy you did.
---
Day 1
Breakfast: Chuck's Hamburgers
Hamburger and 2 Eggs ($14.90)
Chuck's Hamburgers is a community staple. It's always landing on Best Of lists (including ours) and dishes get spread around town word-of-mouth like wildfire. While we lament you can't really go wrong here, what better way to enjoy breakfast at a hamburger joint than by eating a hamburger? Chuck's version is served with two eggs any style and a ¾ pound burger. Don't forget the bottomless coffee either ($1.95, included in above price).
5939 Pacific Ave., Stockton, (209) 473-9977
---
Lunch: Whirlow's Tossed & Grilled
Grilled Salmon Salad, full-size ($13.99)
This signature salad at Whirlow's is both light and filling, a perfect combination of protein, greens, and nutrient-dense ingredients to power you through the day. In addition to four ounces of grilled salmon, the bowl is overflowing with mixed greens, onions, carrots, tomatoes, cucumbers, kidney and garbanzo beans, and a lemon wedge served with your choice of dressing.
1926 Pacific Ave., Stockton, (209) 466-2823, Whirlows.com
---
Dinner: M&J Bistro
Lobster ravioli with shrimp and a craft cocktail ($39.50)
Treat yourself to a decadent dinner of lobster, shrimp, and pasta. The pillowy raviolis are served in a creamy garlic-Parmesean sauce, along with a house salad. Pair with a cocktail of your choosing. For a special treat, M & J Bistro offers take home cocktail kits so you can recreate their favorite bar items even if you choose to dine at home ($11, included in above price).
2503 N. Tracy Blvd., Tracy, (209) 832-2727, MJBistro.net
---
Day 2
Breakfast: Mimosa's Gourmet
Protein Scramble and a mimosa ($23.49)
This is one of the most popular items on the menu! Packed with chicken apple sausage, egg whites, mushrooms, spinach, onions, and plenty of flavor, the dish also comes with your choice of fruit or potatoes. And in case you feel like indulging, we've left room in the budget for a mimosa—you choose the flavor! ($9,50, included in above price).
117 W. Elm St., Lodi, (209) 263-7050, MimosasGourmet.com
---
Lunch: Smitty's Wings & Things
6-pack Wing Combo ($17)
Choose between boneless or traditional. The wings at Smitty's are served fresh and extra big, so a pack of six will satisfy most appetites. The combo comes with six wings doused in a house-made wing sauce of your choice—may we recommend garlic chile or honey BBQ?—plus fries and a drink.
5654 N. Pershing Ave., Stockton, (209) 227-7479, SmittysWingsAndThings.com
---
Dinner: Midgley's Public House
Roasted Chicken and a glass of Rombauer, Carneros Chardonnay ($42)
Cooked to perfection, this ten ounce pan-roasted airline chicken breast is served alongside creamy polenta, baby carrots, and mushrooms, and much like every dish served at Midgley's, it's got presentation appeal. Pair it with the infamous Rombauer Chardonnay for a special treat ($15, included in above price).
296 Lincoln Center, Stockton, (209) 474-7700, MidgleysPublicHouse.com
The total for all six of these scrumptious meals? Don't worry, we won't make you do the math. It's $150.88. Added bonus: this means you don't have to cook for two days!