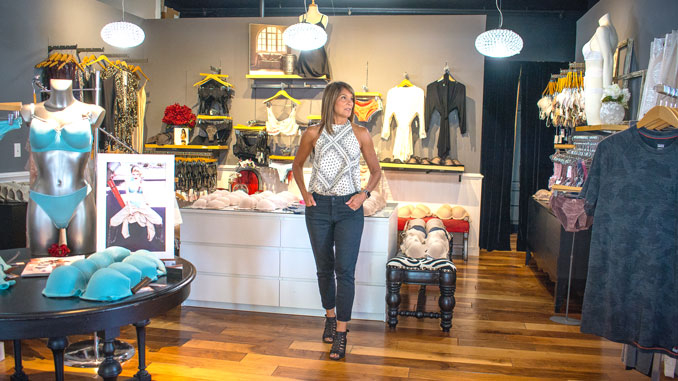 Theadora Boutique is bringing sexy back. The Lincoln Center shop has long held a reputation for selling sweet and spicy intimates for women; garments that boost self-confidence and can provide that extra pep in your step. "Lingerie is a personal and intimate affair [that] can help a woman explore her sexuality. It also, more importantly, can make a woman feel special and oh so confident," says  Jackie Kromm, owner of Theadora Boutique in Lincoln Center.
Kromm says her shop serves every woman, but has also carved out a niche market for breast cancer patients and survivors, called Care customers. "From our fun and diverse collection of clothing to our intimates, the feel of the store is so far from medicinal, which is so important when it comes to our breast cancer patients," Jackie says.
 In addition to custom bra fittings, post-surgical patients can browse drainage camisoles and compression garments as well as pocketed bras and prosthetic breast forms. "Each breast cancer patient has different needs," Jackie says. "No two women are alike with regards to their situation." And to meet these needs, Jackie keeps a healthy stock of products so that women can almost always come in and leave with the proper garments in the same day. That paired with a team of associates dedicated to customer service and product knowledge makes finding a well-fitting bra in a unique situation easier for customers. 
Losing part, or all, of your breasts isn't an easy experience to endure. Jackie acknowledges that for many, breasts are linked to being a mother, a wife, a lover, and even just a woman. "I personally have made it my mission statement to make sure that Theadora's is an inviting and safe place to land for women in need of our mastectomy services," Jackie says. "Something as simple as a bra and breast forms could be a game changer to starting the healing process."  
For what Theadora doesn't carry in-store, the shop offers special order, including intimates, swimwear, and swim style breast forms, to cater to those who have undergone a mastectomy. Plus, the shop's seamstress is up to make any Theadora product a good fit.
Theadora Boutique
270 Lincoln Center, Stockton
(209) 474-7407
TheadoraBoutique.com