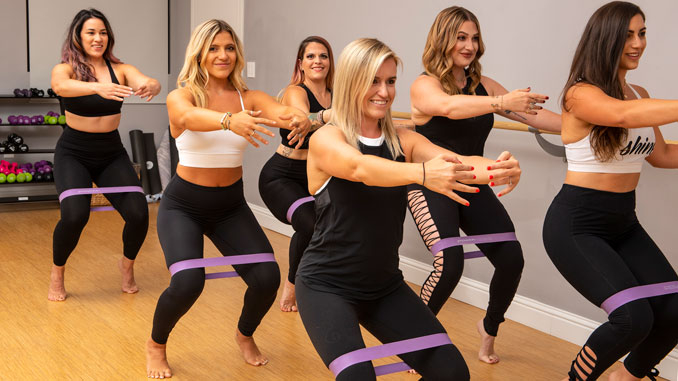 Long, lean, strong dancer muscles: everyone's dream! If you thought the look and strength of a ballerina was just for the elite dancer, then you haven't experienced the joy and challenge of a barre class. Barre workouts were invented by a ballerina back in the 1950s but have grown significantly in popularity in recent years, and for good reason. The movements of a barre workout help to strengthen your muscles while practicing agility and grace. A combination of small, strength building movements, with the intensity of a good cardio session, barre stands out as a unique workout experience.
Best of all? You don't have to have any dancing talent to master the barre! That's right – you can have two left feet when it comes to dancing but still be an excellent performer when it comes to barre. This fun, fluid exercise system focuses on small movements that isolate muscles, including those you don't often work, in order to build strength.
Alyssa Vaccarezza of Shine Cycle+Yoga+Barre in Lincoln Center elaborates. "Some people get nervous when they hear barre is ballet inspired. It's really a little bit of yoga, a little bit of Pilates, and a little bit of ballet," she says. "The workout is low impact and highly focused on alignment, so it's very safe. There isn't one type of body that works for barre; it's pretty much for everyone." And that anyone includesteenagers to people in their eighties thanks to innumerable modifications you can make to the workout to tailor it to your own fitness goals and needs.
 Worried you'll need a tutu? No way. You can wear anything you'd normally workout in to a barre class. Leggings, shorts, etc.. Traditionally people have worn socks with grips on the bottoms during class but that is not necessary – you can even go barefoot if you prefer.  
About ready to give barre a twirl? Alyssa has one last piece of advice for the beginner. "Come into the workout with an open mind. It's probably going to be a bit different than anything you've previously done, but just come and be ready to enjoy yourself. The instructors will guide you through each movement. As much as the workout is based in movement and building strength, it's also about mindfulness. Shine especially focuses on the mind-body connection and these barre workouts will work every muscle in your body, head-to-toe."  
Head to the barre:
Shine Cycle+Yoga+Barre
308 Lincoln Center, Stockton
(209) 473-1332
ShineYogaStudios.com